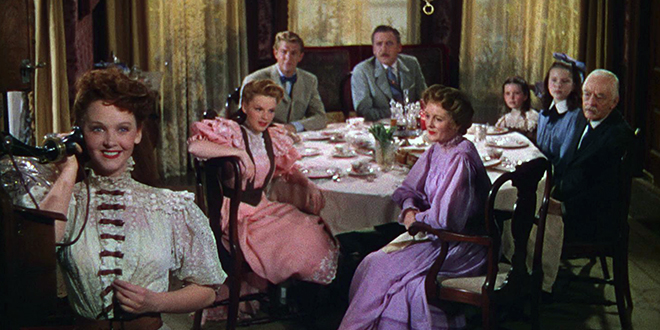 Podcast: Play in new window | Download
Subscribe: Apple Podcasts | Android | Google Play | Stitcher | RSS | More
Directed by: Vincente Minnelli
Starring: Judy Garland, Margaret O'Brien, and Mary Astor
Meet Me in St. Louis Movie Summary
Meet Me in St. Louis is a peek back in time at 20th Century Middle America. Based upon a memoir by Sally Benson, we follow the life of the Smith Family for a year. 1903 was a momentous year for the Smiths and for the city of St. Louis.
The eldest child, Lon, is about to leave for college. The two eldest daughters (Lucille Bremer and Judy Garland) fall in love and enjoy the St. Louis social life. The youngest Smith girls (Joan Carroll and Margaret O'Brien) relish their childhood mischief. St. Louis is the center of the planet as it prepares for the 1904 World's Fair.
The idyllic life of the Smith family is shaken when their Father announces that they are relocating to New York City. His wife, children, maid, and Father are not pleased about his decision. Thankfully, Mr. Smith has a change of heart when he realizes how devastated his clan is by the potential move. The Smith's stay in St. Louis and enjoy the Fair and a happy, tuneful ending.
Disclaimer
This podcast is not endorsed by MGM Home Entertainment and is intended for entertainment and information purposes only. Meet Me In St. Louis, all names and sounds of Meet Me In St. Louis characters, and any other Meet Me In St. Louis related items are registered trademarks and/or copyrights of MGM Home Entertainment or their respective trademark and/or copyright holders. All original content of this podcast is the intellectual property of MHM Podcast Network, Movie House Memories and Fuzzy Bunny Slippers Entertainment LLC. unless otherwise noted.
Affiliate links contained in this post will take you to Amazon.com and/or the iTunes Store. This means when you click a link, and purchase an item, the MHM Podcast Network will receive an affiliate commission. Advertisers and Affiliate Partnerships do not influence our content. See our Terms of Use about the inclusion of affiliate links on this site for more information.