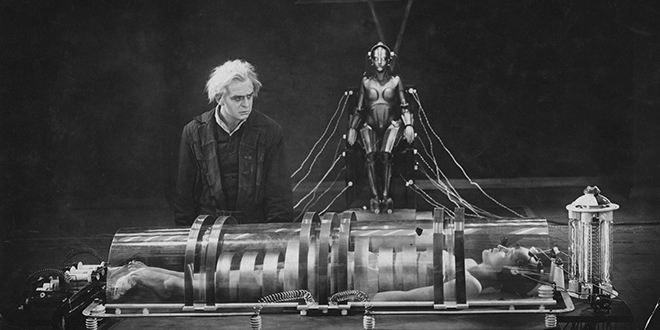 Podcast: Play in new window | Download
Subscribe: Apple Podcasts | Android | Google Play | Stitcher | RSS | More
Universum Film (UFA) released Metropolis to theaters on March 13, 1927. German filmmaker, Fritz Lang, directed the film, and his wife of the time, Thea von Harbou wrote the screenplay. The film stars Brigitte Helm, Alfred Abel, and Gustav Fröhlich.
Metropolis Movie Summary
Set in the future, Metropolis is the tale of two cities. Above ground, the citizens live happily in decadence. Freder Fredersen is enjoying his frivolous life as the son of the town mastermind, John Fredersen.
One day Freder notices a beautiful woman with a group of children and he follows her. He discovers that under his utopia lies another city full of despair. This city is full of workers that slave away in dreary conditions to maintain the above ground luxuries of metropolis.
Freder listens to Maria's teaching on the "hands" (workers) joining the "head" (the powerful people above) through a "mediator" (the heart). Freder falls for Maria and it becomes clear that he is the heart, the savior that Maria is preaching about.
When John Freder learns that his son is siding with the workers, he turns to his friend Rotwang the inventor. Rotwang's real intent is more sinister than John Freder can imagine. He has created a robot to confuse the workers. They unknowingly are working toward the destruction of Metropolis, above and below ground.
Disclaimer
This podcast is not endorsed by Kino Lorber, and is intended for entertainment and information purposes only. Metropolis, all names and sounds of Metropolis characters, and any other Metropolis related items are registered trademarks and/or copyrights of Kino Lorber or their respective trademark and/or copyright holders. All original content of this podcast is the intellectual property of MHM Podcast Network, Movie House Memories and Fuzzy Bunny Slippers Entertainment LLC. unless otherwise noted.
Affiliate links contained in this post will take you to Amazon.com and/or the iTunes Store. This means when you click a link, and purchase an item, the MHM Podcast Network will receive an affiliate commission. Advertisers and Affiliate Partnerships do not influence our content. See our Terms of Use about the inclusion of affiliate links on this site for more information.