Film and Plot Synopsis
In this remake of the classic 1947 film, Dorey Walker finds that her life is forever changed when she encounters a mysterious old man who calls himself Kris Kringle. Dorey hires Kris to act as the official Santa Claus for the Cole's department store. Kris' presence dramatically increases the sales of the store, however Kris insists that he is the one, true Santa, even to Dorey's daughter Susan, a child that does not believe in Santa. Soon, Kris is framed for a crime and finds himself on trial where that he not only has to prove that Santa exists, but that he is Santa Claus.
Buy the Film
Miracle on 34th Street [Blu-ray]
16 new from $7.99
18 used from $2.95
Free shipping
as of September 30, 2023 10:07 am
*As an Amazon Associate we earn from qualifying purchases.
'Miracle on 34th Street' Movie Summary
The summary below contains spoilers.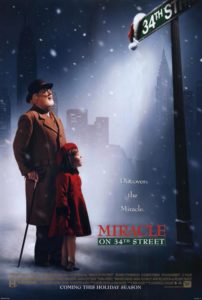 In the fictionalized version of New York City, Cole's Department Store sponsors a Thanksgiving Day parade outside their store. Cole's special events director Dorey Walker (
Elizabeth Perkins
) discovers that the parade's Santa Claus, a hired actor named Tony Falacchi (
Jack McGee
), is drunk. Dorey is forced to fire Falacchi and scrambles for a replacement. She encounters a kindly, elderly man (
Richard Attenborough
) who strongly resembles Santa. The elderly man is busy berating Falacchi for being drunk. Dorey begs him to take over the role, and the man accepts. The elderly man introduces himself as Kris Kringle. Kris does an amazing job during the parade and is immediately hired to be Cole's main Santa in the department store for the holidays.
Kris is so popular that the children in New York begin to believe that he is the real Santa. One exception is Dorey's six-year-old daughter Susan (Mara Wilson). Dorey's skepticism to the holiday has transferred to her daughter. Dorey's boyfriend, Bryan Bedford (Dylan McDermott), tries to convince Susan to believe in the magic of Christmas. Susan is babysat one night by Kris, and Susan shares her Christmas wishes with the department store Santa. Susan tells him that she would like a dad, a house, and a baby brother. Kris asks her if she would believe in Santa if she received all of those things, and Susan tells Kris that she would.
Sales increase at Cole's compared to previous years, and the increase is attributed to Kris' popularity. One night, Kris is walking on the street and he is approached by Falacchi. Falacchi stages an altercation to get Kris in trouble as a means of revenge for replacing him at Cole's. Kris is arrested for assaulting Falacchi. Bryan is a lawyer and agrees to help Dorey take Kris' case to court. Bryan drums up support for Kris from the public. However, Bryan determines that for Kris to be acquitted and freed, Bryan will have to prove that not only does Santa exist, but that Kris is the one true Santa Claus. Bryan formulates a plan that will require the assistance of Susan.
The case does not go well for Kris, and the Judge (Robert Prosky) is about to make his ruling, apparently against Kris. However, Susan interrupts court and approaches the Judge with a Christmas card containing a dollar bill. Susan points out that the words "In God We Trust" are on the back of the bill. The Judge concludes that since the United States government can put its official faith in God on currency with no hard evidence, then the people of New York can believe in Santa Claus in the same way. The Judge proudly dismisses the case and declares that Santa Claus is real, and Kris Kringle is Santa.
After the court case, Kris manipulates Dorey and Bryan to express their true feelings about each other. The couple realizes that they are truly in love and get married in a small ceremony immediately following Christmas Eve Midnight Mass. The next morning, on Christmas Day, Susan wakes up to the news of her mother's marriage. She is happy to receive her first Christmas wish, and even happier to have Bryan as her step-dad. After opening presents, the three of them drive out to the house that Susan wished would become her home. Once there, they discover that Kris has arranged for them to purchase the house. They can afford the house due to Dorey's exceptionally large Christmas bonus check, which is a direct result of Kris' work at Cole's.
Now having received two of her three wishes, Susan runs upstairs in the house to look at her bedroom. Dorey and Bryan are about to kiss when Dorey asks her daughter what her last Christmas wish was. Susan smiles and tells her mother that it was to have a baby brother. Dorey and Bryan both look at each other, shocked, before glancing down at Dorey's stomach and sharing a kiss. The film ends with the audience believing that Susan has received all of her Christmas wishes from Kris. It is mentioned that Kris has gone overseas.
Additional Film Information
Rate the Film!
20th Century Fox released Miracle on 34th Street on November 18, 1994. Les Mayfield directed the film starring Richard Attenborough, Elizabeth Perkins, and Dylan McDermott.