Film and Plot Synopsis
Small-time hood David 'Noodles' Aaronson and his lifelong partners in crime; Max, Cockeye and Patsy and their friends grow up in the rough Jewish neighborhood of New York's Lower East Side. Once Upon a Time in America follows them from the 1920s to the last years of Prohibition in the early 1930s, and then to the late 1960s where an elderly Noodles returns to New York after many years in hiding.
Buy the Film
Once Upon a Time in America [Blu-ray]
5 new from $74.24
10 used from $19.80

as of May 27, 2023 8:23 pm
*As an Amazon Associate we earn from qualifying purchases.
'Once Upon a Time in America' Movie Summary
The summary below contains spoilers.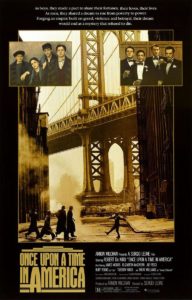 We open the film with three thugs hunting 1932 New York's Lower East Side Jewish sector for a marked man in a Chinese wayang theater. Before they could find him, the Chinese owners warn the opium-addicted man, a 30-something gangster named "Noodles", and help him escape, but not before his girlfriend is gunned down and his friend, Fat Moe, is brutally tortured for Noodles' whereabouts. Noodles sneaks in and saves Fat Moe by killing one of the gangsters.
Shortly after, he finds out his three childhood friends, Patsy, Cockeye, and the char-broiled Max, were all killed in an ill-fated bank robbery. He goes to the local bus station before finding out he was double-crossed out of a million dollar suitcase kept at the station in a secret locker. Noodles buys a ticket out of town to anywhere and disappears into the night for the next 36 years…
In 1968, an elderly and very suspicious Noodles arrives back in New York and calls the equally-aged Fat Moe at his bar. They discuss what happened in 1932 and Noodles realizes Moe did not take the money. Noodles goes into the storeroom and looks through a peephole into the past…
In 1918, the teenage Noodles spies on 12yo Deborah, Fat Moe's beautiful sister who dreams of being a ballerina and actress. Noodles is chased out and meets up with his hoodlum neighborhood pals, Patsy, Cockeye and Dominic. They are petty thieves and after committing arson on a local business, they attempt to rob a drunk but are beaten to the punch by an older teen petty thief named Max. Noodles tries to get even with Max but a crooked cop shows up and makes both boys take sides against him. The boys become immediate friends and start petty thievery for a local thug named Bugsy.
The boys blackmail the crooked cop with a photo that allows them to do more crime that Bugsy doesn't like. Bugsy finds out and he and his gang assault Max and Noodles within an inch of their life. Noodles goes to Deborah to ask for help but she ignores him, knowing he is headed down the wrong road. Max, Noodles and the underage gang decide to muscle in on a local bootlegging operation by using a new invention by Noodles thus upsetting Bugsy again but making the boys more money and more arrogance.
They decide to pool all their ill-gotten money into the bus station in a suitcase with half their money accumulated and they can only open it with all the members together at the same time. As they leave the station, Bugsy runs into them in the street and he guns down 8yo Dominic, who dies in Noodles' arms. Noodles stabs Bugsy to death and stabs a police officer before being subdued and sent to prison for 12 years.
In 1930, Noodles is released from prison and rejoins the gang, as Max, Cockeye and Patsy have all become local bootleggers and speakeasy owners where they run crime out of mild-mannered Fat Moe's speakeasy. The gang are recruited by a Detroit mobster to rob a diamond store, where Noodles rapes a teller named Carol, expressly forbidden by the Detroit mobster. At the exchange of the diamonds, Max and the gang open fire and kill all the mobsters against Noodles' plans, so out of spite, Noodles drives their getaway car off the end of a pier and makes the gang laugh together.
Flash forward to 1968 and Noodles goes to the extravagant crypt built for his gang's bodies and realizes it was built under his name which he did not do, and finds there is a second key to the bus locker. He visits the locker and finds a suitcase full of one million dollars with the words, "Down payment on your next job". As he nervously returns to Moe's, he flashes back to 1932…
Noodles and the gang have become powerful and mean. They save the life of the leader of a local union, and make more enemies with other mobsters and the police. The gang plays a mean trick on the police chief to help the union and makes a rival gang angry. They kill the rivals' muscle and feel invincible. While celebrating at their local cathouse, they find Carol working at the place and she ends up hooked up with Max afterwards. Noodles goes on a date with Deborah the night before she is heading to Hollywood to work as an actress. During the ride home, Noodles rapes Deborah. The next morning, she rides a train out of town and when he shows up to apologize, she pulls the shade and ignores him.
Max decides they are going to work for the local teamsters but Noodles tells him he won't do it. So to make all their money in one fell swoop, Max wants to do a suicide mission and rob the New York Federal Reserve Bank and Noodles tells him he's crazy. While staking out the bank, Carol asks Noodles to turn in the gang so they serve a short sentence but are saved from themselves. That night at a party, Noodles makes the phone call to the police to turn them in but right after calling Max crazy again, Max knocks Noodles out and attempts to rob the bank without him… and the ill-fated bank job is what opened the movie.
Back in 1968, Noodles tracks down Deborah who is now a famous actress in New York. He asks what she knows about a mysterious Secretary of the Interior named Bailey. Noodles realizes Deborah is Bailey's mistress and they share a son named David, who looks a whole lot like a young Max. Noodles goes to a big party at Bailey's mansion, where Noodles is invited to speak with the Secretary who turns out to be Max.
Max is being threatened by mobsters with his life and decided to track down Noodles and ask him to kill Max so he got it from a friend instead of an enemy. Noodles pretends he doesn't know who Bailey is and declines to kill him. Noodles leaves and as he walks out of the gate, he passes a garbage truck that starts it's engines ominously as Max walks out toward Noodles. Max disappears as the truck drives along with it's auger blades churning leaving us to wonder if Max was thrown into the auger, committed suicide, or jumped onto the side of the truck and disappeared into the night.
Noodles continues walking and we are brought back to the 1932 opium den where we see the drugged-up Noodles looking up at the camera and smiles as we fade to black.
The End.
Additional Film Information
Rate the Film!
Warner Bros. released Once Upon a Time in America on June 1, 1984. Sergio Leone directed the film starring Robert De Niro, James Woods, and Elizabeth McGovern.