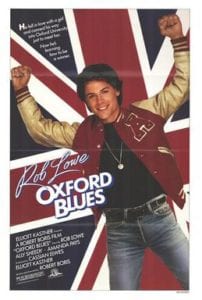 Rob Lowe acts like a bull in a china shop at all times in this story. The entire movie he moves from con artist to rowing prodigy to sexual dynamo to demigod status — all while carrying the "ugly American" thing quite too far. And I'm American. Embarrassing would be a better word I think. Kinda sets a negative tone that stays the entire movie. Yet… I was spellbound by this movie in the theater in 1984 (saw it twice actually) and am still in love. 🙂 I'm sure it is due to the gorgeous cinematography and stunning on-location sequences at Cambridge. The rest of the cast (with the exception of Ally Sheedy, whom I've never gotten the hang of despite people oohing and awing over her) is simply perfectly British upper-crust snootiness with the right amount of classy condescension toward that crazy Yank. The movie just feels so British lovely – with an uber-caveman running amok. I love it. I can't watch it enough actually. It's one of my top guilty pleasures actually.
Don't get me wrong. Rob Lowe isn't a complete waste. His swagger and brashness is somewhat necessary, but he just comes across as TOO cool and TOO narcissistic as he barrels toward the inevitable bedding of our fair maiden, played by the heavenly Amanda Pays. Lowe just runs over wonderful characters at every turn to get everything HE desires at the expense of anyone/any institution standing in his way. BUT… with that aside, the movie is really enjoyable. It's like enjoying the magical "Peggy Sue Got Married" despite the awful presence of Nick Cage. Sometimes you've got to look past one major issue to get to the soft, lovable, special movie lurking beneath the ego of the lead.
I love this movie. I'll always love this movie. Watch it if you love Great Britain. Watch it if you love Cambridge. Watch it if you enjoy rowing. Watch it if you were (are?) still in love with Amanda Pays. And watch it for the simple chance to see Rob Lowe do one of the funnier "switcheroo" wardrobe changes set to music in the mirror during the end credits. Classic cheese that I would recommend for anyone looking for silly '80s goofiness!
What do you think of the film? Let us know in the comments below.
Disclaimer: Affiliate links contained in this post will take you to Amazon.com and/or the iTunes Store. This Means when you click a link, and purchase an item, the MHM Podcast Network will receive an affiliate commission. Advertisers and Affiliate Partnerships do not influence our content. See our Terms of Use about the inclusion of affiliate links on this site for more information.
MHM's Rating
I know this is not a fantastic movie. My 7 out of 10 is more nostalgic than actual story-driven.