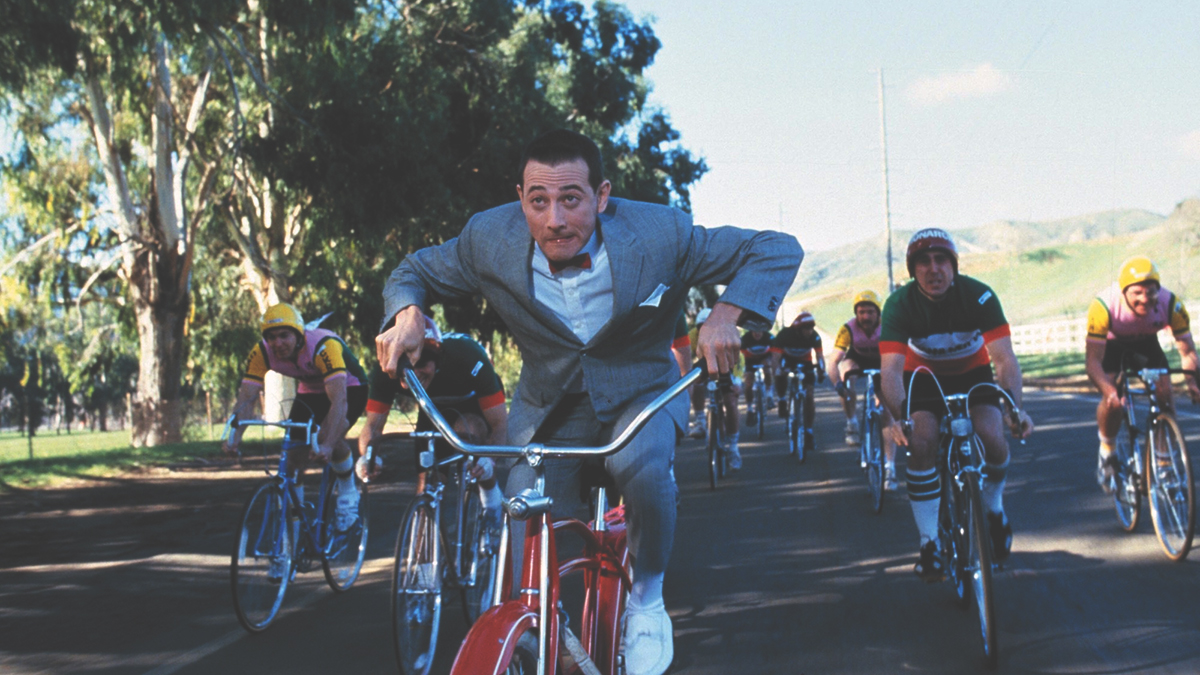 Film and Plot Synopsis
In Pee-wee's Big Adventure, Pee-wee Herman loves his bicycle more than life itself. When someone steals it, he sets out on a wild cross country adventure based on a fortune teller's vision that his bicycle is in the basement of the Alamo. Along the way, The journey endears Pee-wee to various characters like an escaped convict, a waitress with a jealous boyfriend, and a mysterious female truck driver who may or may not be a ghost.
Buy the Film
Pee-wee's Big Adventure [Blu-ray]
12 new from $13.75
12 used from $8.54
Free shipping
as of January 14, 2022 7:08 am
*As an Amazon Associate we earn from qualifying purchases.
'Pee-wee's Big Adventure' Movie Summary
The summary below contains many spoilers and feeble attempts at humor.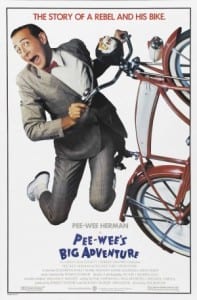 Pee-wee's Big Adventure
finds Pee-wee Herman as the title character, with an indelible 'Puer Aeturnus' complex that rivals Michael Jackson's, on the search for his most prized possession; a red and white Schwinn DX, that has just been stolen by his neighbor, Francis Bux-TON.
Dottie the hottie, who services Pee-wee's bike and whom would like to service Pee-wee himself, is unable to console him. A rainy night later, finds Pee-wee wandering the water-filled streets to the psychic, Madame Ruby where for twenty dollars she can tell you a lot of things; for thirty dollars she can tell you more, and for fifty dollars, she can tell you everything.
I have been given similar offers before, but it didn't involve that type of medium. Madame Ruby convinces Pee-wee that his bike has been taken to the basement of the Alamo (he must have paid the fifty dollars), and Pee-wee hitchhikes it out of California to San Antonio, Texas.
He first gets a ride from Mickey, a fugitive on the lam from the law, and then the trucker diver / ghost of Large Marge who will Uber you to hell for prices better than Madame Ruby's. After being dropped off at a truck stop, Pee-wee has to work off his meal when he discovers that his wallet is missing, but the adventure to find THAT possession of his will have to wait until his theatrical disaster blows over in a few years.
Pee-wee convinces Simone, a waitress at the truck stop, to follow her dream to live in France, but her jealous boyfriend chases him off, and Pee-wee is forced to jump onto a moving train. It takes him all the way to San Antonio where he high-tails it straight to the Alamo, but after enduring the hours tour there, he finds out that there is no basement at the Alamo; much to his horror!
Dejected, Pee-wee phones Dottie the hottie, who is still aflame for him, and he asks her to pay for his bus ticket home. He then runs into Simone's boyfriend again who is trying to stop her from bussing it across the pond to Paris. He chases Pee-wee to a rodeo, and Pee-wee is forced to disguise himself as a bull rider to keep from getting caught.
It doesn't work and Simone's boyfriend jumps into the arena to nab Pee-wee as he rides a bucking bull. Unfortunately for the guy, he wearing a red shirt, and he then gets chased off by the bull after Pee-wee gets tossed off and knocked unconscious. When Pee-wee comes to, he can only remember the Alamo.
He stumbles upon a biker bar and tries to make another call, but the bikers, Satan's Helpers, toss him out, and then are forced to stomp Pee-wee, then tattoo him, then hang him, and then kill him when Pee-wee accidentally knocks over their bikes. He redeems himself to the bikers when, and a last request, he dances to the song Tequila. The bikers spare Pee-wee, and give him a motorcycle to get himself back home, but Pee-wee can't ride, and drives his new chopper straight into a billboard and knocks himself unconscious.
This causes him to regain his memory, and Pee-wee awakens in the hospital to a news story on TV that an awesome bike, his bike, was bought by Warner Brothers, and is being used as a prop in their upcoming movie starring Kevin "The Wonder Years" Morton. Pee-wee sneaks into the studio and disguises himself as a nun, and then steals the bike in front of everyone. (He will have to pray for forgiveness for that one.)
This sets off a wild 80's style chase across many sets at Warner Brothers. Thankfully, Pee-wee escapes, but he stops to rescue animals trapped inside a burning pet shop. (Why a pet shop is closed, devoid of humans, and on fire during prime business hours should not be a thought that pops into your head at the point.) Proving that he's better than Indiana Jones, Pee-wee even grabs the snakes in both hands, and rescues them, but he faints from the creepiness of it all.
While the newly arrived firefighters proclaim Pee-wee a hero, those party-pooper cops call him a thief and promptly arrest him. Warner Brothers, instead of pressing charges, give Pee-wee back his bike, and decide to make a James Bond style movie about his whole ordeal. The film ends with everyone he met during the course of his adventure at the drive in for his film's premiere, but Pee-wee decides to go home early with Dottie the hottie instead. He doesn't need to see the rest of film…he lived it. Wrap it up Pee-wee. I hear that Dottie has a lot of rugrats.
Additional Film Information
Rate the Film!
Warner Bros released Pee-wee's Big Adventure to theaters on August 9, 1985. Tim Burton directed the film starred Paul Reubens, Elizabeth Daily, and Mark Holton.