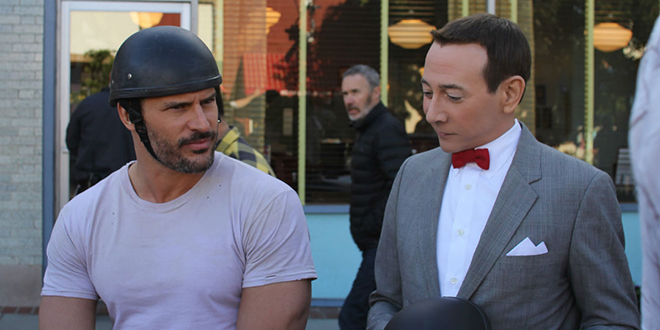 Podcast: Play in new window | Download
Subscribe: Apple Podcasts | Android | Google Play | Stitcher | RSS | More
Directed by: John Lee
Starring: Paul Reubens, Jordan Black, and Doug Cox
Pee-wee's Big Holiday Movie Summary
Pee-wee Herman is a lifetime resident of Fairville, USA, and he leads a very ordinary life. One day at work at Dan's Diner, he meets Joe Manganiello, and a bromance of epic proportions begins. Joe invites Pee-wee to go on his first vacation ever to visit him on his birthday in New York City.
In the first town Pee-wee comes to after he leaves Fairville, he gets kidnapped by three female bank robbers, and they force him to drive them away from the crime scene. The women steal his car the next morning at the hotel they are hiding out in, and leave Pee-wee there to rot. Pee-wee is undaunted, and decides to hitchhike it across America to get to the Big Apple.
Along the way, Pee-wee meets a traveling salesman, a farmer with nine voluptuous and virginal daughters, the aviator Penny King, and the Amish. After all that, Pee-wee arrives in New York City, but falls down a well just before arriving to Joe's birthday party.
Will Pee-wee survive the ordeal? Only if you say today's secret word!
Disclaimer: This podcast is not endorsed by Netflix and is intended for entertainment and information purposes only. Pee-wee's Big Holiday, all names and sounds of Pee-wee's Big Holiday characters, and any other Pee-wee's Big Holiday related items are registered trademarks and/or copyrights of Netflix or their respective trademark and/or copyright holders. All original content of this podcast is the intellectual property of Movie House Concessions, the MHM Podcast Network, and Fuzzy Bunny Slippers Entertainment LLC unless otherwise noted.
---
---