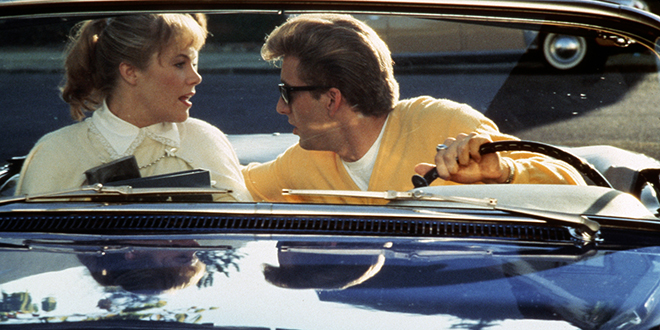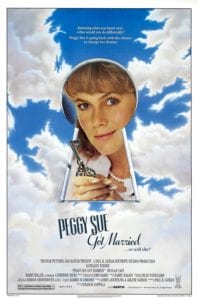 Great idea. Kathleen Turner is excellent. Nicholas (Coppola) Cage RUINED IT!!!
This is one of those movies where you know the script was AWESOME. The title character/actress knocked it out of the park. The rest of the cast/crew was spectacular… And then because of Hollywood nepotism at it's absolute worst, they add a HISTORICALLY POOR DECISION at the other key cog to the movie. Honestly, what was Coppola/Cage thinking???
Kathleen Turner, although 32 at the time, was fabulous as Peggy Sue. She morphed perfectly between the two ages in the story. She had the prototypical high cheekbones and energy needed for the 1960s time-line, as well as the world-weary look of middle-age. It's easy to see why she was the homecoming queen – twice. And her laugh at her dad's Edsel — priceless!!! She was brilliant.
The rest of the cast (with the glaring exception of Cage) was also spot-on with their characters. It was fun, light, nostalgic, intelligent, whimsical, romantic… and then THAT VOICE ruined it all.
Seriously, what a disaster for the rest of the ensemble. Uncle Francis Ford Coppola should be truly ashamed of himself for allowing such a juvenile, grating, fingers-on-the-chalkboard voice to be part of this ethereally classic story. Casting your (underwhelming and overacting) nephew as the choice male lead is one thing – this is btw a full decade before "Leaving Las Vegas" when he actually COULD act.
But then to bully EVERYONE into accepting and acting around that "Pokey" voice???… OMG, talk about arrogance and no touch in reality. Your AUDIENCE has to hear that?!?!? I'll admit I'm not a Nicholas Cage fan, but he literally ruined every, single scene he was in. Unwatchable. He alone is the reason I've dropped my rating of this "8.5" movie down to a "6". I'd go lower except the rest of the movie is worth a higher rating.
The movie is fine. Would have been an easy 8.5-bordering on 9 with one, VERY key character having been re-cast with a capable (re: ANYBODY ELSE!!!) actor playing the male lead. Kathleen Turner is perfect. The setting was perfect. The story was near-perfect. It was an excellent effort everywhere else.
Nicholas (Coppola) Cage should never again be allowed that sort of carte-blanche on a set. He not only completely missed the point of the character for his own ego, he ruined a fabulous movie with his heavy-handedness. Shame on him. Shame on Francis Ford Coppola. And special kudos to each and every cast member who put up with Hollywood nepotism at it's absolute worst.
Enjoy the movie. It is worth watching. The only tip I would give: Watch with the subtitles ON. EVERY TIME Nicholas Cage appears on screen, MUTE your television. You will thank me tomorrow. Well done, Kathleen Turner and company. I'm thankful for your efforts — and patience. 🙂
What do you think of the film? Let us know in the comments below.
Disclaimer: Affiliate links contained in this post will take you to Amazon.com and/or the iTunes Store. This Means when you click a link, and purchase an item, the MHM Podcast Network will receive an affiliate commission. Advertisers and Affiliate Partnerships do not influence our content. See our Terms of Use about the inclusion of affiliate links on this site for more information.
MHM's Rating
Peggy Sue faints at a high school reunion. When she wakes up, she finds herself in her own past, just before she finished school.