Film and Plot Synopsis
Police Academy begins when the mayor has removes the criteria of sex, weight, height, and orientation to join the force. Out of the many applicants, a select group of less-than-stellar citizens begin their quest to become honorable police men and women. Petty thief, Carey Mahoney, is one such recruit, but he's there as a punishment for his crimes. Not wanting to take part in the academy, Mahoney makes it his mission to have Lieutenant Harris throw him out. (The terms of his release stipulate he can not quit.) As the training exercises go on, Mahoney learns to enjoy the academy, and even wants to become a police officer. With the rest of the rag-tag recruits, Mahoney and friend aim to complete their training! However, when one of the recruits accidentally starts a fight, that leads to more, and a full-fledged city riot.
Buy the Film
Police Academy (20th Anniversary Special Edition)
13 new from $4.99
53 used from $1.99
Free shipping
as of September 26, 2023 11:19 am
*As an Amazon Associate we earn from qualifying purchases.
'Police Academy' Movie Summary
The summary below contains many spoilers and feeble attempts at humor.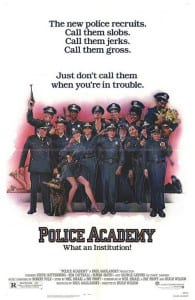 The year is 1984, and crime has gotten so bad in New York City that the newly elected mayor has raised the white flag, and declared that the New York Police Department will now accept all applicants to their police academy. This opens the floodgates to a wave of police candidates that previously would have been banned from application due to being too fat, too psycho, too stupid, or too criminally minded. The situation is so dire that apparently, even black people are allowed to join!
Carey Mahony, played by the Gutt, is not one of those eager applicants. Mahoney is your general fuck-up, who responds poorly to authority and assholes. Which, of course, makes him the perfect candidate for the academy after he is arrested for trashing a rich-dick's car better than Lindsey Lohan on an alcohol binge. Mahoney's father's old friend, Captain Reed of the NYPD, gives Mahoney a choice: either go to jail or go to the police academy. Mahoney chooses the academy, falsely believing he can just get himself kicked out, and he will be off the hook.
Not everyone is happy about the cattle call of applicants coming to the academy. The chief of police and the academy instructor, Lieutenant Harris, are concerned about the lowered requirements. They enlist Punky Brewster's dad, Commandant Lassard, to help implement many, many interesting things. For one, no candidate will be kicked out. They will have to quit. How does this stick it to the mayor? I have no fucking idea, but this is a Police Academy movie, not Amadeus, so just look at the movie, and go with it. I think it speaks for itself.
Lassard is a pleasant man who loves many, many blow-jobs; even those that allegedly come from Mahoney. Lassard disagrees with the Chief and Lt. Harris, and believes the cadets should get a fair chance. However, Harris sets out to break the spirits of the new cadets. His class is made up of a criminal beatbox, Jones; a fake ladies man, Martin; the trigger-happy, Tackleberry; Mahoney's vaguely present love interest, Thompson; the squeaky-voiced, Hooks; the requisite fatman, Leslie Barbara; and a silent but giant black man by the name of Hightower.
Harris also enlists the aid of the two ass-kissing cadets, Copeland and Blankes, to snitch on the other cadets. One of Harris's first assignments for the academy snitches is to find out where the first cadet weekend party is to be held at. Mahoney gets wise to their plan, and sends the men to a gay bar called the Blue Oyster.
The academy training proceeds as expected, and Mahoney continues to try to get tossed out, but he quickly realizes that there is no way he can win. It's at this time that Mahoney also begins to fall in love with Thompson, because he is into the Samantha types. Mahoney and Hightower get all Ebony & Ivory when Mahoney teaches Hightower how to drive in order to pass the academy driving test, which he passes smoother than the Coreys in "Licensed to Drive."
However, Hightower gets kicked out of the academy when he overhears Copeland call Hooks the N dash dash dash dash dash word, but he didn't say fudge! Hightower flips out, then flips over Copeland's car. Yep, that's right, Hightower gets kicked out despite Harris' plan not to kick cadets out. Remember, it's a Police Academy film.
Shortly thereafter, Mahoney gets into a fight with Copeland and Blankes when they pick on the helpless Barbara. Mahoney takes the blame for Barbara for throwing the first punch, which allows Harris to kick Mahoney out, but before Mahoney can even leave, a riot breaks out in the city. The police dispatch all officers, including the cadets, to keep anyone from escaping New York.
Blankes and Copeland run ass first into trouble when their handguns are stolen by a nameless bad guy with a Vassar t-shirt. However, the two cadet snitches are able to find safety in the arms of their dance partners at the Blue Oyster Bar. Remember boys, it's always better to give than to receive.
The nameless outlaw uses the stolen handguns to kidnap Lt. Harris. Only the combined forces of Mahoney and the civilian Hightower…the two men that Harris kicked out…can save him from the armed assailant. Hightower punches out the outlaw quicker than Ray Rice in an elevator, and Hooks finds her big girl voice when she takes him into custody.
The film ends with the reinstated Mahoney and Hightower graduating with their class at the academy. The two redeemed cadets receive medals for their bravery in the riots, and Mahoney gets the added pleasure a blow job…not from Commandant Lassard or his goldfish, but from a good old NYC hooker.
I hope it was as much fun for him as it was for Lassard.
Additional Film Information
Rate the Film!
Warner Bros released Police Academy on March 23, 1984. Hugh Wilson directed the film starring Steve Guttenberg, G.W. Bailey, and Kim Cattrall.