Film and Plot Synopsis
Popeye the Sailor Man arrives to a quaint seaside town called Sweethaven one rainy afternoon. There he meets many residents like Wimpy—who will gladly pay you Tuesday for a hamburger today; the strong-willed but slightly awkward Olive Oyl; and the town bully named Bluto. After Popeye discovers an abandoned infant, whom he names Swee'pea, there with a gift for predicting gambling races, Bluto kidnaps the tot for the town's over-taxing Commodore. However, Bluto double crosses the Commodore who bears a strong resemblance to Popeye's long lost Poopdeck Pappy. He forces Popeye to eat his spinach if he's going to be strong to the finish and turn Bluto yellow in order to save Swee'pea and the town.
Buy the Film
Popeye (Blu-ray + Digital)
10 new from $7.98
6 used from $7.80
Free shipping
as of December 2, 2023 11:42 am
*As an Amazon Associate we earn from qualifying purchases.
'Popeye' Movie Summary
The summary below contains many spoilers and feeble attempts at humor.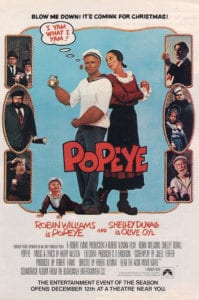 You may think that 20th Century Fox and Sony Pictures are the kings of fucking up our beloved comic book heroes on the big screen, but it hasn't always been that way; Paramount Pictures has held that crown for nearly 35 years…and this is their story.
Popeye, the sailor man, lands one stormy night in the small town of sweet Sweethaven; a short layover in his search for his long-lost Poopdeck Pappy. He is greeted by a greedy tax man who fines him for petty offenses in the name of the Commodore. He even taxed me 45 cents for this very summary. Apparently, there's a "writing a terrible summary" tax that I didn't know about.
Popeye renks a room at the Oyl's bread and breakfast, where he meets their daughter, Olive, played by an amazing actress with a bright, bright future ahead of her, but for now, she is busy preparing for her wedding to a local brute named Bluto…he's large and he's hers.
Once settled, Popeye heads out to get some food at a sea-side dive, and is greeted with a cold shoulder by the townsfolk, but they sing him a song about the town, which is nice. After that, we get another song, this time about food, and then Popeye gets in a fight with some customers making fun of his pappy and his speech impediment.
That night, at the Oyl's home, Olive's big engagement party is held, but before she greets her guests and Bluto, she treats her bridesmaids to a song about Bluto's girth, and then tries to hightail it out of town. She stumbles upon Popeye who's hanging out by himself on the docks because he doesn't fit in with the rest of the people living there. As the two banter on about mindless things, they find a baby in a basket acting as cute as can be…we'll just call him Swee'Pea. Popeye calls him that too, which is convenient.
Meanwhile, back at the Oyl homestead, Bluto grows impatient, and he treats the guests to a song about him being mean as he trashes the Oyl house. Popeye then gets in a fight with him when he and Olive return with the new baby.
The next day, in the name of the Commodore, the taxman takes the Oyl's shattered house and all their remaining possessions. To get enough money to pay the taxman, Castor, the Oyl's dimwitted son, decides it's a good idea to fight a traveling boxer that's arrived in town to win back their home. He fails mercilessly as Oxblood Oxheart opens up a can of whoop ass on the boy. This pisses off Popeye so much that he doesn't even wait for a song to get in a fight. He steps into the squared circle, ratchets up his massive arm, and knocks the lard ass out.
It's during this fight that Olive discovers that Swee'Pea can predict the future by letting out a little whistle when he hears the correct answer to any question. Whimpy overhears Olive telling Popeye this, and manages to take the boy to the horse races. After he wins a few times, Popeye shows up, and treats the gamblers to a song about him being "I Yam What I Yam," but he doesn't fight anyone at the conclusion of this one.
He moves out of the Oyl house, with Swee'Pea in tow, and sets up a loft on the docks. The taxman tries to assess more fees on Popeye, but Popeye pushes him into the water, and the townspeople celebrate. At the melee goes on, Bluto forces Whimpy to steal Swee'Pea, and he takes him to the Commodore's boat.
The Commodore doesn't care anything about the baby or his gambling gift, so Bluto ties up the Commodore, and leaves with Swee'Pea to find the Commodore's hidden treasure. Popeye enters the boat to find that the Commodore is his long lost Poopdeck Pappy! To prove to the Commodore Popeye is who he says he is, the Commodore forces Popeye to eat spinach. Popeye refuses to eat it, and throws a tantrum…just like the Commodore's own lost son used to do, but our happy reunion is going to have to wait. Bluto has now kidnapped Olive too on his way to find the hidden treasure.
Popeye, the Commodore/Poopdeck Pappy, Wimpy, the Oyl family, and pretty much all of Noah's Ark board the Commodore's ship , and set sail to Scab Island. They catch Bluto there in one of the island's grottos and a big fight ensues. Popeye can't overpower Bluto until he is forced to eat spinach which gives him all the strength he needs to cold-cock Bluto, and turn the bully yellow. Then, Popeye takes out a ridiculous octopus that's attacking Olive from below, and we, the viewers, are treated to one last song as Popeye celebrates with his new-found family.
Toot toot!
Additional Film Information
Rate the Film!
Paramount Pictures released Popeye on December 12, 1980. Robert Altman directed the film starring Robin Williams, Shelley Duvall, and Ray Walston.