Film and Plot Synopsis
In the classic 80's teen sex comedy, the students of Angel Beach High School are looking to lose their virginity. But for Pee Wee, it seems like it will never happen. The boys of Angel Beach, including Pee Wee, engage in various sexual misadventures including spying on the girls' showers, hiring a prostitute, and traveling to the infamous Porky's strip club. However, when the club's owner humiliates the boys and takes their money, the boys plot their revenge against Porky and his men. But will the boys live to tell the tale?
Buy the Film
Porky's [Blu-ray]
8 new from $9.34
1 used from $14.71
Free shipping
as of September 25, 2023 4:51 pm
*As an Amazon Associate we earn from qualifying purchases.
'Porky's' Movie Summary
The summary below contains spoilers.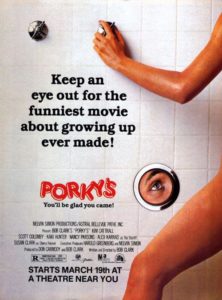 This classic 80's teen sex comedy is set in the fictional South Florida town of Angel Beach during 1954. A group of teenage boys seeks to lose their virginity during the school year. As the film opens, Edward "Pee Wee" Morris (
Dan Monahan
) wakes up and measures his penis to see if it has grown during the night. Disappointed, Pee Wee heads off to school, Angel Beach High. Once there, Pee Wee meets up with his friends, Billy McCarty (
Mark Herrier
), Mickey Jarvis (
Roger Wilson
), Anthony "Meat" Tuperello (
Tony Ganios
), Tim Cavanaugh (
Cyril O'Reilly
), Tommy Turner (
Wyatt Knight
), and Frank Bell (
Jack Mulcahy
). Pee Wee complains about not losing his virginity yet and Mickey gives him grief about striking out with Wendy Williams (
Kaki Hunter
), the loosest girl at Angel Beach. After P.E., some of the boys attempt to catch a glimpse of some of the female students in the showers from a series of glory holes, but they are too late.
That night, Mickey, Tommy, and Billy decide to play a prank on the guys by setting up a rendezvous with a local prostitute, Cherry Forever (Susan Clark), in her swamp shack. Cherry has all the boys strip down except for Tommy and Billy, whom she pretends to entertain first. Tommy and Billy act as if they are being attacked by a black man (John Cecka) who pretends to be Cherry's jealous, homicidal husband with a machete. The naked boys all scatter around the swamp shack while Pee Wee begins running home, only to be stopped by two cops (Julian Byrd and Bill Fuller) who take the frightened boy back to local beachside burger joint. Everyone has a laugh at Pee Wee's expense.
What do you use for a jockstrap, kid? A peanut shell and a rubber band? Cherry Forever (Susan Clark)
The next day, Pee Wee is even more determined to lose his virginity. Wendy teases Pee Wee with a novelty, elephant-sized condom. Tommy inflates the condom and runs around the school yard bumping it into the various co-eds, until he accidentally thrusts it into Coach Beulah Balbricker (Nancy Parsons), a teacher who does not find any of the sexual hi-jinx funny. At the same time, two young coaches, Roy Brackett (Boyd Gaines) and Fred Warren (Doug McGrath) talk about one of the young coaches named Lynn Honeywell (Kim Cattrall). Fred tells Roy that Honeywell's nickname is Lassie, and the younger coach wants to know why. Fred tells him to get Honeywell into the equipment locker room and he will find out, but Roy is suspicious.
Later, the boys decide to head to the infamous Porky's, a strip club in the Everglades. The boys believe that they can hire a prostitute at Porky's to satisfy their sexual desires. However, the club's proprietor, Porky (Chuck Mitchell), is wise to the fact that they are all underage and decides to play a prank on the boys. He takes their money and then drops them into the swamp via a trapdoor. When the boys return to reclaim their money, Porky's brother Sheriff Wallace (Alex Karras) and his deputy (Gary Maas) show up and further harass the boys. The Sheriff proceeds to break various things on the boys' car with his nightstick and fines them for various violations. The Sheriff tells them to return to their county and to never return.
A couple of days later, the boys discuss getting their revenge against Porky and his dirty cop brother. Mickey is more obsessed than the rest of the group and is willing to go it alone if they don't want to help. Mickey's old brother Ted (Art Hingle), who is a deputy sheriff, warns the gang about messing with Porky. He informs them that Porky is a dangerous man who will stop kidding around and will become deadly serious if they mess with him. Nevertheless, Mickey makes his own plans for revenge.
Later, Tim gets into fight with a Jewish student named Brian Schwartz (Scott Colomby) during basketball practice. Tim gets suspended from the team and tries to fight Brian after practice, but Brian easily beats up the racist Tim. Tim's father, a local racist criminal (Wayne Maunder), drives Tim's erratic behavior by constantly berating and beating him. Not long after, Coach Brackett tries to advance his relationship with Honeywell. Balbricker warns Honeywell against socializing with the men, and Honeywell insults Balbricker. Honeywell and Brackett run into the boys' locker room to hide, and Honeywell becomes sexually aroused. Honeywell and Brackett have sex in the equipment room, and Honeywell begins to howl loudly. Everyone in the gymnasium overhears them, including Coach Warren.
A short time later, Pee Wee, Tommy, and Billy sneak back to the glory holes and catch the girls showering. Pee Wee can't see anything because of an overweight girl blocking his hole and screams for her to move. The girls become aware of the boys behind the wall and begin to tease them. Tommy plays along and places his penis through the glory hole. Balbricker comes into the showers and grabs Tommy by his penis. Billy and Pee Wee abandon their friend, but Tommy eventually gets away. Balbricker knows that it is Tommy, but lacks conclusive proof, although she states that she can identify the penis because it has a mole on it.
A few nights later, Tim's father arrives at a school dance and begins to hit his son after finding out that he was beat up by Brian. Tim stands up to his father with the support of his friends and Ted. Mickey arrives at the dance severely beaten after going back to Porky's. Brian and Art formulate a plan to get revenge on Porky.
Not long after, the boys rig Porky's floating strip club to be torn apart by a tow truck and motorboats. The boys also sabotage Sheriff Wallace's police cruisers so that he can't save his brother. The boys then flee in the tow truck back to their county while they are being pursued by Porky and Sheriff Wallace in Porky's pork mobile. The boys cross back into their county and are welcomed by the high school marching band and Ted in his uniform. Porky and Sheriff Wallace demand the immediate arrest of the boys for destroying the strip club. Ted proceeds to repeatedly damage Porky's car and then promises to drop all charges against Porky for driving an unsafe vehicle if the night's events are forgiven. Porky and his brother reluctantly agree since the boys were too young to have been allowed into the strip club legally.
Everyone begins to celebrate. Wendy and Pee Wee run into a school bus to have sex so that Pee Wee can finally lose his virginity. Balbricker attacks Tommy and tries to pull down his pants to reveal his penis with a mole on it. The police arrest Balbricker just as a triumphant Pee Wee announces to the world that he has lost his virginity…finally.
Additional Film Information
Rate the Film!
20th Century Fox released Porky's on November 13, 1981. Bob Clark directed the film starring Dan Monahan, Mark Herrier, and Wyatt Knight.