Film and Plot Synopsis
Tom Dunston has run a cattle ranch in Texas for the last fourteen years. When he started, he, his old pal named Nadine Groot, and a teen-aged boy named Matt Garth had only two head of cattle to their name. Now, he's got 10,000 ready for a drive to market. Unfortunately, the nearest market is 1000 miles away in Missouri. While Dunston is an authoritarian who demands a great deal from the men who sign up for the drive, his young boy, Matt, is now a grown man. Matt took care of himself when he fought in the recent Civil War, and he has ideas of his own too. The two men butt heads as the hired hands for the drive take sides. After Matt winds up in charge, Dunston vows to kill him.
Buy the Film
Red River (The Criterion Collection) [Blu-ray]
2 new from $65.95
1 used from $45.95

as of December 3, 2023 7:09 am
*As an Amazon Associate we earn from qualifying purchases.
'Red River' Movie Summary
The summary below contains spoilers.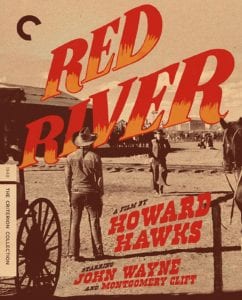 John Wayne
is the tyrannical Thomas Dunson, whom we meet while deciding to breakaway from a wagon train. Resisting the advances of a beautiful woman to stay, Dunson still bails. Later, we see the ominous smoke on the horizon from an Indian attack on the group he left behind.
Later, out on the trail, there is a fierce knife fight with an Indian. Once victorious, Dunson discovers the dead man wearing the bracelet his late female suitor once owned. A young boy, Matt Garth, strays onto the scene, and joins Dunson who raises him as a son. Dunson has big dreams of settling in Texas, and spreading his brand from a cow and a bull to an entire farming property dynasty.
Time passes, and Matt goes off to fight in the Civil War. When he returns, Montgomery Clift now plays the character, and a bromance blossoms between him and Big Tom. Since the south lost the war, money is hard to come by. Dunson gathers a group of men to take a massive herd of 9000 cattle on a crucial drive to Missouri for money. The Red River is a major water way they have to cross during the 1000 mile journey.
The drive starts without a hitch, but as the journey progresses, the group's luck changes. In one of the film's most intense scenes, a stampede kills 300 cattle and one of the cowboys. Delays and weary cowboys makes Dunson paranoid. He begins to sleep less and drink more. His hatred for any quitters intensifies, and as men quit, the mission starts to take longer than expected.
Some of the men turn on Dunson and his unreasonable demands. In time, his protege, Matt Garth, leads a mutiny. Dunson promises to kill Matt until he's dead.
The mutinous men change course and head for Abilene, Texas. As they travel along, their paranoia builds because they know it's only a matter of time before Dunson rounds up a band of riders of his own to follow and kill them.
Aware of a possible Indian ambushes, Matt actually embellishes an attack on a tribe that circles some stationary wagons full of women, gamblers, fresh coffee, and whisky. Upon arriving to the wagon train, Matt falls for a wounded women named Tess. That gal melts his tough-guy persona away. However, Matt has to continue on with the drive to Abilene.
Missing for a good 1/2 hour duration or more, The Duke turns up to the pleasure camp; instantly questioning Tess on Matt's whereabouts. The two head out to find Matt together.
Finally, after all of Matt's talk of their being a train in Abilene, the cowboys come upon the tracks leading to the town. The locals greet the men like heroes when they see all the cattle meander through town.
While discussing dollar amounts for his beef, Matt, learns his enemy (but secret/not-so-secret idol) Dunson is in town to kill him–dead.
Cue a big, dusty big brawl, a few gunfights, and Tess' love-struck speech to finish everything out, and you have one heck of a finale. Dunson and Matt revive their bromance, and Matt gets the girl.
Roll credits, y'all!
Additional Film Information
Rate the Film!
Monterey Productions released Red River on September 17, 1948. Howard Hawks directed the film starring John Wayne, Montgomery Clift, and Joanne Dru.