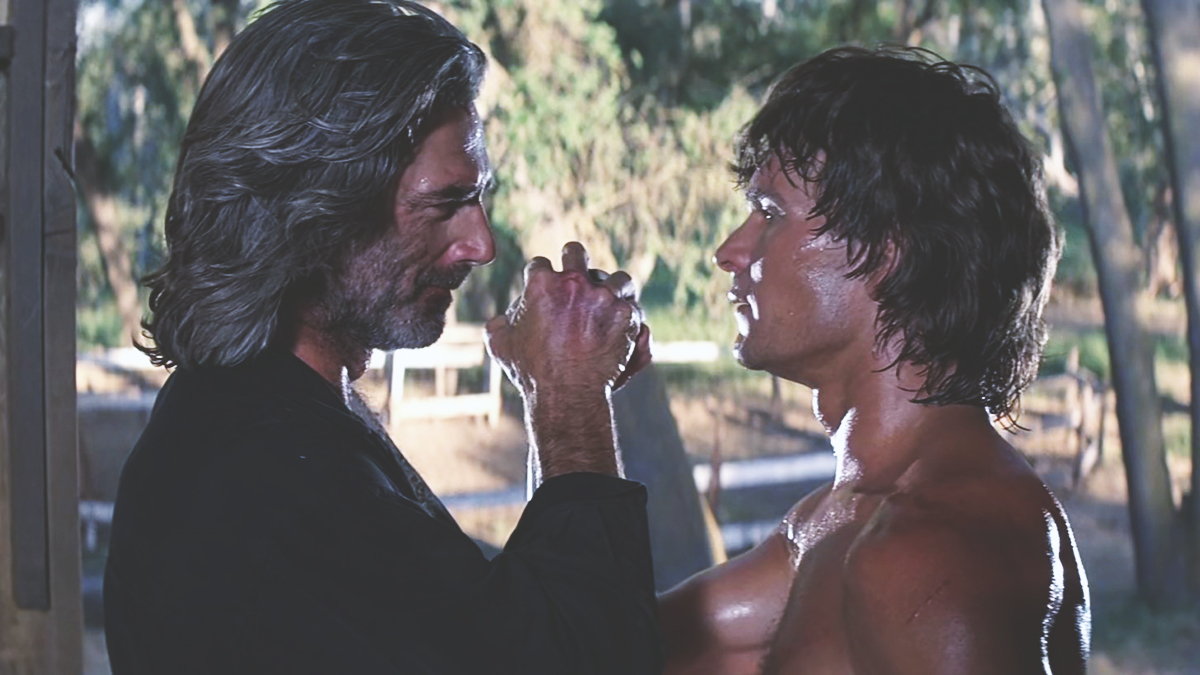 Film and Plot Synopsis
In Road House, Dalton is an expert in martial arts and the best professional bouncer in the business. With that reputation, the owner of a sleazy bar named The Double Deuce calls Dalton down to his sleepy small town in Missouri. He wants Dalton to rid his place from a bunch of troublemakers who terrorize his customers. However, there's an evil local entrepreneur named Brad Wesley who wants things to remain as they are. Dalton agrees, and begins to clean up the nightclub (and the town) of Wesley's hired goons. When he gets stabbed, he meets Dr. Elizabeth "Doc" Clay, and they soon begin an affair. This sets a confrontation up between Dalton and Wesley for the soul of the town.
Buy the Film
Road House [Blu-ray]
8 new from $14.00
1 used from $13.89
Free shipping
as of May 20, 2022 2:48 am
*As an Amazon Associate we earn from qualifying purchases.
'Road House' Movie Summary
The summary below contains spoilers.
In 1989's
Road House
, Dalton is the man, the man with a heart of gold and a fist of fury. He can sniff out a drunk a kilometer away or a cash-stealing employee close by.
He's the best bouncer in the business, and probably the only one with a degree in philosophy. He believes in being nice…until it's time not to be nice. So, if you're called a cocksucker to your face, don't take it personal. Be nice. When isn't it time to not be nice? Just ask Dalton. He'll tell you when it's time to not be nice. Feel calmer now?
Lured out of his comfortable New York job to work to take control Double Deuce tavern in the redneck town of Jasper, Missouri; Dalton's reputation precedes him, but his size does not. The ladies expected him to be bigger, much bigger…even some of the men were disappointed at his girth.
Anyhow, Dalton finds a place to stay at Emmet's farm. It doesn't have much — no phone or TV — he only has a loft, and that suits Dalton just fine. He is man who doesn't need much, just the simple pleasures, such as his smokes and his nice car. Dalton doesn't even need underwear. He is what you Americans refer to as a "free-baller".
However, Dalton loves his car. So he parks the Mercedes in the barn, and buys a cheap "work" car to drive to the bar each night. He also stocks up on spare tires in anticipation of his current set being slashed. Why not park out the back or ride a bike to work, Dalton, if you think the local's are going to be so concerned?
He quickly takes the reins of the Double Deuce, much to the owners delight, throwing out manic drunks nicely, controlling the existing staff, nicely, and not throwing any punches…just yet.
The blind lead singer / guitarist of the house band is an old mate of Dalton who warns him of the Double Deuce, and its namesake Double Standards. Turns out Jasper is controlled by Jackie Treehorn of The Big Lebowski. He's skimming dollars off all the businesses in the town in return for protection from his right hand thugs. This arrangement also applies to the Double Deuce and Dalton does not like it.
In the meantime, during an all out brawl when being nice is thrown out the window like a bar stool in blazing saddles, Dalton checks into the ER of the local hospital to get his flesh wound fixed up. Which is surprising since to Dalton, "pain don't hurt." Dalton's wounds are tended by a very hot nurse in her prime, an amazing Cocktail hottie. No, not Elizabeth Shue, it's Kelly Lynch, you know Mickey Rourke's girlfriend in Desperate Hours. Yeah, I didn't think so?
An SOS call is put in to The Stranger of The Big Lebowski, a fellow Bouncer buddy and mentor of Dalton's named Wade Garrett for a bit of help as Jackie Treehorn's business arrangements are threatened by Dalton.
Car chases, helicopter rides, and a poor beaten up old man ensue a classic royale rumble showdown, the likes Jasper has never seen. Dalton is even forced to bring out what Jason refers to as "Swayze-kate" on Treehorn's henchman Jimmy. In a dramatic dance fight down by the river that would have made any Footloose fan proud, Dalton is forced to rip out Jimmy's throat with his bare hand. And Swayze didn't even have the "glow" when he did it.
After the throat ripping incident, Dalton is ready to pack his bag and head to the next honky tonk with Wade. But once he finds Wade lying dead on the bar with a knife buried to the hilt in his chest, Dalton unleashes the fury of unrestrained "Swayze-kate" on Treehorn and his remaining men.
The fighting goes on and on until Dalton remains the last man standing. Jackie Treehorn is no more, and the Double Deuce and the simple folk of Jasper remain thankful to Dalton till the end of days. At least until the unnecessary straight to home video sequel of 2006, that found the only way to tarnish the legacy of Road House – make another one without Swayze.
Additional Film Information
Rate the Film!
United Artists released Road House to theaters on May 19,1989. Rowdy Herrington directed the film starring Patrick Swayze, Kelly Lynch, and Sam Elliott.