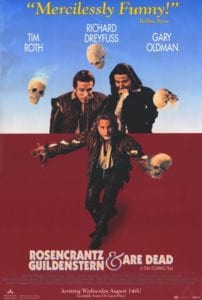 I watched this movie when it first came out in 1990 and thought it was fantastic. I had never seen anything so intelligent, slippery, surreal and downright enjoyable as this play within a play. I enjoyed the experience with every fiber of my being. The two leads were sheer perfection in their roles as Rosencrantz & Guildenstern (or is it Guildenstern & Rosencrantz?). The humor is dry. The pacing is slow. The sets are limited. The setting is in Shakespeare's mid-sixteenth century. Most of these details when combined do not a good feature film make. However, in this case, it is an amazing and mesmerizing triumph.
Tim Roth & Gary Oldman are energetic, confused, quizzical and supportive as the two title characters. Their chemistry is special. However, it is the twisted, genius screenplay by the writer/director, Tom Stoppard, that is the true star of this movie. Based on two very minor but pivotal characters in William Shakespeare's "Hamlet", Stoppard has pulled the curtain back to show what these two hapless characters are thinking when they realize all too late that their fates are not their own.
Walking in circles without direction, talking in circles without ever having meaning, playing "word tennis" without rules yet realizing the rules are of their own choosing… It is inspired literature that translates into a beautiful story.
With an exemplary supporting cast of Medieval players led by American actor Richard Dreyfuss and a ridiculously talented group of actors as the "real" Hamlet characters, this story plays with the English language as though the audience is intelligent and following the leads to their inevitable end. This is the type of writing that all aspiring writers should study. To take Shakespeare's Old English and weave it throughout the narrative while the lead characters come in and out of the actual "Hamlet" play while explaining their predicament all the while. There is no cheap voice-over narration. The action/direction falls on screen with all it's beauty, all it's faults and all it's genius.
This movie should not be watched as a stand-alone story. If you have never read/seen "Hamlet" either in print or on stage, you will not understand all the ins-and-outs of the screenplay fabric. The story relies on the audience having already understood the direction of our anti-heroes. However, if you do understand "Hamlet", you will enjoy a fantastic story unfolding on the screen before your eyes. This is a beautiful movie that will keep you engrossed from beginning to end. I can't recommend it highly enough.
What do you think of the film? Let us know in the comments below.
Disclaimer: Affiliate links contained in this post will take you to Amazon.com and/or the iTunes Store. This Means when you click a link, and purchase an item, the MHM Podcast Network will receive an affiliate commission. Advertisers and Affiliate Partnerships do not influence our content. See our Terms of Use about the inclusion of affiliate links on this site for more information.
MHM's Rating
Intelligent, surreal comedy proving a play within a play can be done with class