Film and Plot Synopsis
In the height of World War II, tough as nails Marine Sergeant John Stryker pushes his squad as hard as he can to prepare them to fight in the Battle of the Pacific. The Marines begin to hate Stryker, but eventually begin to appreciate his leadership when they are thrown into the war during the United States' invasions of the islands of Tarawa and Iwo Jima. However, despite their appreciation of the training, will they ever respect Stryker as a man, and will Stryker learn to respect himself?
Buy the Film
Sands of Iwo Jima [Blu-ray]
11 new from $19.97
3 used from $22.25

as of September 15, 2023 3:12 am
*As an Amazon Associate we earn from qualifying purchases.
'Sands of Iwo Jima' Movie Summary
The summary below contains spoilers.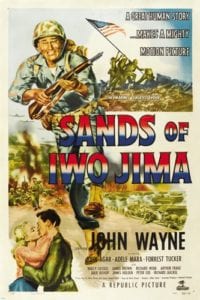 In the height of World War II, career Marine Sergeant John Stryker (
John Wayne
) is training a new group of Marines for combat. In Stryker's platoon is Private First Class (PFC) Peter "Pete" Conway (
John Agar
), an arrogant, college-educated son of Stryker's former commander and personal hero Colonel Sam Conway. Pete has issues with his father and does not share Stryker's admiration. Also in the unit is PFC Al Thomas (
Forrest Tucker
), a newly demoted Marine who blames Stryker for his demotion. Another man in Stryker's unit is Corporal Robert Dunne (
Arthur Franz
), Stryker's second in command and the lone soldier who truly appreciates Stryker. Dunne acts as the narrator for the story.
Stryker puts his men through rigorous training and is greatly disliked by the platoon, something that Stryker appears to be fine with. Stryker also has his demons as he is haunted by the separation from his wife and his estrangement from his son. This results in Stryker getting blind drunk during every liberty.
After training, Striker leads his squad in the invasion of Tarawa in the Battle of the Pacific. Once in battle, most of the men begin to appreciate Stryker's rigorous training and discipline. Once the Marines land on the beach, their platoon leader, Lieutenant Baker (Gil Herman), is killed almost instantly, while two of Stryker's men, PFC Soames (James Holden) and PFC Choynski (Hal Baylor) are seriously wounded. Stryker's Marines are pinned down on the beach by a pillbox until Stryker is able to demolish the pillbox and save his men.
During the battle, Thomas and two other Marines, PFC Bass (James Brown) and PFC Hellenopolis (Peter Coe) are pinned down in a fox hole by the Japanese. They run out of ammunition while returning fire and Thomas goes back to the beach to get more ammo for the trio. While at the beach, Thomas smells some coffee and stops to have a couple of cups before heading back to the foxhole. Meanwhile, Bass and Hellenopolis become desperate and leave the safety of the foxhole to avoid being killed. Ultimately, Hellenopolis is killed by Japanese soldiers and Bass is bayoneted but survives. Once learning of the situation, Thomas carries guilt for his coffee break.
On their first night on the island, Stryker and his men are ordered to dig in and hold their positions despite being severely outnumbered. Stryker orders his men to remain absolutely silent as to not give away their deficient numbers. During the night, the wounded Bass cries out to Stryker for help. Pete wants to climb out of the foxhole that he shares with Stryker to help his comrade, but Stryker tells him to stay put and even threatens to shoot Pete if he disregards his orders. Pete seethes with anger over what he sees as Stryker's cold blooded nature, not appreciating that Stryker is trying to protect the entire unit even if it means sacrificing one man.
After Tarawa, Stryker and his men earn some leave on Hawaii. Stryker learns about Thomas' dereliction that resulted in Hellenopolis' death. Stryker gets into a fistfight with Thomas, who confesses his responsibility and guilt and apologizes to Stryker. The two men finally begin to see eye to eye on things. One night while at the bar drinking, Stryker is picked up by a local bargirl, Mary (Julie Bishop), and goes back to her apartment for a little late night affection.
Stryker hears a noise in her bedroom and discovers a hungry baby boy in the room. The child reminds Stryker of his own son, so he leaves some money for Mary and her son and leaves. Shortly afterwards, Stryker encounters Dunne on the streets of Honolulu and informs him that he is done feeling sorry for himself. Stryker and Dunne enter a bar and encounter Stryker's unit celebrating the birth of Pete's son. When Stryker tries to congratulate Pete, the young private tells Stryker that he hates the elder Marine, but he will do his duty as ordered. Stryker realizes that he and Pete will never have the relationship that Stryker had with Pete's father.
A few days later, during a training exercise, a new replacement Marine, PFC McHugh (Martin Milner), accidentally throws a grenade the wrong direction and towards the platoon. Pete is distracted by a letter from his wife with a picture of his son and does not see the grenade. Stryker tackles the absent minded private, saving his life. Stryker, slightly wounded from the explosion, bawls out Pete in front of the squad. The unappreciative Pete is also dressed down by Thomas who points out that Stryker just saved Pete's life.
The culmination of the film comes when Stryker's squad is sent with many other troops to the take the island of Iwo Jima. The squad suffers heavy causalities during the first few hours of the battle. Stryker's new lieutenant announces his intention to lead a forty man patrol to charge up the hillside of Mount Suribachi. During the ascent, PFC Flynn (William Murphy), PFC Stein (Leonard Gumley), and PFC Fowler (William Self) from Stryker's unit are all killed.
Stryker's unit reaches the peak and is ordered to place a United States flag up to signify that the Marines have taken the mountain. A lone Japanese soldier emerges from a spider hole and shoots Stryker, killing him. In return, Bass kills the Japanese soldier. The surviving members of Stryker's squad find and read an incomplete letter that Stryker was writing for his son, but never completed. The letter expresses all the things that Stryker wanted to say to his son. The men vow to finish the letter and send it to Stryker's son. Moments later, the squad witnesses the iconic flag raising on Iwo Jima.
Additional Film Information
Rate the Film!
Republic Pictures released Sands of Iwo Jima on March 1, 1950. Allan Dwan directed the film starring John Wayne, John Agar, and Adele Mara.