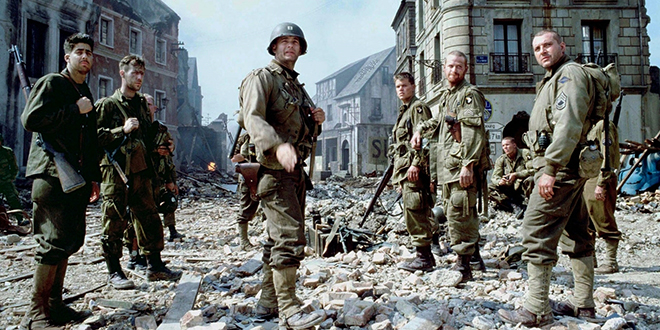 Podcast: Play in new window | Download
Subscribe: Apple Podcasts | Android | Google Play | Stitcher | RSS | More
Paramount Pictures released Saving Private Ryan to theaters on July 24, 1998. Steven Spielberg directed film which starred Tom Hanks, Matt Damon, and Tom Sizemore.
Saving Private Ryan Movie Summary
In the late 90s, an elderly veteran visits the Normandy American in France with his family. He has an emotional response to a particular gravestone.
We then travel back to June 6, 1944, the day of the Normandy invasion. After the beach is stormed and taken, Captain John Miller is given orders to search the surrounding area for a Private Ryan. Private Ryan lost three brothers in combat in the past week. Captain Miller and his men have been ordered to find Ryan and extract him safely home.
Captain Miller sets out with six men to find Ryan. However, Ryan was an airborne trooper, and they were scattered throughout the region, and nobody knows where anyone is. As they search for him, two members of the small group meet violent fates: shot by a sniper, shot while taking a machine gun nest.
They eventually find Private Ryan with a small group of men defending a bridge of great strategic importance. Ryan refuses to abandon his own men and leave. Captain Miller decides to stay and help protect the bridge and Private Ryan. The Germans come for the bridge. All but two of Captain Miller's crew die, including Captain Miller, in defending the bridge. However, Miller's last words to Ryan, "earn this," stick with him.
At the end of the movie, we see that the old man in present day Normandy is Private Ryan, who has come to pay his respects to the men that saved him.
Disclaimer
This podcast is not endorsed by Paramount Pictures, and is intended for entertainment and information purposes only. Saving Private Ryan, all names and sounds of Saving Private Ryan characters, and any other Saving Private Ryan related items are registered trademarks and/or copyrights of Paramount Pictures or their respective trademark and/or copyright holders. All original content of this podcast is the intellectual property of MHM Podcast Network, Movie House Memories and Fuzzy Bunny Slippers Entertainment LLC. unless otherwise noted.
Affiliate links contained in this post will take you to Amazon.com and/or the iTunes Store. This means when you click a link, and purchase an item, the MHM Podcast Network will receive an affiliate commission. Advertisers and Affiliate Partnerships do not influence our content. See our Terms of Use about the inclusion of affiliate links on this site for more information.