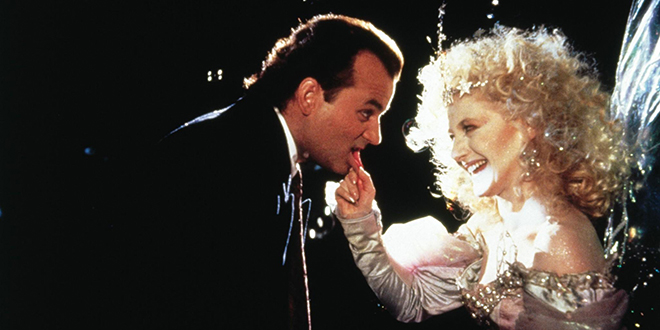 Film and Plot Synopsis
In Scrooged, Frank Cross is a cynical and mean-spirited television executive. He treats his employees and people in general with contempt. After he fires an employee on Christmas Eve for disagreeing with him, the then alienated himself with his brother further even though he insists on inviting Frank yearly to Christmas dinner. However, this year, three Ghosts will visit him to teach him the true meaning of Christmas.
Buy the Film
Scrooged (Blu-ray + DVD + Digital)
9 new from $7.99
7 used from $4.76
Free shipping
as of December 8, 2022 6:31 am
*As an Amazon Associate we earn from qualifying purchases.
'Scrooged' Movie Summary
The summary below contains spoilers.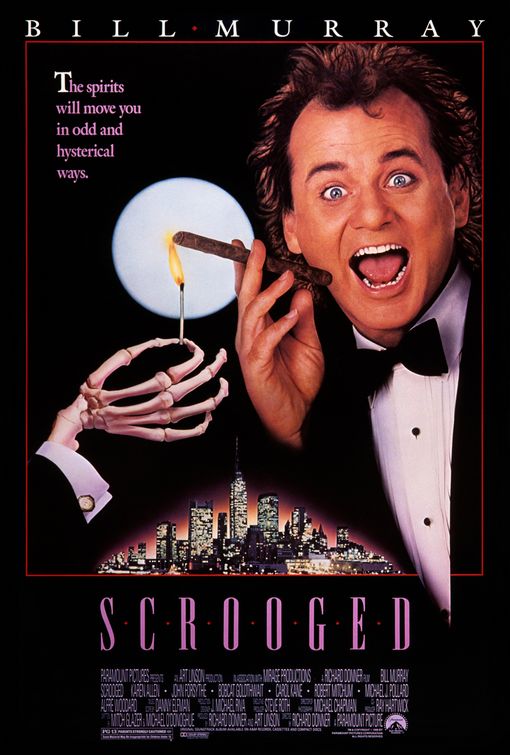 In
Scrooged
, Francis Xavier Cross (
Bill Murray
) is the dickish executive of a national television station. He's rude, arrogant, and inconsiderate. He only cares about ratings and getting ahead, so basically Frank embodies every television executive of every television station ever.
Frank has scheduled a live broadcast of a Christmas Carol on Christmas Eve because he doesn't care about his employees, Christmas, or Dickens—since he is pissing all over the classic novel with his bastardized special. Additionally, we see him fire his employee, Eliot Loudermilk (Bobcat Goldthwait), on Christmas Eve, and treats his very loyal assistant, Grace Cooley (Alfre Woodard) horribly throughout the film.
The night of the show, his dead mentor and former head of the network, Lew Hayward (John Forsythe), visits Frank. He tells him that three ghosts will soon visit him to show Frank the error of his ways. Lew then calls Frank's former girlfriend, Claire (Karen Allen), as he wakes Frank from a trance. Claire is a sweet woman who works for a homeless outreach program, but apparently is a horrible judge of character when it comes to men.
The Ghost of Christmas Past
Frank meets the Ghost of Christmas Past (David Johansen) who drives a cab. He shows Frank a long forgotten childhood memory from when his hard-working father, who was a butcher, gives Frank a generous piece of meat for Christmas. The Ghost then takes Frank to his early adult years where works as a mail hand at the television station he now runs.
There we see him meet and fall in love with Claire. The Ghost then reminds him of the events that lead to his breakup with her. Frank's boss asked him to have dinner with him on Christmas Eve—a once in a lifetime opportunity—but Claire, leaves him because they had plans with long time friends.
The brings us back to the present, and Frank goes to confront Claire over leaving him. He finds her at the homeless shelter where he meets a couple of homeless people. Of course he treats everyone there horribly. Apparently, he forgets that he was there to tell her off, and instead tries to reconcile with her. That doesn't work when he continues to be a dick, and decides Claire is just too helpful to people.
The Ghost of Christmas Present
He soon meets the Ghost of Christmas Present (Carol Kane). She takes him to the Cooley family home in Harlem. The Ghost shows Frank that even though the Cooleys are poor, they are happy. We also get to see Mrs Cooley's son, Calvin (Nicholas Phillips) continue to struggle with his father's death as Calvin refuses to talk to anyone.
When The Ghost of Christmas Present takes Frank to his brother James' (John Murray) Christmas party we see him and his close friends play a trivia game while talking about what a tool Frank is. She then takes Frank to the sewer where he sees one of the homeless men he met earlier in the day. The cold night froze him solid, and Frank demands to return home.
The Ghost of Christmas Future
Frank finally meets the third and last Ghost–the Ghost of Christmas Future–a silent grim reaper with a television for a head. He shows Frank that the Cooley family suffers a tragedy in the near future with Calvin committed to a mental hospital.
Frank also learns that Claire it now an insanely rich and uncaring person. Finally, Frank sees a funeral of an unknown person that only two people attend–one of whom is his brother. He realizes that he's the one in the casket, and it's about to cremate him. Suddenly, he's in the casket about to burn. He screams that he wants to live. Frank wakes up in the studio from the nightmare a changed man.
However, Eliot is there with a double barrel shotgun with the intent of killing Frank. Frank is excited to see Eliot which confuses him. Frank then makes him the head of programming at twice the pay. As the Christmas Eve special begins, Frank hijacks the live program before going on a rambling speech about Christmas, family, and friends. At the end of it, Calvin Cooley speaks his first words in five years, "God bless us, everyone." Claire and Frank live happily ever after.
Additional Film Information
Rate the Film!
Paramount Pictures released Scrooged on November 23, 1988. Richard Donner directed the film which starred Bill Murray, Karen Allen, and John Forsythe.