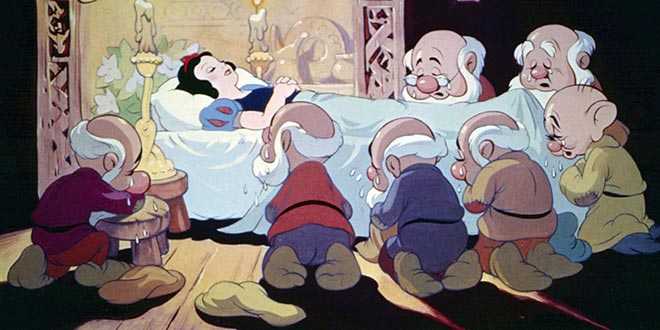 Podcast: Play in new window | Download
Subscribe: Apple Podcasts | Android | Google Play | Stitcher | RSS | More
Walt Disney Pictures released Snow White and the Seven Dwarfs to theaters on February 4, 1938. David Hand, William Cottrell, Wilfred Jackson, Larry Morey, Perce Pearce, and Ben Sharpsteen directed film which starred the voice work of Adriana Caselotti, Harry Stockwell, and Lucille La Verne.
Snow White and the Seven Dwarfs Movie Summary
Based upon the classic Brother's Grimm Fairy Tale, Walt Disney's first full-length animated feature film is Snow White and the Seven Dwarfs. An evil Queen is jealous of her beautiful stepdaughter and plots her death. She orders a Royal Huntsman to kill the Princess, but he is unable to commit murder. He allows Snow to escape.
Snow White flees into the scary woods where she befriends the woodland creatures and seven below averaged height diamond miners. The dwarfs shelter Snow and she in turn keeps house for them and teaches them good hygiene.
The vain Queen consults with her Magic Mirror and learns that Snow White is not only alive, but also still the fairest in the land. The Queen is furious and hatches another plan to harm Snow White. The Queen magically transforms herself into an old beggar woman who offers Snow a poisoned apple. Snow White takes a bite of the apple and falls into a deathly sleep. Her loving dwarfs lay her to rest in a glass coffin.
Typical of a fairy tale published in 1812, Snow White is rescued by the true love kiss of her handsome Prince.
Read the full summary
Disclaimer
This podcast is not endorsed by Walt Disney Pictures, and is intended for entertainment and information purposes only. Snow White and the Seven Dwarfs, all names and sounds of Snow White and the Seven Dwarfs characters, and any other Snow White and the Seven Dwarfs related items are registered trademarks and/or copyrights of Walt Disney Pictures or their respective trademark and/or copyright holders. All original content of this podcast is the intellectual property of MHM Podcast Network, Movie House Memories and Fuzzy Bunny Slippers Entertainment LLC. unless otherwise noted.
Affiliate links contained in this post will take you to Amazon.com and/or the iTunes Store. This means when you click a link, and purchase an item, the MHM Podcast Network will receive an affiliate commission. Advertisers and Affiliate Partnerships do not influence our content. See our Terms of Use about the inclusion of affiliate links on this site for more information.
---
---