Film and Plot Synopsis
Somewhere In Time begins with a young writer named Richard Collier meeting an old lady on the opening night of his first play. After she begs him to, "Come back to me," the confused playwright sets out to find everything there is to know about her. Collier soon learns that she's a famous stage actress from the early 1900s named Elise McKenna. He quickly develops an obsession with her, and using self hypnosis, he travels back in time to meet her youthful self. It's there that the two fall in love—much to the chagrin of her manager. Will their love survive his disapproval? Can it last the decades that separate them? Watch the film to find out!
Buy the Film
Somewhere in Time [Blu-ray]
11 new from $9.35
4 used from $5.89
Free shipping
as of September 24, 2023 6:39 pm
*As an Amazon Associate we earn from qualifying purchases.
'Somewhere In Time ' Movie Summary
The summary below contains spoilers.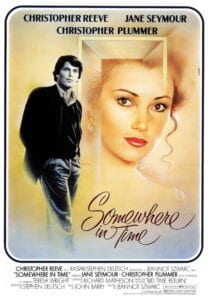 Based on Richard Matheson's bestselling book
Bid Time Return
,
Somewhere In Time
is the story of how love has no bounds—including those set by time and space.
In 1972, Richard Collier is a Chicago university student who just watched his first play become a hit on the college stage. At the opening night party, Richard and all his guests are startled by an old woman who walks directly up to Richard, and places a beautiful, antique gold watch in his hands while pleading, "Come back to me", then she disappears from the shocked, silent group, where she dies later that evening.
Eight years later in 1980, Richard is a successful playwright still living in Chicago but he has never found true love. On a whim, he packs up and travels a few hundred miles away and stumbles upon The Grand Hotel on Mackinac Island—a picturesque, gargantuan hotel on one of the Great Lakes. Intrigued, Richard checks in and, while waiting for the restaurant to open, he steps into the Hall of History, where he is instantly mesmerized by a lone portrait of a transcendent woman from the turn of the century. Richard immediately researches to find out this woman was a famous actress named Elise McKenna. Through his research, he is beyond surprised to realize the woman in the portrait and the old woman who gave him the watch were one in the same.
Richard forgets about all else and lunges headlong into a pursuit into knowing more about Elise when he stumbles upon a revelation that she was obsessed with time travel. Richard travels back to Chicago University where he speaks with one of his professors who had written a book about time travel. He finds out that the professor believes through hypnosis, he may have traveled back centuries into the past. Richard heads back to the Grand Hotel, changes clothes, hairstyle, money and cleans out his room and begins self-hypnotizing himself into traveling back to 1912…to when Elise would be performing a play at the hotel.
When Richard awakes, he has physically transitioned into 1896! Dammit!! He overshot his year…oh wait…that was the book. He awakens in 1912 and seeks out Elise. He finds her walking on the beach. But instead of being alarmed, she curiously asks the stranger, "Is it you?" She is immediately accompanied by her omnipresent and ever-combative manager, William Fawcett Robinson. Elise and Robinson head back to the hotel with Richard following closeby before Robinson threatens to have him removed from the premises. As evening sets, Richard has no room in the hotel so he sleeps on the veranda.
He then checks into the hotel in the morning and continues getting closer and closer to Elise as Robinson bristles, threatens, and forcefully challenges Richard to leave the bewitched Elise alone. After Elise's play rehearsal, Richard and Elise evade Robinson and spend the day around the lake, falling in love. By the evening's performance, they are both madly, bewilderingly, forever in love.
Will Elise be able to perform in the play with Richard watching from the front row? Will Robinson succeed in permanently ripping the two young lovers apart? Will Richard succeed by staying in 1912 indefinitely and turning his back on 1980? Will anyone ever figure out where the gold watch came from and where it is now? A penny for your thoughts…
The End.
Additional Film Information
Rate the Film!
Universal Pictures released Somewhere In Time on October 3, 1980. Jeannot Szwarc directed the film which starred Christopher Reeve, Jane Seymour, and Christopher Plummer.