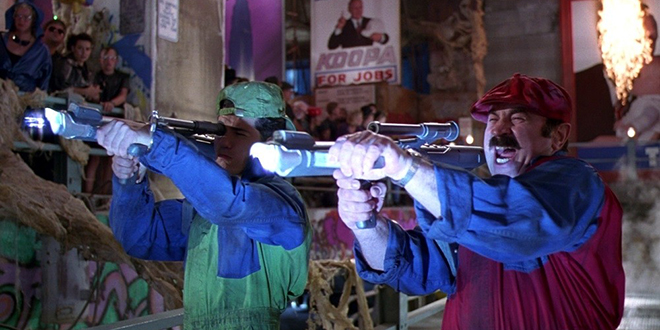 Podcast: Play in new window | Download
Subscribe: Apple Podcasts | Android | Google Play | Stitcher | RSS | More
Directed By: Annabel Jankel, Rocky Morton
Starring: Bob Hoskins, John Leguizamo, Dennis Hopper
Super Mario Bros. 30-Second Summary
Once long ago a meteor crashed into earth and we all thought it wiped out dinosaurs. Little did we know the meteor split our reality into two sending the dinosaurs to an alternate earth where they evolved much like we did. In fact they just look human.
So in a movie that looks nothing like, and frankly has very little in common with, the video game from which it took it's inspiration, two Italian plumbers named Mario and Luigi (played by Bob Hoskins and John Leguizamo) must rescue Luigi's new love interest who just so happens to be a stowaway dino person on our world from President Koopa (played by Dennis Hopper) after she is kidnapped and taken there.
Princess Daisy (Samantha Mathis) holds the only missing piece to the meteor which when made whole would thrust our realities back together. Koopa wants this to happen so he can conquer our world with his zany style, jumping boots, pinhead dinosaurs and fireball spitting guns that cannot hit a target.
Mario and Luigi are able after sorta doing nothing for the entire film to save the princess. Mojo Nixon has a small role which is pretty awesome just fast forward to 30 minutes in exactly. They also ruined Yoshi. I just saved you an hour and forty four minutes. You're welcome. Paypal your thanks care of Shane T (Not that imposter Shane A) at Movie House Memories.
Disclaimer
This podcast is not endorsed by Walt Disney Pictures and is intended for entertainment and information purposes only. Super Mario Bros., all names and sounds of Super Mario Bros. characters, and any other Super Mario Bros. related items are registered trademarks and/or copyrights of Walt Disney Pictures or their respective trademark and/or copyright holders. All original content of this podcast is the intellectual property of The Number Two Review, MHM Podcast Network, and Fuzzy Bunny Slippers Entertainment LLC unless otherwise noted.
Affiliate links contained in this post will take you to Amazon.com and/or the iTunes Store. This means when you click a link, and purchase an item, the MHM Podcast Network will receive an affiliate commission. Advertisers and Affiliate Partnerships do not influence our content. See our Terms of Use about the inclusion of affiliate links on this site for more information.
---
---