Film and Plot Synopsis
In T2 Trainspotting, twenty years have passed. Much has changed but just as much remains the same. Mark Renton returns to the only place he can ever call home. They are waiting for him: Spud, Sick Boy, and Franco. Other old friends are waiting too: sorrow, loss, joy, vengeance, hatred, friendship, love, longing, fear, regret, diamorphine, self-destruction and mortal danger, they are all lined up to welcome him, ready to join the dance. Will Mark find the answers to his mid-life crisis or will the demons of his past finally catch up to him? First there was an opportunity…then there was a betrayal.
Buy the Film
T2 Trainspotting [Blu-ray] [4K UHD]
8 new from $13.36
3 used from $9.36
Free shipping
as of September 26, 2023 9:00 am
*As an Amazon Associate we earn from qualifying purchases.
'T2 Trainspotting' Movie Summary
The summary below contains spoilers.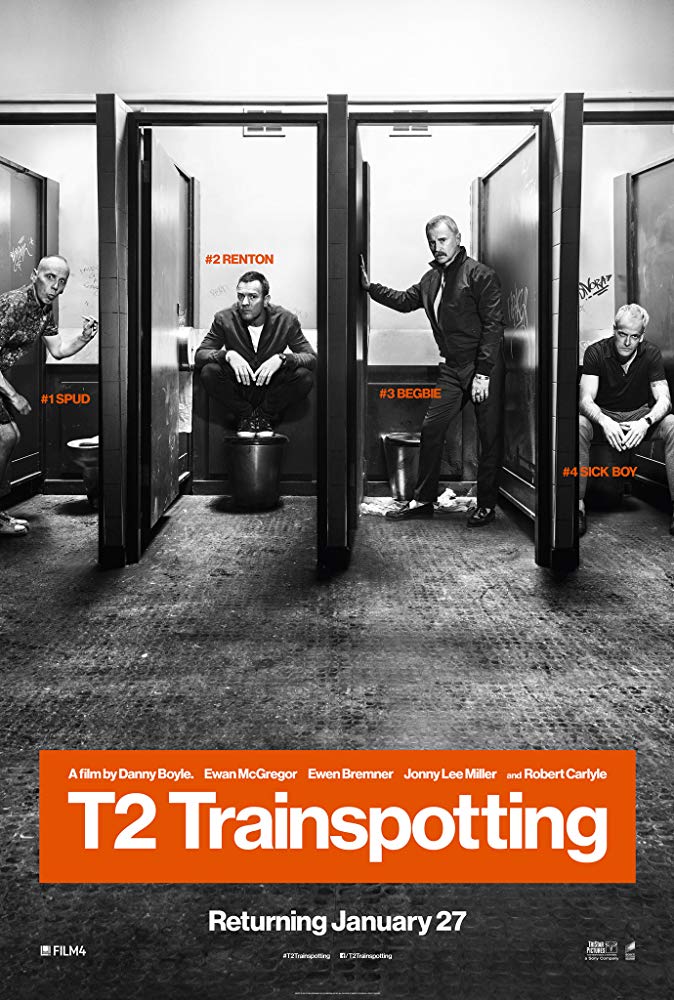 T2 Trainspotting
takes place twenty years after the events of the
first film
. Mark "Rent Boy" Renton (
Ewan McGregor
) suffers a heart attack while running on a treadmill at a gym in Amsterdam. Mark, who has been free of heroin for years, finds his life in disarray as he is also going through a divorce as well. On the brink of a mid-life crisis, Mark decides to take a trip back to Edinburgh to figure out what he wants to do with his life and to make amends to the people he wronged twenty years before. Mark has not been back since he stole £8,000 in drug money from his friends Simon "Sick Boy" Williamson (
Jonny Lee Miller
) and Francis "Franco" Begbie (
Robert Carlyle
).
In Edinburgh, Daniel "Spud" Murphy (Ewen Bremner) is back to using heroin again after separating from his wife Gail (Shirley Henderson) and losing visitation rights to his son Fergus (Kyle Fitzpatrick). Sick Boy manages a failing pub while engaging in blackmail schemes with his Bulgarian part-time girlfriend, Veronika (Anjela Nedyalkova). He is also still heavy into drug use, using cocaine quite frequently. Franco is serving a lengthy prison sentence and is estranged from his son and wife.
Spud becomes despondent over his continued cycle of drug use and failure and attempts to commit suicide by suffocating himself with a plastic bag. Mark arrives at his flat just in time to save him. Mark offers to help Spud overcome his drug addiction. Mark teaches Spud to focus his addiction on something else such as exercise or work. Mark visits Sick Boy at his pub and Sick Boy attacks Mark for stealing the money from him years before. After their fight, Mark repays Sick Boy the £4,000 that he stole from him, and Sick Boy introduces Veronica to Mark. However, Sick Boy tells Veronika that he still plans to take revenge on Mark after he leaves.
Meanwhile, Franco escapes from prison by having another inmate stab him in the stomach so that he can make his break at a less guarded hospital. Once on the run, he finds his wife, June (Pauline Turner), and meets his son Franco Begbie Jr. (Scot Greenan). Franco's son tells him that he is planning on going to college, but Franco attempts to introduce him to a life of crime. His son does not take to the life and tells his father that he would rather go to school and study hotel management. Franco ridicules his son and challenges his son's manhood before leaving. Franco visits Sick Boy who pretends to have heard that Mark is living in Amsterdam and promises to provide Franco with a false passport so he can travel and exact his revenge.
At the same time, Mark and Sick Boy mend their differences and begin to commit various crimes together with Veronika. Sick Boy tells Mark of his plans to turn the dying pub into a brothel under the guise of a sauna. Sick Boy wants to implement the plan to keep Veronika around. Mark and Sick Boy fraudulently apply for a £100,000 European Union business development grant to fund the refurbishing of the pub. Mark brings Spud in to actually work on the construction and focus his attention on something else besides his addiction. Veronika and Spud become friends and she encourages him to write down his memoirs.
As the sauna progresses, Veronika and Mark find themselves attracted to each other. They begin a secret affair. Sick Boy is arrested after one of his blackmail targets reports him to the police. Mark seeks legal advice from his former girlfriend, Diane Coulston (Kelly Macdonald), who has become a solicitor in the last twenty years. Mark and Veronika are forced to use the proceeds of their petty crimes to pay for Sick Boy's legal fees to get him out of jail. With their money almost gone, the three are more dependent on getting the E.U. grant.
After Sick Boy is released, he and Mark go to a club to celebrate. Franco also shows up to club and sees Mark. Franco chases Mark all over Edinburgh with the intent to kill him, but Mark is able to escape with minor injuries. The next day, Mark and Sick Boy are kidnapped by a rival owner of a nearby brothel, Doyle (Bradley Welsh). Doyle threatens their lives if they proceed with their plan to open a brothel in competition with him, and the two friends decide to abandon their scheme. However, Mark and Sick Boy are informed that they have been given the E.U. grant. Mark and Sick Boy both plan to steal the other person's share of the money, and they both tell Veronika of their plans.
Franco breaks into Spud's flat and proceeds to read his memoirs which are taped all over the walls. Franco learns that Mark gave Spud his share of the stolen money twenty years before, and that Spud spent it all on drugs. Veronika arrives at Spud's place and Franco steals her phone, which he uses to text Mark and Sick Boy to come to Sick Boy's pub at midnight. Franco also reads one of Spud's pages that describes an incident when he and Mark encountered Franco's alcoholic and homeless father in an abandoned train station. Franco returns to June's flat for one last time and apologizes to his son for what he told him earlier. Franco tells his son that he will be a better man than he or his father were.
Veronika takes Spud to her apartment and she tells him that she plans to take the entire grant for herself and leave Edinburgh. She asks Spud to come with her and promises him half the money in exchange. Spud tells her no, afraid that he will spend it on drugs again. Veronika promises to give his share to Gail and Fergus if Spud will help her by forging both Mark and Sick Boy's signatures so she can get the money. Spud agrees and Veronika leaves with the money.
At that pub, Mark and Sick Boy arrive and are suspicious as to why they are both there. Spud shows up and tries to warn them of Franco, but it too late as Franco is already there. Franco knocks Sick Boy unconscious with a black jack and chases Mark to the second floor of the building. The two fight and struggle. Franco throws Mark through the half constructed floorboards, and Mark becomes entangled with the electrical wiring which begins to strangle him. Franco grabs Mark by his legs and begins to pull him down, further cutting off his oxygen and blood to his head. Sick Boy sprays pepper spray into Franco's face and cuts Mark down. Franco grabs a shotgun and aims it at the two friends, but Spud knocks the criminal out with a toilet bowl.
The three men put Franco into the trunk of Sick Boy's car. They leave the car outside the prison, where Franco is taken back into custody. Spud puts together his memoirs and mends his relationship with his son and former wife, who suggests a title for the book (Trainspotting). Mark and Sick Boy become friends again, and Mark moves back into his widowed father's home, reconciling another relationship that he damaged twenty years before. The film ends with Mark listening and dancing to "Lust for Life" by Iggy Pop.
Add the film to your collection today!
Additional Film Information
Rate the Film!
Sony Pictures Releasing released T2 Trainspotting on March 31, 2017. Danny Boyle directed the film starring Ewan McGregor, Ewen Bremner, and Jonny Lee Miller.