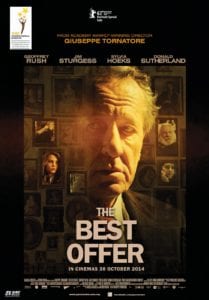 Like watching a masterpiece — with less inspiring storyline
This was like watching Rembrandt painting one of his most beautiful masterpieces… over the charcoal drawing of one of his least-inspiring students. Don't get me wrong. I like the movie. It was stupendous to look at on-screen. It dripped class and elegance. What was missing was a solid, quicker-paced story. The acting was excellent, sets were glorious, the Giuseppe Tornatore direction was well done. It just… dragged on. I can only look at a Van Gogh for so long before I want to move onto another interesting painting. If this movie would have been 30 mins shorter, it would have been a tighter (and better) story.
Basic plot (since it's missing oddly from this site?): A virtuoso auctioneer/appraiser of antiquities is commissioned by a mysterious and very wealthy patron who suffers from agoraphobia and cannot leave her dilapidated mansion. What the patron does not realize is the auctioneer also gives less-than-factual value to some artifacts, thus lining his own pockets with the proceeds.
Through many, many phone calls and personal visits, the auctioneer starts to discover personal and obsessive feelings for his unseen patron. While speaking with his more worldly and younger mechanic, the auctioneer sets out to woo the patron and finally find love that has always eluded both of them. Or is it that easy? Nothing is as it seems as a mystery and swindle takes place beneath the nose of the unknowing.
I won't give anything away as the story is worth watching. Spoiler alerts would kill the beauty of this movie. I can say there is some sex so read the "Parental Advisory" on this site for those hints. The drastic age difference between the auctioneer and the patron as noted on several reviews here on IMDb might push some people away. However, moving past the age issue, this is actually a fairly good development of character evolvement. The ages didn't bother me much. The actors more than made up for it.
Geoffrey Rush is EXCELLENT (when isn't he?) as the auctioneer. He's perfect in his elitism, idiosyncrasies, and snobbery. Sylvia Hoeks is breathtaking as the patron/love interest. It is easy to see how Geoffrey could fall so hard for her – ages withstanding. Jim Sturgess is the likable mechanic who helps the auctioneer understand how being so tightly wound can only lead to difficulties with his human mechanisms. Donald Sutherland is wonderful as the simple, yet loyal friend of the auctioneer. Beautiful touches are thrown in left and right as only a Tornatore story can be.
This isn't Cinema Paradiso for those fans of the director. But this is definitely worth watching by those fans of Tornatore's work. It is elegant. It is breathtaking. It is mysterious. It is mischievous. All the things you can want in a mystery love story. If only it wasn't sooooo long. 😉 Worth your time to watch though. I will again in a few years. 7 out of 10.
What do you think of the film? Let us know in the comments below.
Disclaimer: Affiliate links contained in this post will take you to Amazon.com and/or the iTunes Store. This Means when you click a link, and purchase an item, the MHM Podcast Network will receive an affiliate commission. Advertisers and Affiliate Partnerships do not influence our content. See our Terms of Use about the inclusion of affiliate links on this site for more information.
MHM's Rating
A lonely art expert working for a mysterious and reclusive heiress finds not only her art worth examining.