Film and Plot Synopsis
Robert McCall is back. The former DIA officer continues to live in Boston and works as a Lyft driver. He also moonlights as a fixer who helps the less fortunate when they run into trouble. When his close friend and former colleague, Susan Plummer, is mysteriously killed while investigating a suicide in Brussels, McCall begins to investigate the circumstances of her murder and the death she was investigating. However, his investigation soon leads him into an unexpected direction and into direct conflict with his former partner and friend Dave York.
Buy the Film
The Equalizer 2 [Blu-ray] [4K UHD]
11 new from $12.71
6 used from $12.11
Free shipping
as of September 24, 2023 6:36 pm
*As an Amazon Associate we earn from qualifying purchases.
'The Equalizer 2' Movie Summary
The summary below contains spoilers.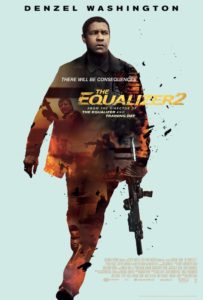 Robert McCall (
Denzel Washington
) is back. The former DIA officer now lives in Roxbury, Boston and works as a Lyft driver. However, he secretly works as a fixer to assist the less fortunate with the help of his close friend and former colleague, Susan Plummer (
Melissa Leo
). As the film begins, McCall is traveling through Istanbul while attempting to find a nine-year-old daughter (
Rhys Cote
) of bookstore owner Grace Braelick (
Tamara Hickey
). The child was kidnapped by her abusive Turkish father (
Adam Karst
). McCall confronts the father and attempts to reason with him, but when that fails, McCall kills the father and his henchmen. He returns the child to an attorney who works as a middleman to contact "the Equalizer" for assistance who contacts Grace.
McCall also helps Sam Rubinstein (Orson Bean), an elderly Holocaust survivor who is looking for a painting of his sister that was lost during the war. The siblings were separated in the Nazi death camps and the painting was sold off in an auction. To cap things off, McCall also helps his apartment complex by recruiting a young artist named Miles Whittaker (Ashton Sanders) to repaint some walls that had been painted over with graffiti.
Meanwhile, Susan is called to investigate the murder-suicide of an agency affiliate and his wife in Brussels. She is accompanied by McCall's former partner Dave York (Pedro Pascal). After investigating the scene, Susan is attacked in her hotel room and killed. The agency initially rights it off as a robbery that went wrong. After receiving the news, McCall begins to investigate her death, as well as the case she was working on. McCall concludes that the suspects' knowledge of her floor and the expertly delivered stab wound indicates that the murder was intentional. McCall also determines that the agency affiliate's death was in fact a murder and not a suicide. McCall believes that the two incidents are connected.
McCall contacts York and reveals that he is still alive. York quickly recovers from discovering that his former friend is not dead and listens to McCall's findings from his investigation. York tells McCall that he will quietly investigate the deaths. Back in Boston, McCall rescues Miles from a local gang after he is forcibly recruited to join. Miles is initially angry with McCall, but he comes around. McCall hires Miles to repaint his kitchen if the young boy reads Ta-Nehisi Coates' Between the World and Me.
Shortly afterwards, McCall is attacked by an assassin who poses as a passenger. McCall kills the man and takes his cell phone, dumping the car and burning it. He finds York's number was on the phone's call list. McCall confronts York at his home in front of his family, which McCall uses as a cover against retaliation. York confesses that he became a mercenary after feeling used and discarded by the United States government. More importantly, he confesses that he himself killed Susan, figuring that she would have eventually figured out that he was behind the Brussels killing. The rest of York's mercenary squad, Kovac (Garrett Golden), Ari (Kazy Tauginas), and Resnik (Jonathan Scarfe), arrive to help York. McCall leaves York's house with York's unsuspecting family. Before leaving, he promises to kill the entire mercenary team.
A short time later, Resnik and Ari head to Susan's house to kill her husband Brian (Bill Pullman). However, McCall intervenes and helps Brian escape. York and Kovac break into McCall's apartment while Miles is painting the walls. Miles calls McCall on his phone, and McCall tells him how to get into his panic room. When York begins to get close to discovering the panic room, McCall calls his former partner to taunt him and distract him. York and Kovac leave the apartment after the call, and Miles emerges from hiding. When Miles tries to leave the apartment, he is captured by York.
York concludes that McCall has gone to his seaside hometown, which McCall has not been to since the death of his wife. The town is being evacuated as a hurricane approaches, but McCall hides out there anyways. York and his team take Miles to the town. Once in the town, York situates himself on the town's watchtower in a sniper's position while the rest of his team does a house-to-house search. Kovac enters a tackle shop and McCall kills him with a harpoon gun. McCall stabs Ari with knives after he distracts the mercenary with pictures of Susan. McCall lures Resnik into his late wife's old bakery store and kills him with a flour explosion.
York reveals to McCall that he has Miles in the trunk of his car. York begins shooting at the trunk to lure out McCall. McCall secretly makes his way to the top of the tower and gets into a hand-to-hand fight with York. McCall kills York with his own knife and then kicks the mercenary's body off the tower onto the rocks below. McCall, although injured, frees Miles who is unharmed.
Once back in Boston, Susan's information about Sam's painting helps McCall reunite Sam with his long-lost sister. Miles finishes painting his mural on the apartment complex and returns to school so that he can focus on his art. McCall moves back into his old seaside home having put his demons to rest. He looks out towards a calm sea knowing that he is at peace.
Additional Film Information
Rate the Film!
Sony Pictures Releasing released The Equalizer 2 on July 20, 2018. Antoine Fuqua directed the film starring Denzel Washington, Pedro Pascal, and Ashton Sanders.