Film and Plot Synopsis
Robert McCall's a former special service commando who faked his own death in hopes of living out a quiet life. Instead, he comes out of his self-imposed retirement to save a young girl and finds his desire for justice reawakened after coming face-to-face with members of a brutal Russian gang. McCall becomes the go-to man when the helpless require the kind of vengeance they would never find without his skills.
Buy the Film
The Equalizer [Blu-ray] [4K UHD]
8 new from $24.98
7 used from $11.95
Free shipping
as of September 29, 2023 9:18 pm
*As an Amazon Associate we earn from qualifying purchases.
'The Equalizer' Movie Summary
The summary below contains spoilers.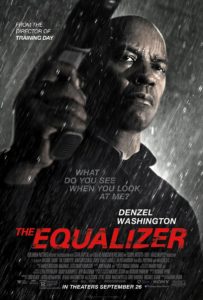 Robert McCall (
Denzel Washington
) is a former Marine and DIA operative who lives a quiet life in Boston. Robert faked his own death in order to leave his former job and live up to a promise he made to his now-deceased wife. Robert now works as a manager at a Home Mart hardware store, where he is well liked and acts as a personal motivator to many of the other employees of the store, including Ralph (
Johnny Skourtis
), who is trying to pass his qualification exam to become a security guard.
Robert is still haunted by many of his memories and has difficulty sleeping at night. He occasionally spends some late nights reading at an all-night diner in a bad area of Boston. At the diner, he befriends a teenage prostitute named Alina (Chloë Grace Moretz) who is the unfortunate employee of the Russian mafia. One night, Alina's pimp, Slavi (David Meunier), severely beats her after she refuses to satisfy a customer. Robert hears of the beating after she fails to return to the diner again. He visits Alina's hospital room, without speaking to Alina herself, and discusses her condition with Alina's friend, Mandy (Haley Bennett).
Angered, but still under control, Robert visits Slavi at his office and offers to pay him $9,800 for Alina's freedom. Slavi refuses to sell her outright but offers to accept Robert's money to rent her for a period of time until Robert can bring him more money. Slavi tells Robert that he will not sell her and dismisses Robert as old and impotent. Robert then kills Slavi and the four men in his office with his bare hands. As Slavi bleeds out, Robert tells him that he should have taken the money.
The news of Slavi's death soon reaches the ears of the pimp's employer, the powerful mafia kingpin Vladimir Pushkin (Vladimir Kulich). Pushkin sends his top enforcer, Teddy Rensen (Marton Csokas), to Boston to find and eliminate the person who killed his men and hurt his business. At the same time, Robert goes about his life. When Ralph withdraws his security guard application and stops showing up for work, Robert discovers that Ralph is helping his mother at her restaurant after it had been recently set on fire.
Robert helps Ralph and his mother clean up the restaurant, but he learns that the restaurant was torched by corrupt police officers attempting to extort protection money from the mother. Robert confronts the officers and beats them up. He threatens to send a video of them collecting protection money to the media unless they pay back all the money that they have extorted. The cops return the money to their victims, which allows Ralph to return to Home Mart. He passes his test and becomes a security guard for the store.
A short time later, Rensen starts his investigation with the assistance of a dirty Boston police detective named Frank Masters (David Harbour). Rensen begins creating waves in the criminal underworld in attempt to find Slavi's killer. Eventually, he questions Mandy, who tells him about a black man who came to visit Aline in the hospital. After Mandy tells him what she knows, Rensen kills her to cover his tracks.
At the same time, an armed robber holds up Robert and another employee at Home Mart. The robber takes the other employee's ring. A few days later, the ring shows up in the employee's cash register. Robert is shown cleaning a bloodied sledgehammer with a cloth and putting it back on display in the store.
Eventually, Rensen finds some video footage of Robert entering Slavi's club the night of the murders. The enforcer visits Rensen at his apartment disguised as a police officer to determine if he is the killer. Later, Rensen makes two attempts to capture Robert, but the former Marine continues to outsmart the Russian. Robert kills one of the hitmen sent to ambush him at the diner and knocks out the other. Robert visits some of his past associates, including former DIA operative Susan Plummer (Melissa Leo) and her husband Brian (Bill Pullman). Susan uses her resources to give Robert information about Pushkin and his operations around the world. Susan also informs Robert that Rensen's true name is Nikolai Itchenko, a former member of the Russian secret police with Spetsnaz training.
Once back in Boston, Robert increases his actions against Pushkin. He subdues Masters and forces him to give up information about Pushkin's money-laundering operations. Once there, Robert holds the gangster running the operation at gunpoint and forces Masters to inform the police of the operation. The resulting investigation causes Pushkin to lose millions of dollars in American money. Additionally, Robert acquires a thumb drive from Masters that includes information about Pushkin's illegal Boston activities, which he emails to the FBI. Robert then confronts Rensen while he is eating dinner at a local restaurant, revealing that he knows about his history. Robert tells Rensen that he intends to bring down all of Pushkin's illegal businesses. Shortly afterwards, Robert destroys a ship that Pushkin used to smuggle goods. Pushkin orders Rensen to kill Robert immediately.
When the Russian cannot catch Robert at his home, Rensen and his men go to the Home Mart and take Ralph and several other co-workers hostage. They contact Robert and threaten to kill them all unless he surrenders. Robert shows up at the Home Mart and systematically kills each of Rensen's men using only the tools that he finds in the store. However, Robert is wounded. Robert frees the hostages and orders them out of the building. However, when Robert gets into a struggle with one of Rensen's men, Ralph returns to help. Ralph ends up getting shot in the leg himself. Robert orders Ralph out of the store for a second time, and then he confronts Rensen directly. Robert kills the Russian enforcer with a nail gun.
A few days later, Robert travels to Moscow and kills all of Pushkin's guards at his mansion. After confronting Pushkin about his misdeeds, he tricks the mafia boss into electrocuting himself. Robert returns to the United States and approaches Alina outside a neighborhood grocery store. She tells Robert that she has started a new life since Slavi's death. She thanks Robert for giving her a second chance. Robert is inspired to continue using his skills to help people in need and posts an online advertisement, now identifying himself as "The Equalizer".
Additional Film Information
Rate the Film!
Sony Pictures Releasing released The Equalizer on September 26, 2014. Antoine Fuqua directed the film starring Denzel Washington, Marton Csokas, and Chloë Grace Moretz.