Blogsville
The Golden Moment: An Olympic Love Story (1980)
Made-for-TV miniseries as a tribute to 1980 USA Olympic athletes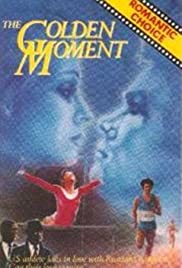 I remember this two-part NBC miniseries running when the 1980 Moscow Olympics were boycotted by the United States. It was supposed to coincide with the Games, but instead was run as a tribute. I saw both parts when I was still in high school and it made a distinct, positive impression on me.
Plot: Wayne Robinson is a college football player drafted into the NFL. But before he joins the team, he gets a head-injury during a rodeo. He is diagnosed as a "health risk" by the doctors so he is no longer insurable by professional football. Since he still has his elite speed, he tries out for the Olympic team in the decathlon and makes the cut to begin training alongside brash American phenom, Gene Davis. Leading up to the 1980 Moscow Games, a "friendly" series of athletic events are held where Wayne meets Viktor Andreyev, a friendly Russian decathlete and they become fast friends. Viktor invites Wayne to watch his little sister, Anya, compete in gymnastics at the same event. Wayne and Anya are immediately smitten but need to keep it a secret. As they arrive in Moscow for the Olympics, Viktor invites Wayne to dinner with his family. Wayne and Anya date secretly on the side until Viktor finds out and pushes them apart. I won't give any further details, but suffice to say this is a romantic drama between two star-crossed (re: Cold War) lovers during a boycott.
I remember being immediately smitten with the lovely Stephanie Zimbalist (pre-"Remington Steele). I'm sure she broke many a schoolboy's heart with her sweet Russian accent and tear-stained eyes. As any athlete/ex-athlete will attest, love in the midst of athletic competition is not only heightened, but can be either the ultimate euphoria or the most devastatingly catastrophic low, depending on the outcome.
This film was one of my "white whales". Whenever I would mention "The Golden Moment" as one of my most special memories, everyone I spoke to had never heard of it. Who remembers a "one-off" miniseries from 40 years ago?? I had to search for decades before FINALLY coming across an old VHS copy recently (the bland brown cardboard box was uninspiring and the tape had been edited down to 1hr-58mins VHS vs. the original 3+ hour network premiere). This has never been released on DVD to my knowledge. It is standard "movie-of-the-week" fare — cheap sets (re: high school track meets, dark backgrounds for cheering crowds, obvious stand-ins doing the events, etc.), weak dialogue/accents, predictable storyline… but this movie still checks many boxes in relation to competition, casting, and long-distance love affairs. And look at that cast… James Earl Jones, Merlin Olsen, Victor French, Jack Palance, David Keith, Stephanie Zimbalist… My goodness! The plot may be considered cheesy by most standards, but if you saw it back in the day, you really felt for the two attractive leads and their pre-Communist downfall dilemma.
I still think people like Wayne and Anya could exist in this world. I would hope that they would have met again under much happier, less political times. In my heart, I hope they were able to unite their medal count under the same roof. And, yes, Anya still has a special place in my memories!
This movie was very standard stuff. Nothing groundbreaking. But it still hits a sweet spot in my heart. "The Golden Moment" may not win the gold medal, but it definitely is worth being a member of the Olympic team – even if it is the only American to ever appear at the 1980 Moscow Olympics.
Rate the Film!
National Broadcasting Company (NBC) aired The Golden Moment: An Olympic Love Story (1980) on May 25, 1980. Richard C. Sarafian directed the TV movie starring Stephanie Zimbalist, David Keith, and Richard Lawson.