Film and Plot Synopsis
Serial killer Eddie has been leaving a trail of bodies all over Los Angeles, and Karen White is the only newswoman he communicates with. Karen survives a near fatal encounter with him at an adult video store. Eddie is killed by police officers, but Karen's role in capturing him is quite traumatic and she has difficulty remembering the events. She is ordered by her therapist Dr. George Waggner to take a vacation at his therapeutic retreat in the mountains. Once there, she and her husband Bill enter a world that she didn't even know existed. To escape the Colony, she must not only fight for her life… but for her very soul.
Buy the Film
The Howling - Collector's Edition 4K Ultra HD + Blu-ray [4K UHD]
9 new from $17.00
6 used from $17.49
Free shipping
as of September 28, 2023 2:56 am
*As an Amazon Associate we earn from qualifying purchases.
'The Howling' Movie Summary
The summary below contains spoilers.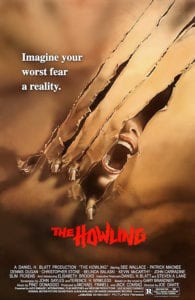 Karen White (
Dee Wallace
) is a Los Angeles television news anchor who is trying to land a big news story. She sets up a meeting with a notorious serial murderer known only as Eddie (
Robert Picardo
). The police attempt to track her through the sleazy streets of Los Angeles to capture the killer but lose her signal when she enters a pornographic theater. Karen enters a booth where Eddie forces her to watch a video of a woman being raped. Meanwhile, Eddie begins to transform into something behind her. Once his transformation is complete, he tells Karen to turn around. Karen screams, and the police arrive in the nick of time to help her and shoot Eddie dead.
After the incident, Karen has difficulty remembering what happened in the booth although she continues to have nightmares and vague flashbacks of the events. Her husband, Bill Neill (Christopher Stone), remains supportive and takes her to a television therapist, Dr. George Waggner (Patrick Macnee). Dr. Waggner directs Karen and Bill to attend his secluded retreat, the Colony, in the mountains for relaxation and continued treatment.
The Colony is in the mountain forest several hours outside of Los Angeles. Bill and Karen meet another couple at the retreat, Jerry and Donna Warren (James Murtaugh and Margie Impert). Jerry and Donna welcome them and introduce them to other members of the Colony, including Sheriff Sam Newfield (Slim Pickens); the owner of a nearby cattle farm, Charlie Barton (Noble Willingham); and an elderly Colony resident, Erle Kenton (John Carradine). Two of the residents, nymphomaniac Marsha Quist (Elisabeth Brooks) and her brother T.C. (Don McLeod), make Karen feel uncomfortable. Soon after, Marsha makes a pass at Bill who turns down her attempts to seduce him.
One night, Bill is attacked by a wolf in the woods while walking home and is bitten. Bill survives relatively unharmed but does not realize that wolf was in fact a werewolf. Karen is disturbed by the attack and asks her friend Terri Fisher (Belinda Balaski) to come stay at the Colony with them. Terri and her boyfriend Chris Halloran (Dennis Dugan) have been investigating Eddie for the television news since his death. They have discovered his full name is Eddie Quist, and that his body has disappeared from the morgue.
A few nights later while Karen is sleeping, Bill leaves the cabin and meets with Marsha by a fire in the woods. The two begin to disrobe and have sex with each other. While they are engaged in the throes of passion, they each begin to transform in to werewolves.
Once at the Colony, Terri begins to investigate the community. She connects Eddie to the Colony through a sketch that he left behind. She also breaks into Marsha's cabin and finds additional sketches by Eddie inside. While in Marsha's cabin, Terri is attacked by a werewolf. She fights off the beast by cutting its arm off with an ax. She runs to Waggner's office to use the phone to call Chris. Chris tells her to look the Waggner's files since no one is in the office. Terri discovers that Eddie is the brother of Marsha and T.C. However, Terri is attacked by Eddie in the office while he is in full werewolf form. Eddie kills Terri by biting through her jugular vein. Chris hears the attack over the phone and calls the Sheriff to ask for assistance. He then drives to a local occult bookstore and buys a case of silver bullets before heading to the Colony.
At the Colony, Karen gets into an argument with Bill about his infidelity. Bill slaps Karen across the face, but immediately regrets it. Karen tells him that she has had enough and proceeds to pack to leave. She goes looking for Terri and finds her body in Waggner's office. An untransformed Eddie corners Karen in the office and tells her how disappointed he is in her for involving the police in Los Angeles. The killer explains that werewolves can't be killed by ordinary means. Eddie begins to transform, and Karen throws a jar of acid in his face. Karen runs from the office but is grabbed by the now one-armed T.C. and some of the other Colony members. She is taken to a large barn where all the other Colony members are. Karen learns that the Colony is led by Waggner, who is himself a werewolf.
Meanwhile, Chris arrives at the Colony. He encounters a severely disfigured Eddie who he kills with one of the silver bullets. Chris runs to the barn and frees Karen. He shoots several of the werewolves, including Waggner and T.C., forcing the remaining Colony members back into the barn. Karen and Chris pour gasoline around the barn and set it on fire. They then proceed to try to leave the Colony in Chris' car. They are attacked by a transformed Bill, who is shot by Chris and dies. During the escape, Karen is bitten by one of the werewolves.
Once back in Los Angeles, Karen resolves to warn the world about the existence of werewolves. She pretends to read a story about the destruction of the Colony, but instead, transforms herself into a werewolf on live television. Chris, acting on Karen's wishes, shoots Karen with a sliver bullet, killing her on television as well. However, the television audience remains skeptical of Karen's display and believes that it is a stunt done with special effects. The film ends with Marsha, alive and well, sitting in a bar with a man while watching Karen's broadcast. She orders a rare hamburger from the bartender.
Additional Film Information
Rate the Film!
Embassy Pictures released The Howling on April 10, 1981. Joe Dante directed the film starring Dee Wallace, Patrick Macnee, and Dennis Dugan.