Film and Plot Synopsis
Two gold miners, Jerry and Jake, strike it rich, but before they can cash in their claim, Jerry finds someone has falsely accused him robbery and the murder of Jake. However, Jake is just fine, and he shows up at the trial in disguise in order to spring a trap on the real bad guys.
'The Lucky Texan' Movie Summary
The summary below contains spoilers.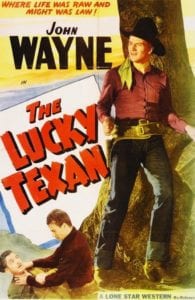 In
John Wayne
's
The Lucky Texan
, Jerry Mason arrives in Texas fresh out of college. He's there to fulfill his father's dying wish to join his old partner, Jake Benson, in their cattle business. However, Jerry finds Jake broke after cattle rustlers stole most of his herd. To survive, Jake sold the remaining cattle to pay the bills; one of which covers his granddaughter Betty's college expenses.
Instead of cattle, the dynamic duo open up a blacksmith shop to make ends meet. One day, while re-shoeing a horse, they find a gold nugget in a horse's hoof. With the help of their faithful dog, they track down that source of the gold in a nearby creek.
Jerry and Jake decide to not file a claim on the gold in order to keep the source hidden, but when they return to town to sell it, they pick some disreputable assayers who buy it. Harris and Cole are rotten to the core. Not only are they the cattle rustlers that stole Jake and Jerry's father's cattle, but the men plan to get Jake to hand over the deed to his ranch.
The men then pressure the sheriff's son, Al Miller, to get them the money he owes them from gambling at any cost. Al spots Jake walk into the bank to deposit the money he just got from selling some more gold. Al robs the bank immediately after the deposit. In doing so, Al nearly kills Williams, the bank manager. Jake, hearing the commotion, goes back in to the bank to check on Williams. That good deed gets him locked up for attempted murder.
Betty soon arrives to live with Jake, and Jerry finds Al with the bank's stolen money on him. A big fist fight ensues, followed with a chase on horseback…and some weird water sliding down a channel on what looks to be a big twig. Jerry whoops Al, and drags him back to town where Al's father, the sheriff, locks him up. He then releases Jake.
Later, Harris and Cole trick Jake into signing away his ranch to them, and then attempt to kill him once he's alone in the middle of nowhere. They shoot Jake, and leave him for dead, but he survives. Jake tells Jerry of Harris and Cole's plot, so Jerry tells Jake to stay hidden for a bit to make them think he's dead.
When the two men come calling to the ranch, Jerry learns that the two duped Jake out of his land. Jake heads back to town to sell the last of the gold Jake found, but somehow, Harris and Cole manage to convince the sheriff, Al Miller's dad, to arrest Jerry for the murder of Jake.
Jerry springs a trap for the two when he tells Betty to have Jake show up at his hearing in the morning. Jake shows up to court the next day, clean shaven, and dressed to impress…as a cantankerous frontier lady. He/she testifies that Harris and Cole are the guilty party…for everything in the world, but he reveals his super secret identity when Betty's chair rips off part of his dress.
Harris and Cole jump out the courtroom window as the sheriff shoots at them at point blank range with the accuracy of a Stormtrooper. They run off without a scratch on them. We are treated to one last chase with old-timey automobiles and motorized handcars!
Jerry and Jake catch up to the men, and open up a can of whoop ass on them. They save the day and their land. With the thieves in jail, Jerry marries Betty, and lives happily ever after.
The End
Additional Film Information
Rate the Film!
Lone Star Productions released The Lucky Texan on January 22, 1934. Robert N. Bradbury directed the film starring John Wayne, Barbara Sheldon, and George 'Gabby' Hayes.