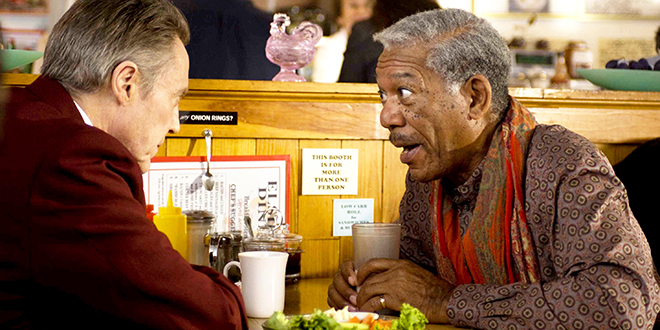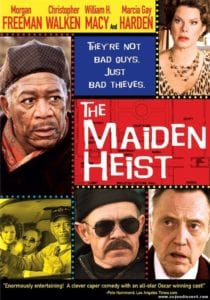 All you need to know to watch this movie are the names of the four leads – Christopher Walken, Morgan Freeman, William H Macy, and Marcia Gay Harden. Oscar winners playing against type in a comedy/caper where you feel good throughout the entire movie. This story's light fun with three bumbling, lovable security guards/would-be thieves who may/may not pull off the heist of the century – if they can ever stay out of each other's way!
In this movie, Walken's a beaten down security guard nearing retirement with an overbearing but doting "battleship" of a wife in Marcia Gay Harden (wow, she is amazing in this role!!). Walken has been working the same job at a museum guarding the same wing for 30 years. In that wing is a painting, "The Lonely Maiden", in whom Walken has fallen in love. Not in a "Somewhere in Time" kinda time-travel piece, but just passionate about this lovely piece of impressionist art. She's the only reason he basically has left to live since his life has hit an endless loop of the same-ol'-same-ol'.
Even his wife's incessant saving for a vacation trip to Florida isn't exciting for the poor guy. When he finds out the entire wing of the museum has been sold and is moving to Sweden, he doesn't know what to do. In his grief, he comes across two other long-time security guards (Freeman & Macy) who are head-over-heels in love with OTHER pieces in the gallery. In short order, they conceive an ill-conceived plan of stealing the original pieces and replacing them with fakes prior to leaving the country. What they realize, however, is each guard's unique "gifts" may do more damage than good once they start the heist.
This is not "Rififi" with it's professional thieves performing a well-choreographed, ultra-stealth heist to end all heists. This is as "fish out of water" as it gets. It's also what makes this such a special, satirical, light movie. These are kind, gentle souls who are having the loves of their life being ripped out from under them through no fault of their own. They just feel… well, robbed by the very museum they have protected for decades. They don't intend to hurt anyone. They just can't see past their obsession for the art. You cheer for these guys.
Let me say, without giving up the ending, that the ending made my wife fall in love with this movie. It's not a "chick flick" movie, but it is for those who aren't into explosions and foul language. It's light-fare with fun, silly characters played by master actors.
I rate this a 7 out of 10 because it really isn't a mainstream movie and can't compete on that level. But it deserved better than the straight-to-DVD path it ended on. It is worth watching for a night of light entertainment. A fun film. 🙂
What do you think of the film? Let us know in the comments below.
Disclaimer: Affiliate links contained in this post will take you to Amazon.com and/or the iTunes Store. This Means when you click a link, and purchase an item, the MHM Podcast Network will receive an affiliate commission. Advertisers and Affiliate Partnerships do not influence our content. See our Terms of Use about the inclusion of affiliate links on this site for more information.
MHM's Rating
Adorable movie with all four leads playing against character.