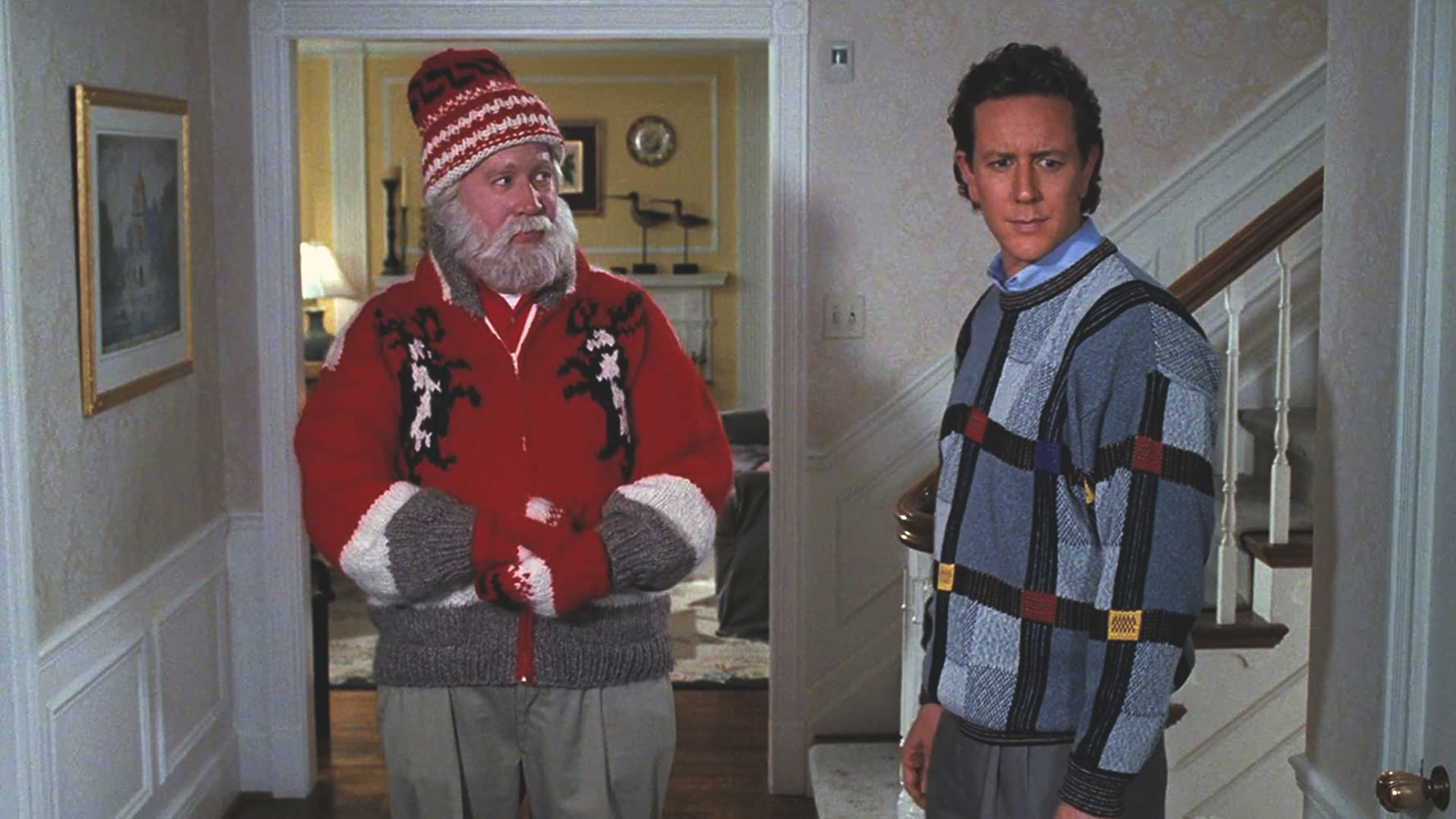 Film and Plot Synopsis
Scott Calvin is a divorced father who sometimes fails at meeting his son's expectations. Scott is dismayed to learn that his ex-wife and her new husband are trying to convince his young son, Charlie, that there is no Santa Clause. However, on Christmas Eve, Scott and Charlie accidentally startle Santa Claus while he is delivering gifts on a high roof, resulting in Santa's death. Instructed by a mysterious card to put on Santa's suit, Scott inadvertently enters into the "Santa Clause" which will change both Scott and Charlie's lives forever.
Buy the Film
SANTA CLAUSE, THE [Blu-ray]
21 new from $9.88
13 used from $3.69
Free shipping
as of October 1, 2022 4:44 am
*As an Amazon Associate we earn from qualifying purchases.
'The Santa Clause' Movie Summary
The summary below contains spoilers.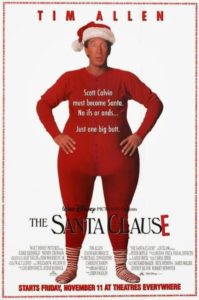 Scott Calvin (
Tim Allen
) is a successful toy salesman who is a generally poor father. His young son Charlie (
Eric Lloyd
) spends most of his time living with Scott's ex-wife, Laura (
Wendy Crewson
), and Laura's new husband Dr. Neal Miller (
Judge Reinhold
), a psychiatrist. Charlie loves his father, but Scott constantly disappoints his son. Charlie is a firm believer in Santa Claus, and Scott wants his son to maintain his belief in Kris Kringle, despite Scott not believing in the legend himself. Laura and Neal are non-believers and feel that Charlie should grow out of his childish belief as well.
On Christmas night, Scott and Charlie are awakened by a noise on the roof of Scott's bachelor pad. Dressed in his pajamas, Scott goes to investigate and finds a man in a red suit standing on his roof. When Scott yells, the man is startled and falls off the roof of the two story home. Scott discovers that the man has died from the fall, and the body mysteriously disappears, leaving behind the man's red suit and a business card. The card states that if anything happens to Santa Claus, whomever is responsible must put on the suit and continue from where Santa left off. Scott is skeptical, but Charlie convinces him to engage in what Scott believes is a bizarre dream. Scott puts on the suit and spends the rest of night delivering gifts before the reindeer take Scott and Charlie to the North Pole.
Once at the North Pole, Scott and Charlie meet Bernard (David Krumholtz), Santa's head elf. Bernard explains that because Scott put on the suit, he is subjected to a legal technicality known as "The Santa Clause". The "Clause" states that since Scott put on the suit and took over for Santa, he will become the new Father Christmas and take on all the duties and responsibilities that come with that title. The "Clause" gives Scott eleven months to get his affairs in order before reporting back to the North Pole on Thanksgiving. Exhausted and confused, Scott changes into the new "Santa" pajamas given to him by the elves and falls asleep. The next morning, Scott awakens in his own bed and still believes that it was all a weird dream, until he sees the "Santa" pajamas that were given to him. Charlie remembers the events vividly and encourages his father to become the new Santa.
Over the course of the next eleven months, Scott begins to make a dramatic transformation as his body begins to change to fit the traditional role of Santa Clause. Scott's hair begins to turn white as snow, while he grows a bushy beard. Most dramatically, Scott finds himself obsessed with sweets and begins to put on tremendous weight despite Scott's desire for his old body. Scott's physical transformation troubles Laura and Neal who believe that Scott is deliberately trying to confuse Charlie and allow him to continue to believe in Santa Claus. Laura and Neal petition a judge to suspend Scott's visitation rights as they don't believe that Scott is acting in the best interest of his son.
Devastated, Scott visits Laura and Neal's house on Thanksgiving. Charlie is desperate to show his father how important he is to the world and shows Scott a magical snow globe that Bernard gave him the previous Christmas. Scott finally accepts that he is Santa Claus and the responsibilities that come with the title. Scott asks Neal and Laura for a minute to talk to Charlie alone. Bernard appears and transports Scott and Charlie to the North Pole. Laura and Neal believe that Scott has kidnapped Charlie and call the police to report the crime.
On Christmas Eve into the morning of Christmas, Scott delivers gifts to the children of the world with Charlie by his side. However, when Scott and Charlie arrive at Laura and Neal's house, Scott is arrested. The elves send in a special rescue team to help him escape from the jail. Once free, Scott returns to Laura and Neal's house and convinces them that he is really Santa Claus. Scott asks Charlie to spend Christmas with them as they are his family too. Grateful, Laura burns the court papers banning Scott from seeing his son. She tells Scott that he can see Charlie anytime he wants. Bernard reappears and informs Charlie that if he shakes the snow globe at any time, his father will appear.
Before leaving to finish his deliveries, Scott gives Laura and Neal the Christmas presents that they never received as children, which is what caused them to not believe in Santa Claus. Shortly after Scott leaves, Charlie shakes the snow globe bringing his father back to Charlie's house. Laura agrees to let Charlie go with his father for a short ride in the sleigh. Charlie joins his father, now fully accepting his role of Santa Claus, as he delivers presents to the children of the world.
Additional Film Information
Rate the Film!
Buena Vista Pictures released The Santa Clause on November 11, 1994. John Pasquin directed the film starring Tim Allen, Judge Reinhold, and Wendy Crewson.