Film and Plot Synopsis
Scott Calvin has been Santa Claus for the past eight years, and his loyal elves consider him the best Santa ever. But he's got problems, such as a mysterious weight loss, and then he discovers that his son Charlie has landed on this year's "naughty" list. Desperate to help his son, Scott heads back home, putting a substitute Claus in charge of the North Pole. But when the substitute institutes some strange redefinition of naughty and nice that put Christmas at risk, Scott must return with a new bag of magic to save Christmas.
Buy the Film
The Santa Clause 2 (10th Anniversary) [Blu-ray]
9 new from $6.99
27 used from $2.80

as of September 20, 2023 10:45 pm
*As an Amazon Associate we earn from qualifying purchases.
'The Santa Clause 2' Movie Summary
The summary below contains spoilers.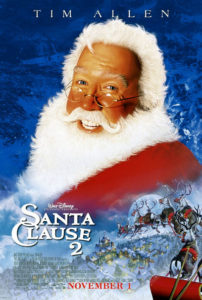 Eight years have passed since the events of the first Santa Clause film. Scott Calvin (
Tim Allen
) has settled into his role as Santa and become a great Kris Kringle. He fulfills his duty as one of the members of the Council of Legendary Figures, along with Mother Nature (
Aisha Tyler
), the Sandman (
Michael Dorn
), Cupid (
Kevin Pollak
), Father Time (
Peter Boyle
), the Easter Bunny (
Jay Thomas
), and the Tooth Fairy (
Art LaFleur
). Things are generally going smoothly until Head Elf Bernard (
David Krumholtz
) and Curtis (
Spencer Breslin
), the keeper of the Handbook of Christmas, inform Scott that there is another clause that the new Santa must fulfill – the "Mrs. Clause". This new clause states that Scott must get married before the next Christmas Eve or the original "Santa Clause" will be broken and Scott will stop being Santa forever.
However, that is not the only issue that Scott has to deal with. Abby the Elf (Danielle Woodman) informs Scott that his own son Charlie (Eric Lloyd) is on the naughty list. Scott decides to return to his old home town to search for his new wife and get his son back on track. Scott enlists Curtis to help cover for his prolonged absence from the North Pole by creating a life-sized animatronic Santa. Bernard is not pleased with the replica, but plays along for Santa's benefit telling the other elves that Santa had a makeover to cover for Santa's altered appearance.
Scott undergoes a "de-Santafication process" that gradually turns him back into his original Scott Calvin form. Scott is also given a limited amount of magic to assist him with his task of finding a new spouse. Once home, Scott learns from his former wife Laura (Wendy Crewson) and her new husband Neal (Judge Reinhold) that Charlie has been vandalizing his school to get attention. Laura and Neal also have a six-year-old daughter Lucy (Liliana Mumy) who Scott has to protect his secret identity from. Scott goes to see his son and faces the accusatory glares of Charlie's school principal Carol Newman (Elizabeth Mitchell) after Charlie defaces some school lockers.
Meanwhile, back at the North Pole, the animatronic Santa begins to follow the North Pole rulebook a little too literally and comes to the conclusion that everyone in the world is naughty become of small mistakes. To enforce his new Santa policies, the animatronic Santa creates an army of toy soldiers to enforce his vision. He reveals to the elves that he plans to give everyone in the world a lump of coal for Christmas. Bernard reveals that animatronic Santa is not the real Scott, and Santa has the head elf placed under arrest.
Back in the South, Scott finds himself attracted to Carol and begins to try to date her. He accompanies her to her faculty Christmas party at the school and uses some of his precious magic to conjure up a horse-drawn sleigh to carry her there. At the party, she confesses that she used to believe in Santa as child, but she was forced to give up the belief after she fought with some children who told her that Santa was not real. The faculty party is a dud, but Scott uses some more of his magic to lighten up the party by presenting everyone in attendance with their childhood dream gift. He gives Carol the final gift of the evening using the last of his magic which wins her over and the two kiss under the mistletoe. However, later in the evening, when Scott tries to explain to Carol that he is that actual Santa Claus, she believes that he is making fun of her childhood story and throws him out.
Stinging from the rejection, Scott has a conversation with his son in which Charlie reveals how difficult it is for him that Scott is never around like other fathers. Additionally, Charlie reveals that he feels the pressure to conceal Scott's identity as Santa Claus. Sometime later, Lucy manages to convince Charlie not to be mad at his father. Charlie, wanting to help his father, goes to convince Carol that Scott is truly Santa Claus. He shows her the magic snow globe given to him by Bernard in the first film that shows Charlie where his father is.
Meanwhile, Curtis escapes from the North Pole and flies to tell Scott about the animatronic Santa's vile plan. Concerned, Scott wishes to return to the north, but can't because he used all his magic trying to get Carol to fall in love with him. Scott comes up with a plan to return to the North Pole by using the Tooth Fairy to fly them there. Scott and Curtis get back to the Santa's workshop but are immediately captured by animatronic Santa and his toy soldiers. Charlie and Carol arrive, using the Tooth Fairy as well, and free Scott and Curtis.
Animatronic Santa launches his sleigh to deliver his coal and Scott must pursue after him using a reindeer-in-training named Chet. After an aerial battle, both Santa and Scott crash into Santa's village. At the same time, Carol, Charlie, Bernard, and Curtis lead the elves into a snowball fight with the toy soldiers. The toy soldiers are outnumbered and they eventually fall to the elf army. The animatronic Santa is defeated and reduced to a six-inch height. Scott marries Carol in a rushed ceremony, and Scott transforms back into Santa Claus. Christmas then proceeds as it always has with Scott delivering presents around the world. Back at Laura and Neal's house, Scott and Charlie reveal the truth to Lucy about Scott being Santa Claus. They swear her to secrecy so that she can share the secret with Charlie.
Additional Film Information
Rate the Film!
Buena Vista Pictures Distribution released The Santa Clause 2 on November 1, 2002. Michael Lembeck directed the film starring Tim Allen, Spencer Breslin, and Elizabeth Mitchell.