Summaries
The Santa Clause 3: The Escape Clause (2006)
Film and Plot Synopsis
Scott Calvin has the weight of the world on his shoulders. It's only a few days before Christmas and the elves are behind on production of toys for the children of the world. Carol is pregnant and is about to give birth to her and Scott's first child. To make matters worse, Scott has invited Carol's parents to the North Pole to support her during her pregnancy, but he has everyone working not to reveal that he is Santa Claus to them. Meanwhile, Jack Frost is hatching a plan to become Santa Claus himself and take over the holiday. All he has to do is convince Scott that the world would be better if he was never Santa, and with all of Scott's problems, that maybe easy to do.
Buy the Film
SANTA CLAUSE 3, THE: THE ESCAPE CLAUSE [Blu-ray]
12 new from $4.29
10 used from $2.48

as of September 11, 2023 11:22 am
*As an Amazon Associate we earn from qualifying purchases.
'The Santa Clause 3: The Escape Clause' Movie Summary
The summary below contains spoilers.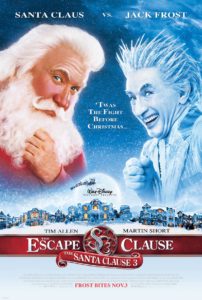 Scott Calvin (
Tim Allen
) has spent twelve years as the wondrous Santa Claus. During that time, he has married Carol Newman (
Elizabeth Mitchell
), who has now become a teacher at the North Pole. On Christmas Eve, Scott and Carol are expecting their first child. In expectation of their child's arrival, Scott invites his in-laws, Sylvia and Bud Newman (
Ann-Margret
and
Alan Arkin
), to the North Pole for a visit. However, Scott must maintain a ruse that he is toy maker in Canada so as to not reveal that he is the one and only Santa Claus. Scott also invites his former wife Laura (
Wendy Crewson
), her husband Neil (
Judge Reinhold
), their daughter Lucy (
Liliana Mumy
), and Scott's son Charlie (
Eric Lloyd
) to join them in the festivities.
At the same time, Scott is summoned to a meeting of the Council of Legendary Figures, which consists of Mother Nature (Aisha Tyler), Father Time (Peter Boyle), the Sandman (Michael Dorn), Cupid (Kevin Pollak), and the Tooth Fairy (Art LaFleur). The Council has convened to discuss the behavior of Jack Frost (Martin Short), who is jealous that he has no holiday or special occasion in his honor. Mother Nature suggests that the group sanction Jack for promoting himself during the Christmas season. However, Jack successfully negotiates a light sentence of community service at the North Pole due to promising to help Scott during his time of need while his in-laws are visiting. Jack initially appears to be good to his word and helps the elves put up various Canadian-themed items to help Scott pull off the deception.
However, Frost has an ulterior motive for working with Scott. Jack's ultimate goal is to convince Scott into renouncing his position as Santa Claus, after Curtis the elf (Spencer Breslin) inadvertently reveals the "Escape Clause". Jack sneaks into Santa's hall of snow globes and steals one containing Scott as Santa. The "Escape Clause" states that if Scott holds the snow globe and says "I wish I'd never been Santa at all", he will go back in time and undo his career as Santa. Lucy discovers Jack's plans, so Jack has Lucy locked in a closet and her parents frozen. Jack then orchestrates various situations that make Scott think that if he resigned things might get better.
Ultimately, Jack tricks Scott into invoking the Escape Clause. Suddenly, both Jack and Scott are sent to Scott's front yard in 1994, when Scott caused the original Santa to fall off his roof. Instead, Jack causes the original Santa to fall off the roof and grabs Santa's coat before Scott can. Now, Jack is the new Santa Claus. Scott is immediately whisked back to the present day, where he has been the CEO of his old company for the last twelve years. Scott learns that he has acted like business is more important than family for that time. Scott also learns that Laura and Neil divorced, and Carol moved away from the city years before.
Scott tries to seek out Lucy and Neil, who are vacationing at the North Pole, which Jack has turned into a tourist resort. Jack has turned Christmas into Frostmas. The elves are miserable, the reindeer are relegated to a petting zoo, and the kids are paid to be on the nice list despite being naughty and demanding to their parents. Once Scott finds Lucy and Neil, Neil states that the reason that he and Laura divorced was because Charlie didn't want him to be his father.
Scott confronts Jack and tricks him into recording his voice stating the Escape Clause. Scott sends Lucy to steal Jack's snow globe, which she does successfully. However, Jack learns of the theft and takes the globe back. Once Jack has the globe, Scott plays the recording of Frost saying the Escape Clause, which takes them both back to 1994 once again. Scott restrains Jack long enough to let his 1994 counterpart to get the deceased Santa's coat first, making present day Scott Santa Claus once again. Scott and Jack are once again transported back to present day North Pole.
Once there, Scott reconciles with his family and Jack is arrested by the elf police. However, Laura and Neil are still frozen. Jack reveals that he cannot unfreeze his victims unless he unfreezes himself. Scott has Lucy give Jack one of her magic hugs to unfreeze him and reform him. The hug works and Laura and Neil unfreeze. Additionally, Jack becomes a new person and is totally reformed. Scott reveals to Carol's parents that he is Santa Claus. Carol suddenly goes into labor just two hours short of when Scott must leave to deliver the presents to the world.
The film ends with Carol telling the tale to her students. Scott walks into the classroom to reveal their baby boy, Buddy Claus.
Additional Film Information
Rate the Film!
Buena Vista Pictures released The Santa Clause 3: The Escape Clause on November 3, 2006. Michael Lembeck directed the film starring Tim Allen and Martin Short.