Film and Plot Synopsis
There Will Be Blood begins at the turn of the 20th century Daniel Plainview is an oil prospector who travels to Little Boston, California. New in town, he begins to buy land, starting with Paul Sunday's farm. Wanting all of the land in the area, he bribes the locals into selling their acres with promises of building roads, schools and churches—which he has no intentions of doing. He's going to make his fortune no matter the cost to anyone else. As he builds his empire, men die, the locals don't get anything promised, and Plainview gets stinking rich. Along the way, he makes few friends, many enemies, and alienates adopted son.
Buy the Film
There Will Be Blood
8 new from $9.79
6 used from $9.78
Free shipping
as of September 19, 2023 2:52 pm
*As an Amazon Associate we earn from qualifying purchases.
'There Will Be Blood' Movie Summary
The summary below contains spoilers.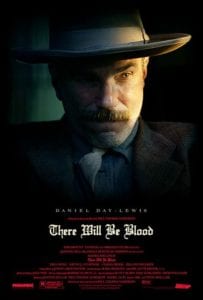 In
There Will Be Blood
, Daniel Plainview single-handedly digs a silver mine and finds a small amount of precious metals in New Mexico. Later, he strikes oil in southern California. While working on the oil well, an associate dies in an industrial accident. Daniel adopts the associate's infant son, named H.W.
H.W. becomes Daniel's business partner at a young age and travels with Daniel as his companion, learning the oil business and allowing Daniel to paint himself as a family man engaged in a family business.
One day in 1911 a rural young man named Paul Sunday approaches Daniel and sells him the location of his family ranch where oil seeps up and pools on the ground. Daniel and H.W. visit the Sunday ranch under the pretense of quail hunting and buy it for $5,000, which Paul's brother, Eli, plans to use to fund his church.
Daniel quickly begins drilling and the area feels the economy boom, along with the roads and schools that accompany it. The church, however, never sees its money. Eli requests to bless the well at the opening ceremony and is snubbed by Daniel. One day, as the oil rushes up through the ground, it explodes, and H.W. is deafened by the blast, never to recover his hearing. Daniel is not all upset though, as the gushing oil proves his investment to be very profitable.
Shortly after H.W. goes deaf, Eli demands payment of the $5,000 owed to him by Daniel. Daniel reacts by attacking Eli and chastising him for his inability to heal H.W. Eli blames Daniel for the well's troubles because Daniel did not allow Eli to bless the well. Daniel beats Eli and humiliates him by rubbing oil and mud all over him.
Meanwhile, a man approaches Daniel and tells him that he is his half brother, Henry. The two of them form a bond, and Daniel even opens up to him about his inherent mistrust and dislike of people and his powerful will to compete and win. When H.W. sets fire to Henry's clothes and nearly burns their house down, Daniel sends H.W. off to live in a boy's home.
Daniel refuses a major offer from an oil company to sell the Sunday ranch property. Instead he bets that he can build a pipeline to the ocean and bypass the rails and their shipping costs. There is a holdout, however, one Mr. Bandy, and Daniel needs to buy Bandy's property to build his pipeline. While scouting the Bandy tract, Daniel becomes suspicious of Henry and later confirms that Henry is an imposter. Daniel murders Henry in cold blood for his deception and buries him in a shallow oil-soaked grave on the Bandy land.
Bandy appears the next day and makes Daniel a deal: he will allow Daniel an easement for his pipeline if Daniel will join Eli Sunday's church. Daniel accepts the offer and is baptized by Eli Sunday. Eli, however, uses the opportunity to humiliate Daniel by making him confess that he abandoned H.W. and by repeatedly slapping the devil out of Daniel in the ceremony. But Daniel gets his pipeline and becomes fantastically wealthy.
H.W. comes home and falls in love with and later marries Mary Sunday, Eli's sister once the two of them are grown. We next see Daniel alone in a dark mansion as H.W. requests through an interpreter to leave and form his own company to drill for oil in Mexico. Daniel takes the news poorly and declares his hatred for H.W. as his new competitor and tells H.W. that he was an orphan, just a "bastard in a basket" that Daniel has no affection for.
After H.W. leaves, Eli pays a visit to a drunk and depressed Daniel at his bowling alley in his mansion. Eli pretends to be doing well and offers to sell Daniel the drilling rights for the Bandy tract. Daniel offers Eli a great sum of money but demands that Eli declare himself to be a false prophet and that God is a superstition.
Eli does so repeatedly at Daniel's demand before Daniel tells Eli that he already extracted the oil from beneath the Bandy tract, declaring "I drink your milkshake." Eli cracks and begs Daniel to buy the land, since Eli has gone broke. Daniel taunts Eli and chases him around the bowling alley, ultimately smashing Eli's head in with a bowling pin and casually declaring, "I am finished" to his servant.
Additional Film Information
Rate the Film!
Paramount Vantage released There Will Be Blood to theaters on January 5, 2008. Paul Thomas Anderson directed the film starring Daniel Day-Lewis, Paul Dano, and Ciarán Hinds.