Film and Plot Synopsis
In Tootsie, Michael Dorsey is an unemployed actor with reputation. In order to find work, Michael transforms himself into Dorothy Michaels. As her, he lands the part in a daytime drama to the point he loses himself in this woman role—essentially becoming Dorothy Michaels. He inspires women around the city to break free from the control of men, and become more like Dorothy. However, Michael winds up in a bit of a jam after he falls in love with his female co-star, and her father falls in love with Michael's Dorothy and also a male co-star who yearns for some Dorothy nookie.
Buy the Film
Tootsie [Blu-ray]
10 new from $19.99
10 used from $15.30
Free shipping
as of November 29, 2023 5:05 pm
*As an Amazon Associate we earn from qualifying purchases.
'Tootsie' Movie Summary
The summary below contains spoilers.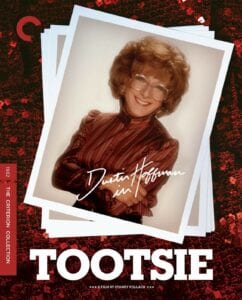 Tootsie
begins with Michael Dorsey (
Dustin Hoffman
), a respected New York actor, out of work because his perfectionist ways makes him difficult to work with. Several months pass without a job, but once Michael hears of a potential acting gig, thinks pick up for him.
His girlfriend and fellow acting student, Sandy Lester (Teri Garr), lets him know about a part on a popular daytime soap opera named Southwest General. She's going to try out for the role as the female hospital administrator, Emily Kimberly. However, Michael's desperate for work, so he decides to impersonate a woman. Calling himself Dorothy Michaels, he auditions for the role too, and gets the part.
Meanwhile, Michael's roomie, Jeff Slater (Bill Murray), has written a play. Michael intends to use this gig to raise the $8,000 needed to produce it so that he and Sandy can star in it.
On the show, Michael plays his character as a feisty feminist. This comes as a surprise to his fellow cast mates and crew because they were expecting Emily to be just another of the overly emotional females on the show. This fresh new take quickly leads to his character becoming a national sensation.
Sandy soon catches Michael in her bedroom when he comes looking for more ideas for Dorothy's wardrobe. When she discovers him, he hides his true reasons for being there, and claims he wants to have sex with her.
To make things worse, Michael finds himself physically attracted to one of his co-stars named Julie Nichols (Jessica Lange). She's a single mother in an unhealthy relationship with the show's sexist director, Ron Carlisle.
Later at a party, Michael, dressed a himself, approaches Julie, and uses a pick-up line she previously told Dorothy would work on her. Julie isn't receptive to it when the line comes from Michael though. She throws a drink in his face instead.
Michael changes into Dorothy, and makes a weak pass at Julie as a woman. By this time, Julie has ended her relationship with Ron based on advice Dorothy gave her. She lets Dorothy know she's not lesbian though before saying thanks, but no thanks.
By now, Dorothy too has her own admirers lusting over her. There's an older cast member named John Van Horn (George Gaynes) as well as Julie's widowed father, Les (Charles Durning). Les quickly proposes marriage, but insists that Dorothy think about it before answering.
Michael then returns home to find John waiting for Dorothy. John begins to force himself on Dorothy until Jeff walks in on them, and interrupts the awkward confrontation.
Then, when Sandy later visits Michael, she asks him why he hasn't answered her calls. He admits that he's in love with another woman. Sandy isn't pleased. She screams at him before breaking up with him.
Things come to a head when the show's producers look to extend Dorothy's contract for another year due to her popularity. So, Michael comes up with a clever out for himself. When a technical problem forces the cast to perform an episode live, Michael improvises a grand speech on camera. During it, he pulls off his wig to reveal that he's actually Edward, Dorothy's twin brother who took her place to avenge her.
This final revelation allows everybody a convenient way out of the mess Michael created. However, Julie is so pissed at his deception that she slugs him in the stomach once the cameras stop rolling before storming off.
Weeks pass, and we find Michael busy working on producing Jeff's play. He find Les to give him back his ring to which Les replies, "The only reason you're still living is because I never kissed you."
Michael next goes to the studio to wait for Julie. While she's very reluctant to talk to him, she finally admits that she misses Dorothy. Michael tells her that "I was a better man with you as a woman than I ever was with a woman as a man." She forgives him, and the two walk down the street for a happy ending.
Additional Film Information
Rate the Film!
Columbia Pictures released Tootsie to theaters on December 17, 1982. Sydney Pollack directed the film starring Dustin Hoffman, Jessica Lange, and Teri Garr.