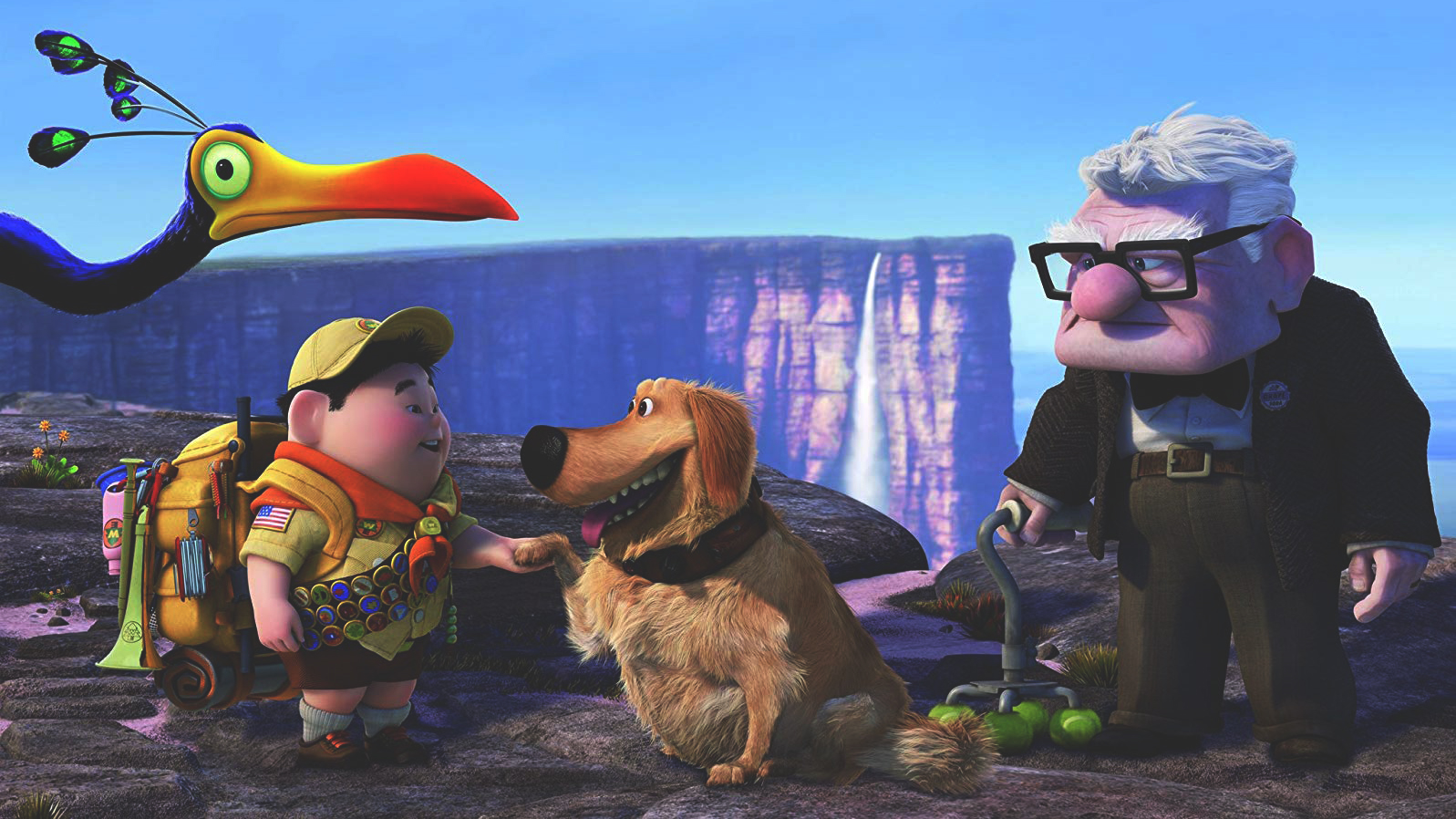 Film and Plot Synopsis
When Carl Fredricksen was a boy, he wanted to explore South America to find the forbidden Paradise Falls. Nearly six and a half decades later, he decides to do just that when he lifts his house into the air with thousands of balloons. To Carl's dismay, and overly-helpful Boy Scout named Russel tags along. On their journey, the two make many new friends including a talking dog. Eventually, Carl finds that a man who was once his childhood idol has evil plans for the world, and only he and Russel can stop him.
'Up' Movie Summary
The summary below contains spoilers.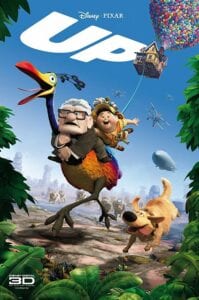 Up begins in the 1930s where we meet a shy eight-year-old named Carl Fredricksen. He idolizes the famous explorer, Charles F. Muntz, but after people accuse Muntz of fabricating the skeleton of a giant exotic bird he says he discovered at Paradise Falls, he vows to never show his face again until he captures one alive.
One day, Carl meets a fellow Muntz fan named Ellie. The two become fast friends, and Ellie eventually she tells Carl of her desire to move her clubhouse—an old abandoned house in the neighborhood—to a cliff that overlooks Paradise Falls. They never go through with that plan though.
The two friends grow up, fall in love, and then marry one another. They buy and restore that old house to boot. The two try to have children, but the doctor informs them they can't. Soon they re-ignite their childhood dream of visiting Paradise Falls. By the time they save enough for the trip, they must spend it on more pressing matters. Time passes, and Carl and Ellie are now elderly. With not much time left on Earth, Carl arranges for them to finally take that trip to Paradise Falls. However, Ellie suddenly falls ill, and dies soon after.
Years pass, and it's present day. Skyscrapers replace Carl's old neighborhood one by one, but he stubbornly refuses to sell his place. After accidentally injuring a construction worker, the court deems him a menace to the public, and orders him into a retirement home. However, Carl has other plans. He takes thousands of helium balloons he saved from his old job as a balloon salesman, and attaches them to his home. As he's about to lift off, a young Wilderness Explorer named Russell shows up. He's trying to earn his final merit badge for assisting the elderly, and Carl tries to shoo the boy away. Unfortunately for the two, Carl winds up as an accidental stowaway.
After the flying house encounters a storm, it ends up high above South America. The house lands on a tepui opposite Paradise Falls. Carl and Russell attach themselves to the still-buoyant house as they walk across the mesa. When Russell stumbles upon a tall, colorful bird, he names it Kevin, and it joins the boys on their adventure. Soon, they meet a Golden Retriever named Dug who speaks using a special collar, and now we have four on the adventure.
The next day, a Doberman Pinscher named Alpha leads a group of agressive dogs who overwhelms them before taking them all to their master. That master turns out to be an elderly Charles Muntz. Muntz takes Carl and Russell on a flight aboard his dirigible. Still pining to bring back that giant bird he promised the world, we learn Kevin is from that very species.
Carl notes that Muntz's obsession with the elusive bird has driven him insane. Muntz becomes hostile once he begins to believe Carl and Russell are going to capture the bird themselves, and steal all his glory. He makes come crazed insinuations that he killed other suspected rivals.
Carl, Russell, Kevin, and Dug run for their lives, but Muntz captures Kevin before lighting Carl's house on fire—forcing Carl to choose between saving Kevin or his house full of memories. Carl chooses the house.
Russell's disappointed with Carl for giving up on Kevin, but they continue on to Paradise Falls anyhow. Once they arrive, Carl looks through Ellie's childhood scrapbook one more time. He's surprised to find she filled its blank pages with photos of their marriage. There's also one final note written from her hospital bed. She thanks Carl for the life-long adventure, and encourages him to find a new one.
As a remorseful Carl goes outside as Russell sails off with some of the home's balloons to rescue Kevin. Carl throws out furniture and keepsakes to lighten the house enough to follow. Muntz captures Russell, but Carl finds a way to board the dirigible. He then tether the house to it, and frees both Russell and Kevin. Dug and Alpha tussle, and when Dug manages to put the cone of shame on Alpha, he becomes the the dogs' new leader.
Muntz then chases them around the airship before destabilizing Carl's house. Unfortunately, he catches his foot on some loose balloon lines, and he falls to his death. The house, now having lost too many balloons to fly, falls through the clouds and out of sight.
Carl and Russell reunite Kevin with her chicks, and then fly the dirigible home. Russell receives his Assisting the Elderly badge before Carl gives him a badge of his own—a grape soda bottle cap-the same cap that Ellie gave Carl when they first met.
Back at Paradise Falls, the house quietly lands on the cliff besides it—falling exactly where Ellie always pictured it, and thus Carl unknowingly fulfills his promise to her.
Additional Film Information
Rate the Film!
Walt Disney Studios Motion Pictures releaset Up on May 29, 2009. Pete Docter directed the film which starred Edward Asner, Jordan Nagai, and John Ratzenberger.