Film and Plot Synopsis
When a psychotic Confederate scientist named Arliss Loveless wants revenge for losing the U.S. Civil War, President Grant orders Jim West, a former Civil War hero; and Artemus Gordon, a U.S. Marshal, to join forces. They are to bring Loveless to justice even if he attacks the men with a steampunk spider… which is a ludicrous idea!
Buy the Film
*As an Amazon Associate we earn from qualifying purchases.
'Wild Wild West' Movie Summary
The summary below contains spoilers.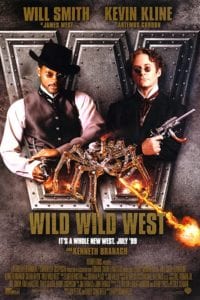 As the
Wild Wild West
begins, we meet U.S. Army Captain James West, who tends to solve problems with force, and U.S. Marshal Artemus Gordo, who tries to solve problems with his inventions and ingenuity, both hunt for Confederate General "Bloodbath" McGrath. They believe he was responsible for a massacre of former slaves. In a brothel featuring one of many drag scenes the two realize they are both hunting McGrath.
Eventually, the two reluctantly work together to solve the mystery of the massacre. They soon find out that Dr Arliss Loveless, an ex-Confederate mad scientist in a steam-punk wheelchair, is their real enemy. While at a ball thrown by Arliss, they meet the film's love interest, Rita Escobar, and rescue her. After many bad jokes about slavery, the group escapes.
Arliss uses McGrath's troops to test a tank-like weapon, and has them massacred. McGrath is close to death, and he informs West that Arliss was responsible for the massacre that killed his parents; not him.
The group tries to find Arliss, but he ends up chasing them on railroad tracks. Eventually, he does capture them, and then he makes his plan known to have the US surrender to his cabal.
Spiders, including costume and set choices strangely facinate Arliss. At the appropriate time, he reveals a giant steam powered mechanized tarantula/weapon which he then marches to President Grant's location in Utah. He takes him, as well as Gordon, who is disguised as Grant. On of Arliss' female minions shoots West, and appears to be dead. He isn't, of course.
Gordon and West build a flying machine to take on the spider as Loveless attacks a town. They are able to board the spider and defeat Arliss.
Grant promotes Gordon and West to the first two secret service positions in history. Gordon and West want to talk up Rita again, but she reveals her 'father' she was looking for the whole time was actually her husband, and she was just using the two of them. Bitch move Rita.
The End.
Additional Film Information
Rate the Film!
Warner Bros. Pictures released Wild Wild West on June 30, 1999. Barry Sonnenfeld directed the film starring Will Smith, Kevin Kline, and Kenneth Branagh.