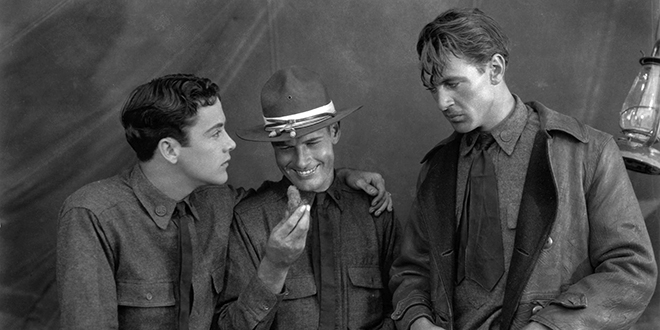 Podcast: Play in new window | Download
Subscribe: Apple Podcasts | Android | Google Play | Stitcher | RSS
Paramount Pictures premiered Wings in San Antonio, Texas on May 19, 1927 on a budget of $2 million. William A. Wellman directed film which starred Clara Bow, Charles 'Buddy' Rogers, and Richard Arlen.
Wings Movie Summary
Jack Powell and David Armstrong compete for the same girl, Sylvia Lewis, in the small town they live in. Jack is oblivious to the fact that the girl next door, Mary Preston, is madly in love with him.
When the United States enters World War I, both men enlist to become combat pilots. One the day the men leave for training, Sylvia gives Jack her picture because she feels sorry for him. In reality, she is in love with David.
As cadets, Jack and David are initially rivals, but they soon become good friends. After completing boot camp, the men leave for France to battle the Germans. In time, both men become ace pilots with Jack being known to the French as 'The Shooting Star'.
In the climatic Battle of Saint-Mihiel, David is shot down and presumed dead, but he actually survives. As Jack goes on a killing spree to avenge his fallen friend, David steals a German plane in an attempt to return to the allied side. Jack sees David's plane, and not knowing it's his friend up there, Jack shoots David from the sky.
David crashes into a house, and Jack lands to take a clipping of the plane as a war trophy. When the landowner urges Jack to see the dying pilot, Jack realizes that he has killed his friend. David forgives Jack before he dies.
The war ends, and Jack returns a hero. He visits David's grieving parents, and returns his war decoration, and childhood Teddybear. He asks David's parents for forgiveness for killing David. Mrs. Armstrong says the war is what is responsible for David's death; not Jack.
Finally, Jack reunites with Mary, and he tells her he loves her. The two share their first kiss after seeing a shooting star.
Disclaimer
This podcast is not endorsed by Paramount Pictures, and it is intended for entertainment and information purposes only. Wings, all names and sounds of Wings characters, and any other Wings related items are registered trademarks and/or copyrights of Paramount Pictures or their respective trademark and/or copyright holders. All original content of this podcast is the intellectual property of the Golden Age of the Silver Screen, the MHM Podcast Network, and Fuzzy Bunny Slippers Entertainment LLC unless otherwise noted.
Affiliate links contained in this post will take you to Amazon.com and/or the iTunes Store. This means when you click a link, and purchase an item, the MHM Podcast Network will receive an affiliate commission. Advertisers and Affiliate Partnerships do not influence our content. See our Terms of Use about the inclusion of affiliate links on this site for more information.
---
---