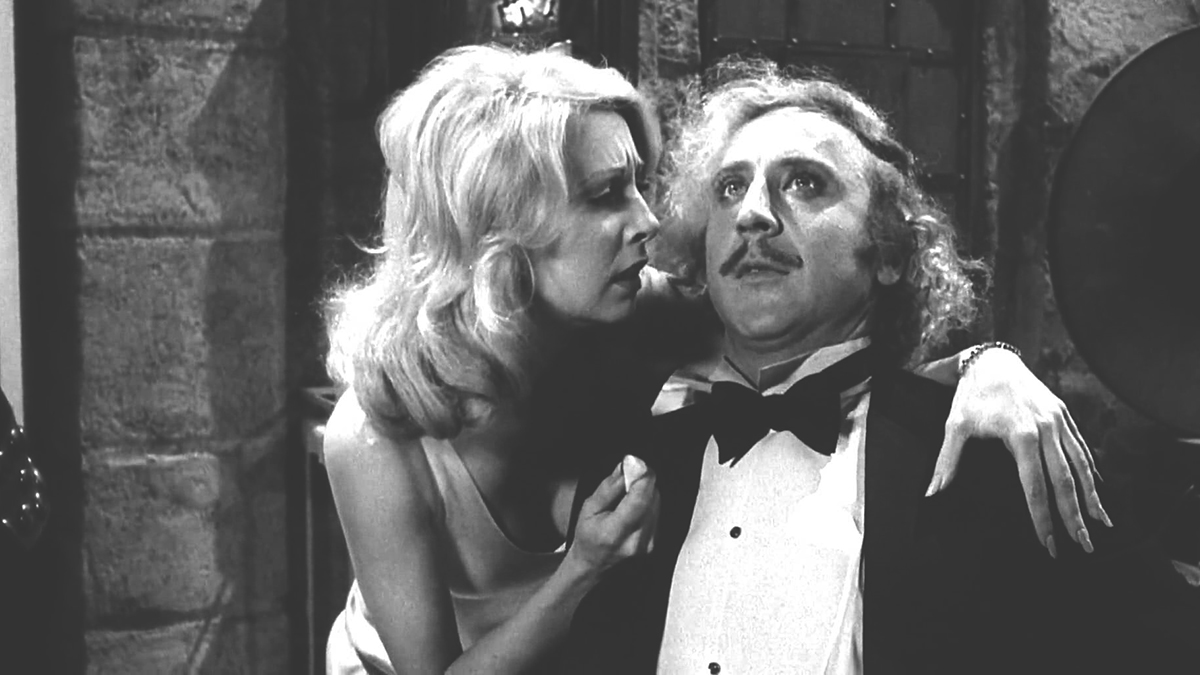 Film and Plot Synopsis
Dr Frederick Frankenstein (pronounced Fran-ken-shteen) is a lecturing brain surgeon grandson who returns to Transylvania after inheriting the ancestral castle. Upon arrival, the good Dr Frederick discovery his grandfather's secret lab and personal journals on the reanimation of the dead. While he insists on having nothing to do with his mad-scientist grandfather, this discovery inspires him to continue his work. With the help of his loyal hunchback servant, Igor, and pretty laboratory assistant, Inga; the young doctor has everything he needs to fulfill his destiny… oh that and a fresh cadaver, a fine human brain, and a mighty bolt of lightning. He'll be singing Putting On The Ritz before he knows it.
Add the film to your collection today
'Young Frankenstein' Movie Summary
The summary below contains spoilers.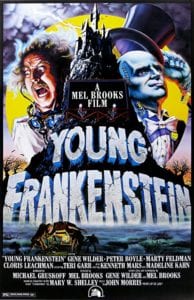 Young Frankenstein
begins with Dr. Frederick Frankenstein, pronounced frahn-ken-steen, grandson of the Frankenstein of monster fame, renouncing his grandfather's work and pursuing a career as a respectable scientist. One day, however, he stumbles upon his grandfather's castle, where he finds a journal chronicling the elder Frankenstein's monster building. Frederick believes it could work, and he sets out to build a new monster with the help of his lackey, Igor, and his lab assistant, Inga.
In order to successfully construct the monster, they have to use large parts; including an enormous schwansztooker, but Igor mistakenly steals an abnormal brain for the monster. The experiment is a success, and the monster lives, but he is a psychopath and mute. The townspeople, wary of the previous monsters, are suspicious of Dr. Frankenstein, now pronounced like his ancestors. When Inspector Kemp investigates the castle, he temporarily placated that there is no evidence of a monster.
Later, something spooks the monster, and he escapes. Outside the castle grounds, he encounters a girl and a lonely blind hermit, but Frankenstein and the crew capture him and teach him to love. They create a musical show featuring the monster, but some fire on stage throws him into a rage. The whole plan unravels. As the monster rampages, he steals Frankenstein's fiancé, Emily, using his enormous schwanzstooker.
This time, the townspeople form a mob as the Dr. recaptures the monster, and prepares a transplant of conscious from him to the monster. The plan succeeds just as the mob storms the castle laboratory. The monster, now possessing the Doctor's intelligence, talks the mob down, and everyone is left in peace.
In the end, the monster marries Emily, and the Doctor marries Inga, when it's revealed that the brain transplant gave the monster his massive intellect, but in return Dr. Frankenstein received something massive from the monster.
Additional Film Information
Rate the Film!
20th Century Fox released Young Frankenstein on December 15, 1974. Mel Brooks directed the film starring Gene Wilder, Madeline Kahn, and Marty Feldman.