Film and Plot Synopsis
In Zombeavers, after two reckless truck drivers, transporting toxic chemical products, hit a deer on the road, one barrel falls off it. It plops into a nearby river which carries it to a beaver's dam. College friends Mary, Zoe and Jenn travel to a cabin near the dam that belongs to Mary's aunt. They soon take a quick swim in the lake where they discover the beaver's dam. They get out to have a look-see, but a vicious bear finds them first. Luckily, a hunter named Smyth is there to save them.
During the night, their boyfriends Sam, Tommy and Buck show up at the cabin and Mary and Zoe have sex with their respective guy while Jenn argues with her unfaithful one. When Jenn goes to the bathroom, a beaver attacks her. Tommy kills it; thinking it has rabies. The next morning, as the group swims in the lake, more zombeavers show up to attack them. Now the kids are in a fight for their lives.
Buy the Film
Zombeavers [Blu-ray]
11 new from $14.00
3 used from $12.60
Free shipping
as of November 21, 2023 6:43 am
*As an Amazon Associate we earn from qualifying purchases.
'Zombeavers' Movie Summary
The summary below contains spoilers.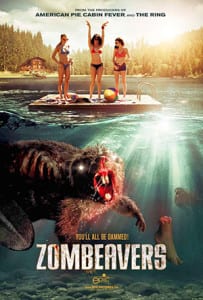 Zombeavers
begins with two truckers (
John Mayer
and
Bill Burr
) transporting toxic chemicals. When they hit a deer, one of their steel drums flies off their truck, and into a local river. It floats downstream until it comes to a stop at a beaver's dam. Its contents mutate the beavers not into a humorous group of pizza-loving turtles, but some mean ass beavers that will bite your dick off!
That very same weekend, perky, slutty college girls Mary (Rachel Melvin), Zoe (Cortney Palm), and Jenn (Lexi Atkins) drive to Mary's cousin's lake-side cabin (near where the beavers have built their dam). The girls are on a two-day retreat to get away from civilization, smartphones, and their asshole boyfriends. This is the perfect spot as their phones get no reception out there in the woods, so they will be all alone, and only good can come from a couple of helpless girls being all alone in the woods.
The three take a scantily clad swim in the lake, and discover the dam covered in green goo. As they do, a bear shows up as does a local hunter named Smyth (Rex Linn). He scares off the bear before admonishing them to stay away from the beavers… and to dress more appropriately. Creeped out more than anything, the girls scamper on back to the cabin.
That night, the girls' boyfriends, Buck (Peter Gilroy), Tommy (Jake Weary), and Sam (Hutch Dano) arrive but decide to prank the girls first. They thump on the exterior of their cabin until the girl are completely scared. Although annoyed, the girls let the boys stay. Soon the surrounding nature can hear the sweet sound of thumping from inside that cabin too.
As the couples do their thing in their separate rooms, Jenn leaves to take a shower. However, a toxic beaver attacks her. Tommy kill it with a couple of swings from his mighty bat. Jenn and Mary note that something beyond rabies is wrong with it. They put the little corpse in a bag and put it outside on the porch. In the morning, the the thing is missing, but Jenn insists that local wildlife didn't just eat it.
Swimming time! Everyone swims in the lake except for Jenn. As Sam and Mary debate whether to tell Jenn about their affair, the beavers show up to interrupt them. One chews off Buck's foot and another scratches Tommy. The same beaver that attacked Jenn earlier has returned to chase her back to the cabin.
She uses a knife to impale it to the counter with a knife, but not before it manages to scratch her leg. Sam tosses Zoe's dog into the water as a distraction, and the rest of the group flees to the cabin.
They find the beavers have cut the phone lines, and are nows surrounding the house. Tommy offers to leave with Buck to get help, and Zoe accompanies him. However, their drive is short lived. The beavers chew through a tree trunk to bring the tree crashing down into the road. As Tommy sets off on foot another falling tree crushes him.
Smyth shows up to rescue Buck and Zoe, and they return to the cabin in his truck. They find the others have boarded the place up. Unable to enter it, they go to the neighbors, but find them dead with their phone lines cut as well.
As a result of her wounds, Jenn turns into a beaver-like zombie, and attacks Mary. As Jenn's saliva falls in Mary's mouth, Sam hits Jenn from behind to rescue Mary. Now the two lock themselves in the bathroom before checking each other for scratches.
Satisfied that neither is hurt, they try to have sex, but Jenn interrupts them first. She bites off Sam's penis; killing him. Meanwhile, Buck is now a zombie, and he attacks Smyth. Zoe jumps through a window to escape; bloodying herself in the process.
As one of the beavers accidentally sets Mary's cousin's house on fire, Sam rises as a zombie. Mary kills him, she reunites with Zoe. Smyth, now a zombie too, shoots at them as they flee in his truck. Jenn jumps on top of the truck, but Zoe runs her over. Together, Mary and Zoe reach the spot where Tommy died and turned into a zombie.
With the road blocked, they decide to walk. Believing that Zoe may be infected, due to her bloody appearance, Mary holds her at gunpoint with a pistol she took from Smyth's truck. As As Zoe protests that she is not infected, Mary begins changing into a zombie. Zoe kills her with an axe and walks away. Down the road, she encounters the same truckers who had earlier dropped the canister. They accidentally run her over; killing her as well.
Cut to the post credits where a honeybee gets infected as it flies around a beaver corpse, and flies home to its hive. Anyone see a Zom-"bee" sequel in the works? I think I do.
Additional Film Information
Rate the Film!
Freestyle Releasing released Zombeavers to theaters on March 20, 2015. Jordan Rubin directed the film starring Rachel Melvin, Cortney Palm, and Lexi Atkins.