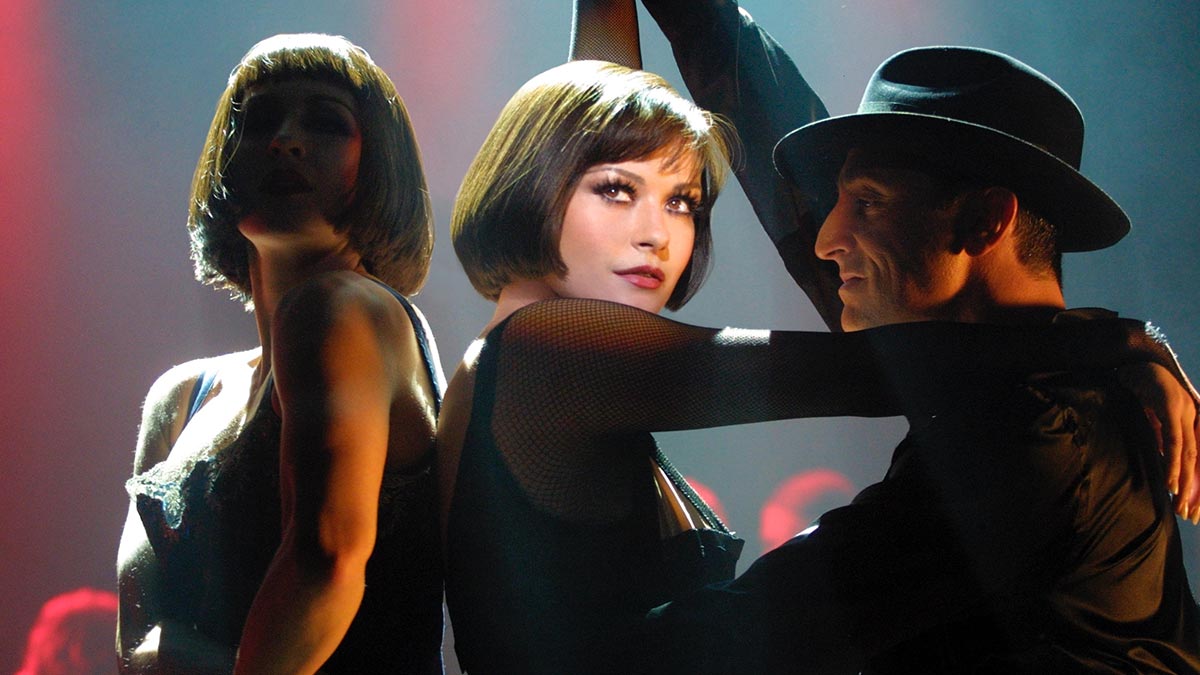 Film and Plot Synopsis
In this Academy Award winning film based on the Broadway stage play, Velma Kelly is an infamous vaudeville singer who kills her husband and her sister after she finds them in bed together. Roxie Hart is an aspiring singer who kills her illicit lover after he tries to leave her. The two of them are charged with murder and represented by the brilliant defense attorney Billy Flynn. Flynn works to get them acquitted for their crimes by manipulating the media coverage and expertly controlling his clients' public personas. However, when Velma and Roxie become more concerned about their spotlight, will they end of swinging from the gallows or will they end up going free?
Buy the Film
Chicago (Blu-ray + Digital)
17 new from $10.40
6 used from $9.23
Free shipping
as of June 12, 2022 10:06 pm
*As an Amazon Associate we earn from qualifying purchases.
'Chicago' Movie Summary
The summary below contains spoilers.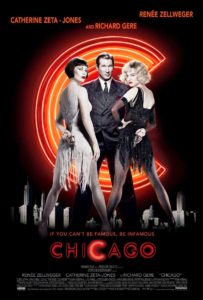 In 1924, the city of Chicago is in the middle of the Prohibition era. Famous singer Velma Kelly (
Catherine Zeta-Jones
) performs "All That Jazz" at a Chicago theater after murdering her husband Charlie and her sister Veronica when she finds them in bed together. Velma is arrested after the performance. In the audience is aspiring performer Roxie Hart (
Renée Zellweger
) who dreams of stardom. Sometime after the show, Roxie meets with Fred Casely (
Dominic West
), the man she is having an affair with behind her husband Amos's (
John C. Reilly
) back. Casely has promised Roxie that he would introduce her to Velma's manager, but he was using that as a ruse to sleep with her. Roxie becomes extremely upset about being deceived and shoots Casely dead with a gun from the drawer of her bedroom.
Before police arrive, Roxie convinces her husband to take the blame, indicating to him that she killed a burglar in self-defense. When police begin asking Amos questions, he soon realizes that he knows the victim and that the police have evidence that Casely and Roxie were having an affair. Amos changes his tune and recants his confession, telling police that it was Roxie who shot Casely. Roxie admits to shooting Casely and is arrested. Shortly afterwards, the ambitious District Attorney Martin Harrison (Colm Feore) decides to make a name for himself off the case and announces his intent to seek the death penalty against Roxie.
Once at the Cook County Jail, Roxie is placed on Murderess' Row under the supervision of the corrupt guard Matron "Mama" Morton (Queen Latifah). Velma is also on Murderess' Row, but she has no interest in Roxie who tries to befriend the infamous singer. Roxie learns the stories of the other women in her cell block, who all have a consistent story that they were not to blame for their murders. Roxie seeks advice from Mama as to what she should do. Mama advises her to seek representation from the famous and brilliant defense attorney Billy Flynn (Richard Gere), which she does. Billy and Roxie manipulate the press into believing that Roxie got caught up in the fast world of jazz and booze and that she attempted to break off her illicit affair with Casely when she saw the error of her ways. Their fabricated story is that Casely became enraged and Roxie acted in self-defense when she and Casely both reached for the gun. The press believes the story, loving the tragic heroine angle.
With the press following her story, Roxie becomes more popular than Velma. Velma is unhappy that she has lost the spotlight, and more importantly, the focus of Billy on her case. Velma tries to convince Roxie to replace her sister in her act, hoping to draw the spotlight back towards her. Roxie rejects Velma's desperate offer and treats Velma as disrespectfully as the singer treated Roxie when they first met.
Shortly afterwards, Murderess' Row is joined by Kitty Baxter (Lucy Liu), a millionaire heiress who murdered her husband and the two women she found him in bed with. Kitty is unapologetic for her crimes and hires Billy to represent her. The press, and Billy, love the spectacle of Kitty's case and soon forget about Roxie's case. Desperately, Roxie grabs the spotlight back by claiming she is pregnant with Amos' child. Billy meets with the often-ignored Amos and tells him that the non-existent child is not his, but Casely's. Billy tells Amos that he should divorce Roxie, in order to garner more support for his client. Roxie does not like that Billy is getting more attention than her from the case and temporarily fires him, believing that she can win on her own. However, when Katalin Helinszki (Ekaterina Chtchelkanova), a Hungarian woman who has constantly maintained her innocence, becomes the first woman executed in Cook County history, Roxie understands the seriousness of her situation and rehires Billy.
As Roxie's trial begins, Billy turns up the spectacle and brings some razzle dazzle to the courtroom. The media, especially radio personality Mary Sunshine (Christine Baranski), eat up Billy's performance. Billy effectively discredits witness after witness, manipulates the evidence, and stages a public reconciliation between Roxie and Amos. Everything is going Roxie's way until the State calls a surprise witness, Velma Kelly. Velma testifies as to the contents of Roxie's diary in the jail which contradicts Roxie's sympathetic courtroom persona. However, Billy discredits the diary by implying that Harrison was the one who planted the evidence and offered Velma a deal if she would testify for the State against Roxie.
Roxie is acquitted, but her spotlight dims as the media begin following a new murderess mere moments after the verdict is announced. Believing in their courtroom reconciliation, Amos lovingly waits for her after the trail, but Roxie has no interest in reuniting with the simple man and tells him that there never was a baby. Amos also turns his back on Roxie, leaving her truly alone.
Not long after, Roxie struggles to make it as a performer. The spotlight has long since moved on, and she is constantly being rejected at auditions. One day, Velma shows up and indicates that she too is struggling to find work and is looking for a new hook. Velma suggests that the two murderers team up in a double act. Roxie is initially against the idea, but eventually changes her mind. Soon after, the two stage an energetic performance that the audience, the press, and Billy Flynn all love. Velma and Roxie receive a standing ovation from the audience as the film concludes.
Additional Film Information
Rate the Film!
Buena Vista Pictures released Chicago on December 27, 2002. Rob Marshall directed the film starring Renée Zellweger, Catherine Zeta-Jones, and Richard Gere.