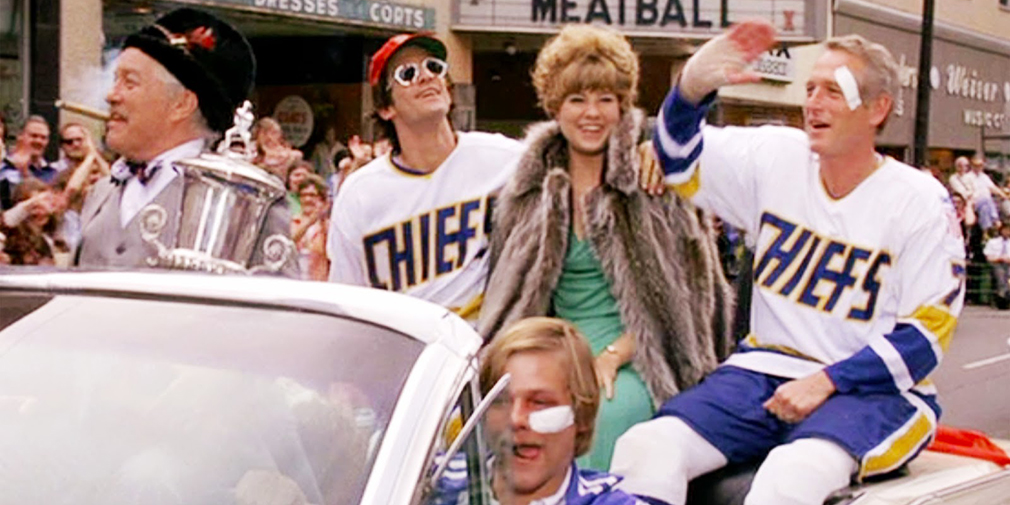 Podcast: Play in new window | Download
Subscribe: Apple Podcasts | Android | Google Play | Stitcher | RSS | More
Universal Pictures released Slap Shot to theaters on February 25, 1977. George Roy Hill directed the film starring Paul Newman, Michael Ontkean, and Strother Martin.
Slap Shot Movie Summary
Reggie Dunlop is an over-the-hill player/coach for the failing Charlestown Chiefs. The hockey team hasn't had a winning season in years, and loses money hand over fist. In what will be their final season before the club folds, Dunlop unleashes the Hanson Brothers, a trio of childlike goons, on the league. He hopes the cheap wins and increased publicity will force the unknown owner of the team to sell the Chiefs to a Florida retirement community because old people love blood and violence on ice.
After a successful season, the owner folds the team anyway, and uses the loss as a tax write off, but Reggie is still a winner. His team wins the Federal League championship (due to forfeit). He gets a new job coaching in a new town (to win back his ex-wife), and Charlestown gives him one final street parade beneath the magical marquee of a XXX double feature; so he has that going for him, which is nice.
No word on if the Hanson Brothers banged things into the boards at that theater, but I doubt they went there for a tight storyline and mind-blowing cinematography.
Disclaimer
This podcast is not endorsed by Universal Pictures Home Entertainment and is intended for entertainment and information purposes only. Slap Shot, all names and sounds of Slap Shot characters, and any other Slap Shot related items are registered trademarks and/or copyrights of Universal Pictures Home Entertainment or their respective trademark and/or copyright holders. All original content of this podcast is the intellectual property of Lunchtime Movie Review, the MHM Podcast Network, and Fuzzy Bunny Slippers Entertainment LLC unless otherwise noted.
This post contains affiliate links that will take you to Amazon.com and/or the iTunes Store. This means if you click on the link and purchase the item, we will receive an affiliate commission. Advertisers and affiliate partnerships do not influence our content. For more information, please read our Terms of Use about the inclusion of affiliate links on this site.