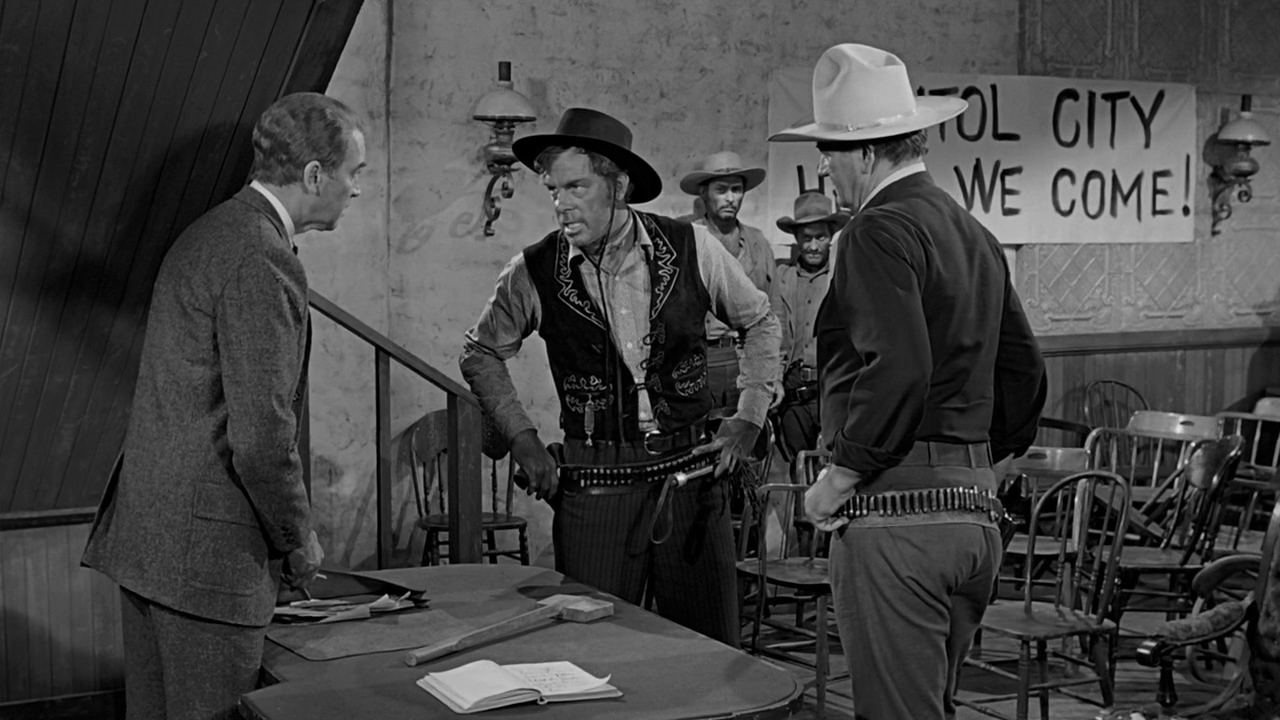 Summaries
The Man Who Shot Liberty Valance (1962)
Film and Plot Synopsis
In The Man Who Shot Liberty Valance, Senator Ransom Stoddard returns home to the town of Shinbone for the funeral of Tom Doniphon. When he meets a local newspaper reporter, he recounts his version of the events surrounding the shooting of Liberty Valance. Years ago, Stoddard arrived to town as a wet-behind-the-ears lawyer. Local hoodlum, Liberty Valance, robbed him of everything save a few law books fresh off the wagon. To survive, Stoddard took a job in the kitchen at the Ericson's restaurant. It's there he met his future wife, Hallie. Meanwhile, the territory Shinbone resides in is applying for Statehood. The townsfolk select Stoddard as their representative over Valance even though Valance threatens them. When he destroys the local newspaper office, and attacks the editor, Stoddard has had enough. He calls Valance out, and guns shots roar from the night air. Valance falls to the ground; dead. Legend has it that Stoddard shot Valance, but sometimes legends aren't exactly what they are made out to be.
Buy the Film
Paramount Presents: The Man Who Shot Liberty Valance [4K UHD]
5 new from $24.99
1 used from $27.59
Free shipping
as of November 25, 2022 4:06 pm
*As an Amazon Associate we earn from qualifying purchases.
'The Man Who Shot Liberty Valance' Movie Summary
The summary below contains spoilers.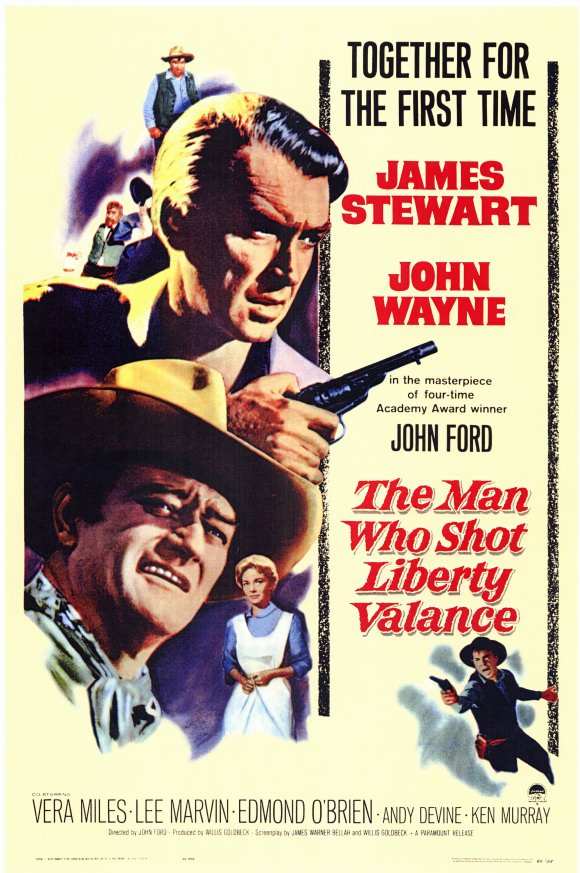 In
The Man Who Shot Liberty Valance
, Senator Ransom Stoddard (
James Stewart
) pays a mysterious visit to his hometown, Shinbone. This is news, and Ransom is hounded by the press from the moment he arrives. It seems the Senator is there to pay his respects to a dead man by the name of Tom Doniphon (
John Wayne
). The newspapermen don't know of any Tom Doniphon, and they demand the scoop. And this is the scoop.
Back in the day, Tom's hot for Hallie (Vera Miles). She's one of those country girls, quick to anger, not too bright, and doesn't quite realize how hot she is. Tom's a real man. He owns a ranch and spends his time wearing chaps, and chasing cattle, wearing a gun, and bossing around a black man named Pompey (Woody Strode). Tom is also the most respected man in that town, a kind of de facto sheriff who keeps the bad guys at bay. Hallie doesn't quite seem to get that Tom digs her, even when he gives her a close second-place in a beauty contest between her and a cactus. Little does Hallie know that Tom is building an addition to his ranch home in which he plans to rustle country babies with her.
Stoddard's core values tested
The young Ransom Stoddard made at least two bad choices. He moved out west with no knowledge of the local culture and customs, and, before that, he went to law school. On his way into town, Ransom's stagecoach was robbed by a big, bad dude with a silver-handled whip. This man is Liberty Valance (Lee Marvin), the toughest man south of the picket wire, next to Tom, of course. Liberty gives Ransom a western hello by beating him mercilessly with his whip and stealing his things. Tom finds Ransom's unconscious body on the road and takes him to town so Hallie can care for him and fall in love with him.
Ransom wants justice. He wants Liberty Valance arrested and tried, and preferably hanged. But the cowardly Marshall (Andy Devine) refuses to do his job, and Liberty remains free. One day, Liberty comes to the restaurant where Hallie and Ransom work. Liberty trips Ransom, humiliating him in front of everyone. Tom steps in and picks a fight with Liberty. Liberty cautiously relents. But, as you might have guessed, it wasn't over yet. Ransom's thirst for justice only grows, but he wants things done the legal way. But the law is no help to him.
Statehood or bust
Meanwhile, the territory in which this drama transpires is petitioning the Union for statehood. It seems the little man wants statehood and all the federal dollars that come with it. The big ranchers are just fine with the status quo. They turn to violence to intimidate anyone who stands for statehood. And, if you want violence, Liberty Valance is your man.
After local newsman, Dutton Peabody (Edmond O'Brien), prints an honest but harsh assessment of Liberty's character in the local newspaper, Liberty sets out for blood, against Ransom and Peabody. Ransom is resolved to stay. Hallie begs him to leave. And Tom's advice is for Ransom to get himself a gun. Ransom reluctantly acquires a gun and waits for Liberty to come calling.
By this point, Hallie is taken with Ransom. I think she digs him for his courage in the face of his overwhelming inferiority in both physical skills and real-world knowhow. But Tom's clearly out of the picture. So one night, when Liberty comes to kill Ransom, Tom hides in the shadows and pops Liberty with a rifle, allowing everyone to believe that Ransom killed Liberty with his handgun.
Tom keeps that secret between him, Pompey, and a bottomless bottle of whiskey until he shares it with Ransom when the town attempts to elect him to be a delegate for statehood. Ransom is grateful for Tom's efforts, and shows his gratitude by marrying Hallie and pursuing a career in the U.S. Senate, where is he forever known as the man who shot Liberty Valance. And that is the scoop.
Additional Film Information
Rate the Film!
Paramount Pictures released The Man Who Shot Liberty Valance on April 22, 1962. John Ford directed the film starring James Stewart, John Wayne, and Vera Miles.