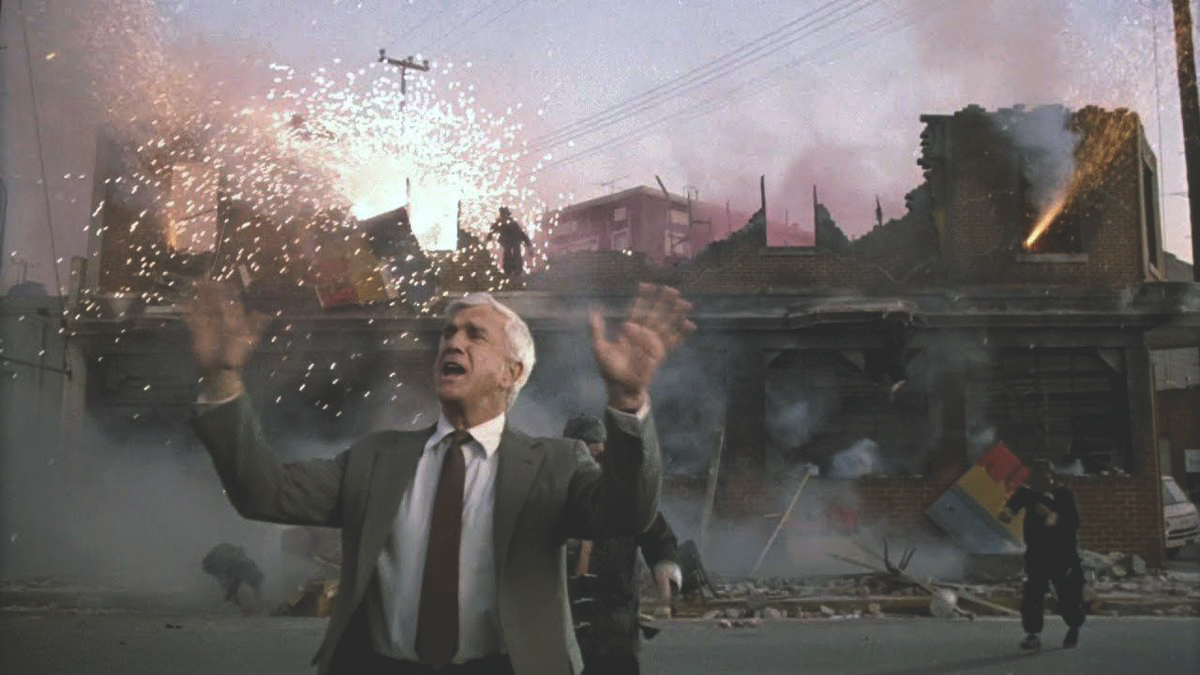 Summaries
The Naked Gun: From the Files of Police Squad! (1988)
Film and Plot Synopsis
With Her Majesty The Queen Elizabeth II due to arrive in Los Angeles at any moment, bumbling police lieutenant, Frank Drebin, has his work cut out for him. He's already balls deep in a heroin smuggling investigation along with the attempted murder of a fellow officer. To complicate matters more, Drebin soon finds himself under the spell of the beautiful Jane Spencer who works for Vincent Ludwig; an ultra-suave criminal mastermind. However, nothing will stop him from finding the person looking to assassinate the Queen in front of thousands of spectators during a baseball game.
Buy the Film
The Naked Gun: From the Files of Police Squad [Blu-ray]
2 new from $32.39
5 used from $6.38
Free shipping
as of November 28, 2022 8:59 pm
*As an Amazon Associate we earn from qualifying purchases.
'The Naked Gun: From the Files of Police Squad!' Movie Summary
The summary below contains spoilers.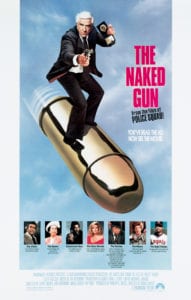 W
hile on vacation in Beirut the Naked Gun begins,
Police Squad Lieutenant Frank Drebin
interrupts a meeting consisting of Idi Amin, Muammar Gaddafi, Ayatollah Khomeini, Yasser Arafat, Fidel Castro, and Mikhail Gorbachev; during a terrorist planning meeting.
Back in Los Angeles, Officer Nordberg busts Vincent Ludwig's drug operation down at the docks. His henchmen put lots of bullets in Nordberg, but he will be okay. Once Drebin returns from vacation, his boss, Captain Ed Hocken briefs him on Nordberg's situation.
Drebin goes to the hospital to visit his friend where Nordberg gives him some vague clues about the organization. Frank then meets with Ted Olsen, the police scientist. He's got some odd inventions including a cufflink that shoots tranquilizer darts — those will come in handy later. Frank learns from him that Nordberg's jacket tested positive for heroin.
At the same time, Queen Elizabeth II is planning on visiting Los Angeles, and the Police Squad is in charge of security. Ed gives Frank that he has 24 hours to clear Nordberg before word gets out about his bust gone wrong, and that drama distracts them from the queen's visit.
Frank next visits Ludwig in his office where Ludwig learns Nordberg is still alive. So Ludwig has his assistant, Jane Spencer, keep an eye on Frank and his investigation. Frank falls in love with Jane's beaver, and she adores his Elvis impersonation. However, Jane is completely unaware of Ludwig's illegal goings on.
Once Frank leaves, Ludwig meets with Pahpshmir; one of the men at the Beirut meeting. They discuss their plan to assassinate the queen. Ludwig will to do it for $20 million using a beeper that hypnotizes someone to be an assassin. Next, Ludwig tries to have Nordberg killed at the hospital, but the attempt fails.
Eventually, Ludwig leaves his office, and Frank breaks in; looking for clues. Frank does find a note from Pahpshmir addressed to Ludwig, but he manages to start a fire in the office that destroys the note and everything inside.
Soon, Frank confronts Ludwig at a reception for the Queen's arrival. When Frank sees Ludwig present a musket to the Queen, he thinks it's an attack, and he tries to save her. He bumbles his rescue attempt which is just another black eye for Police Squad so they fire Frank.
Afterward that fiasco, Jane learns of the assassination plot, and she tells Frank that the attempt will happen at a baseball game between the Seattle Mariners and the California Angels. It will occur during the seventh inning stretch, and one of the players will take her out.
Now Frank needs to search the players, so he knocks out an umpire, and assumes his job in a very conspicuous manner. As each player steps up to the plate, he frisks them. The seventh-inning stretch arrives, and Ludwig activates his beeper which hypnotizes Reggie Jackson.
Jane spots him, and waves Frank down. He chases after Jackson, and tackles him, but Jackson get away when Frank's attack hug clears the two team's benches. Ludwig kidnaps Jane at gunpoint to escape the stadium while Jackson aims his gun at the Queen.
Frank tries to knock Jackson out with one of his cufflink darts, but he misses. It hits a large woman on the upper deck, and she falls over the railing; landing on Jackson. The Queen is saved.
Frank chases Ludwig to the top of the stadium where he shoots Ludwig with the other cufflink dart; knocking him over the side of the stadium. He hits the ground, where a bus runs him over, followed by a steamroller, and finally the USC marching band tramples him.
One of the band members steps on Ludwig's beeper. It hypnotizes Jane to kill Frank with Ludwig's gun. However, love conquers all, and Frank's feelings for her break the spell. He gives her an engagement ring as a token of his burning love.
Mayor Barkley arrives to reinstate Frank, and a mostly recovered Nordberg is there to congratulate him. Frank accidentally pushes Nordberg's wheelchair which careens down the stadium stairs, and launches him onto the field for a happy ending until Nordberg returns with a knife.
Additional Film Information
Rate the Film!
Paramount Pictures released The Naked Gun: From the Files of Police Squad! on December 2, 1988. David Zucker directed the film starring Leslie Nielsen, Priscilla Presley, and Ricardo Montalban.