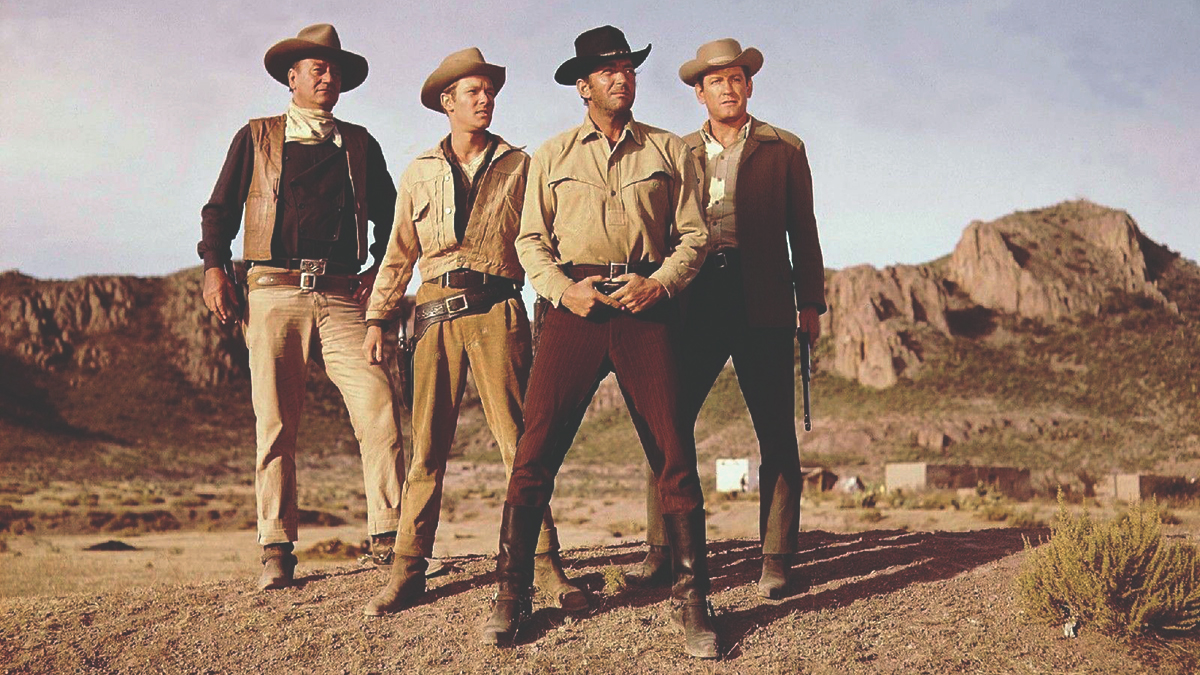 Film and Plot Synopsis
The Elder boys return to Clearwater, Texas for their Mother's funeral. Once there, they learn that the town's gunsmith won the family ranch from their father in a card game… right before someone murdered him. Now the boys want to get it back, but trouble comes looking for them just because they carry the Elder name.
'The Sons of Katie Elder' Movie Summary
The summary below contains spoilers.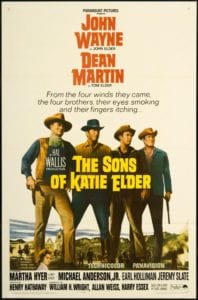 The Son's of Katie Elder
opens with a familiar shot of a train heading towards a dusty station. The Great George Kennedy steps out; looking for Clearwater as a young Dennis Hopper looks on.
As the residents of Clearwater, Texas gather for the funeral of frontier woman Katie Elder, a lone man stands high above; looking down amongst the boulders.
John Wayne plays John Elder. The notorious gunslinger returns—instantly gaining the attention of the Sheriff, who has a quiet word to him about remaining low-key.
John reunites with his three very different brothers to try and figure out why their mum died broke. The boys learn that their Dad got drunk once too often gambling away the family ranch before being killed on the same night.
As the quartet investigate the circumstances, the sheriff constantly insists they stay out of it. The Hastings father & son are the only witnesses, and they actually kill the sheriff in order to protect themselves, but the blame of the sheriff falls on the Elders.
The newly sworn in deputy sheriff locks them up, and orders a posse to escort the brothers to Laredo, Texas. However, it's a set up, and the brothers are targets for execution. In the crossfire, Matt Elder and the Deputy Sheriff are killed. Bud Elder is injured.
The remaining three escape, and they return to Clearwater as do the Hastings who claim they were ambushed by the Elders. The resident Judge is told what really happened as the Elders barricade themselves up. They demand to surrender to US Marshalls, and not to Clearwater's mob.
Tom Elder sneaks away to trap Dave Hastings. Bullets fly, and instead of saving his son, Morgan Hastings accidentally shoots him. As Dave lays dying, he confesses his old man shot Pa Elder.
There's a duel with John and Morgan in and around the town's gun powder storage facility. There can be only one, and John wins by blowing up the entire gunpowder supply with Morgan inside.
Friend Mary assures John that Bud will survive as John bumps his late Mothers rocking chair. It continues to rock as if Katie was actually sitting in it during fade out and credits roll.
Additional Film Information
Rate the Film!
Paramount Pictures released The Sons of Katie Elder on August 16, 1965. Henry Hathaway directed the film starring John Wayne, Dean Martin, and Martha Hyer.