Film and Plot Synopsis
Tess McGill is a frustrated secretary, struggling to make her place in the world of big business in New York City. However, she gets her chance when her boss breaks her leg on a skiing holiday. McGill takes advantage of her new-found position when she teams up with investment broker, Jack Trainer, to work on a big deal. The situation gets complicated when her boss returns.
Buy the Film
Working Girl [Blu-ray]
1 used from $27.58

as of November 29, 2023 8:31 am
*As an Amazon Associate we earn from qualifying purchases.
'Working Girl' Movie Summary
The summary below contains spoilers.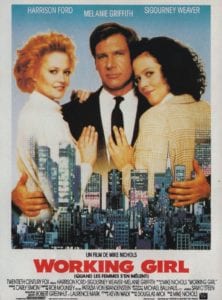 In
Mike Nichols
'Working Girl', Tess McGill is a stockbroker's secretary from Staten Island with a bachelor's degree from a night school, but Tess doesn't want to be a secretary. No, she wants an executive position ASAP!
Unfortunately, with that accent of hers, nobody takes her seriously. When she gets into trouble one too many times, her firm reassigns her as a secretary to new financial executive, Katherine Parker. While Katherine encourages Tess to be open with her ideas, it's clear she has ulterior motives.
Tess shares a bright idea of hers about a potential merger, and Katherine says she will check into it. Soon after, however, Katherine tells her that the idea won't work. Meanwhile, back at home, Tess finds out her boyfriend has been busy cheating on her with one of her friends. Alone, Tess doesn't have any place to go.
Shortly afterwards, Katherine breaks her leg in a skiing accident while on vacation, and she asks Tess to run the show for her until she is well enough to travel. While taking care of some of Katherine's personal items, Tess discovers a message that Katherine was going to use Tess's merger idea as her own. Feeling betrayed and lied to, Tess decides to betray and lie too, and she sets out to make the deal work on her own.
She sets up shop at Katherine's apartment since her boss will be gone for a while. Of course, since this is a fantasy film, all of Katherine's expensive dresses fit her. Tess sets up a meeting with Jack Trainer, a business contact of Katherine's, in the hopes he can help with Tess's business deal go through.
I have a head for business and a body for sin. Is there anything wrong with that?Tess McGill
Once she meets Jack, she falls for him, but just like her boyfriend, he looks like Jack Ryan as well. The two put together the merger deal for Trask industries, and Jack believes Tess is legitimate executive because she has the requisite shoulder pads and bad professional haircut. The two lie and cheat their way to a business deal, including crashing Trask's daughter's wedding. Tess and Jack fall in love, and sleep together.
Soon after, Katherine announces she's returning home, and Tess must clean Katherine's apartment with a spirited run of topless vacuuming. Once Katherine returns, she lets it be known that she wants to get serious with her boyfriend…Jack Trainer. This revelation appalls Tess, but she still meets up with Jack to close the deal with Trask. Katherine gets wind of Tess's plans, and shows up to take credit for the deal, and to also expose Tess for being the lonely secretary that she is.
A few days later, with the meeting close to a deal, Katherine leads the plan with Jack. Tess is present during the meeting, but only to pack her things and go home. Jack, for some reason, chooses to stick with Tess over Katherine. Tess, in her Yoda-like wisdom, has new information which impacts the deal. She shares the information with Trask, who then confronts Katherine about how she came up with the idea.
When Katherine fails to come up with a response, Trask tells her to go back into her office, and take one last long look around (even though Katherine doesn't even work for him). Trask offers Tess an entry level job with his company telling her that she will have to work her way up.
Tess and Jack begin their new life together, and Tess finds out that this time she has a secretary at the new office that she can begin shitting all over too.
Additional Film Information
Rate the Film!
Twentieth Century Fox Film Corporation released Working Girl on December 21, 1988. Mike Nichols directed the film starring Melanie Griffith, Harrison Ford, and Sigourney Weaver.